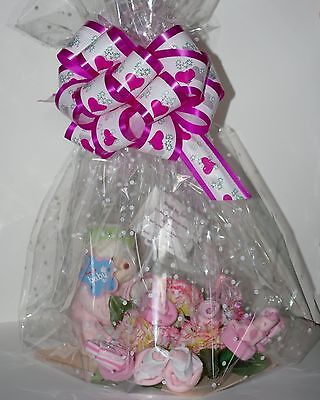 Pull Bows
When I started to make gifts for baby showers, I wanted to make my product really stand out. I tried using florists tape to produce bows, but they just did not look that effective and ribbon just did not have the right stiffness. I tried curling ribbon and addding litle butterflies, but nothing really made my items stand out from the crowd.
Then, one day while browsing on ebay, I happened to find an e-bay seller selling something called Pull Bows. I had no idea what a pull bow was and as the picture showed the unmade item, I was non the wiser. However, I was sufficiently interested to do some research into the product. It soon became evident that I had found that little 'extra something'. Pull bows can be small or huge (for decorating church pews at weddings) but as they looked very pretty I ordered an assortment.
They looked a bit flat and uninteresting when they arrived, but I soon discovered that they are very simple to assemble. You unfold the bow which comes in several preshaped sections. When you have done this you just hold the ribbon section between your finger and thumb and then pull on the two ribbons in the centre. This gathers the bow up and the precut sections form the loops of the bow. When you have fully gathered it you tie it in place with the two (now very long) ribbons in the centre. These long ribbons can be now used to tie the bow to your gift.
Suddenly my pretty little posies looked absolutely spectacular.
I have many pull bows now in different sizes and colours and no matter what the size you always get a perfectly formed, very stable bow. My small granddaughter particularly loves them attached to her gifts.
I have used them on hampers at Christmas to create that extra look of luxury. Just place the box or basket in the middle of a large piece of celophane Gather the celophane up and tie in place with a huge pull bow. Co-ordinating the bows with the colour scheme of the gift is particualry attractive.
These are particularly lovely for Christmas.