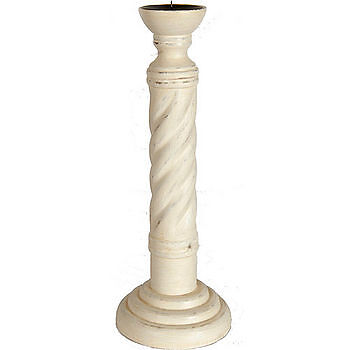 Historically, wood has not been the most popularly sought after material in candlesticks, where brass and silver have tended to dominate as collectibles. However, the effect of wood in home décor styles that lean towards the use of natural materials can be stunning. Many different varieties of wood have been used in the making of candlesticks across the years. Popular hardwoods like oak and walnut, or softwoods like cedar and pine, are just a few that are used in making wood candlesticks. Combined with finishing's like chrome and brass, they bring both a reflective quality and unique warmth to the interior design of homes.
About Wood Candlesticks
There are three distinct but related items that buyers often get confused upon when looking for candle related goods. These are candlesticks, chamber sticks, and candle holders. The distinguishing features of these are briefly described below.


Candlesticks

Candlesticks have a 4 part structure. Starting from the top-down the individual parts are:

Socket or Pricket – where the candle is held in place. A socket allows the candle to be inserted and held in place. A pricket is a spike that a candle is inserted upon.
Bobeche – circular area under the socket hat catches the candle drippings.
Column - supports the socket and bobeche and is usually the longest part of the candlestick.
Base – supports the whole candle.

Chambersticks

As implied in the name, chambersticks were originally designed to carry candles up to the bedroom chamber. They are different from candlesticks as they usually have a large circular base with a handle, and the candle is held on a pricket or socket in the centre.

Candleholders

Candleholders are usually hollow containers that a candle is placed within.
Interior Design with Wood Candlesticks
Wood candlesticks are versatile and functional decorative items within the home. Grouped together in different sizes and combined with other decorative items like flowers and plant material, they can make interesting and stunning centrepieces for dining and coffee tables, or on sideboards. Think about fall and harvest themed centrepieces, or holidays like Christmas where winter berries and holly can complement the patina and deep colours of walnut, mahogany, or cherry candlesticks. The right choice of wood and finishing effects on a candlestick can enhance the décor and atmosphere of guest bedrooms and master bedrooms, providing a relaxed and welcoming feel. Used on mantelpieces above fireplaces, they help reflect and add to the glow of a lighted fire. With a mirror backing, the effect can be striking. Modern lighting can be harsh and clinical. Using dimmers and then groups of candlesticks can form pools of light that transform the ambience of a room, creating a romantic or intimate atmosphere.
Selecting Wood Candlesticks
Selecting the right wooden candlesticks depends upon whether the homeowner is buying for purely decorative purposes, is trying to furnish with styles that reflect the original authentic style of a period home, or for investment (i.e. to have an antique that will appreciate in value).
Contemporary Style
| | | |
| --- | --- | --- |
| New and Finished | An immense number of wooden candlestick styles and sizes are available in the contemporary category. Strong interest in interior design and home decor by homeowners has led to increased use of candlesticks within the home. The growing popularity of scented candles has also helped to increase the use of candlesticks. Both decorative and functional, wood candlesticks can be purchased that perfectly complement many interior design styles. Diverse styles like Shabby Chic, Gothic, Asian, African, Country and Farmhouse, or Modern can all be enhanced with the right candlestick choice. Oak, walnut, mahogany, teak, and cherry remain popular while more exotic species like mango, ebony and olive can be found as well. Finishes can be stained, glossy, flat paint, distressed, polished, ornately carved, lacquered, or natural. New and Finished wood candlesticks can be found in sizes ranging from miniature to large floor standing pillar pieces. | Fun styles of candlesticks and candleholders can be purchased for holiday occasions like Halloween and Christmas. |
| Unfinished | Unfinished wooden candlesticks have been shaped, but not painted, stained or accessorised. Usually made from low cost wood like pine, paulownia, or MDF. Homeowners can finish these off themselves, creating highly unique pieces while using their artistic skills. Painting and finishing effects like folk painting, burned-wood, staining, polishing, varnishing or gilding with copper, gold, or silver leaf can result in wood candlesticks that look much more valuable than they really are. Candlesticks can be customised to perfectly match other furnishings in the home, or for special occasions like weddings. Complementary coloured candles burning subtle fragrances, adds to the atmosphere of events and festivities. Unfinished wood candlesticks can be found in sizes ranging from miniatures of a few inches, to large pillars standing several feet high. | Opportunity to create genuinely unique, beautiful hand-finished pieces by homeowners that perfectly complement the home décor style. Great for instances where unique customisation is required e.g. wedding decorations, parties, and other celebrations. |
| Reproductions | Over the years, style fads have resulted in much of the character being stripped from many homes. Resurgence in home renovation and restoration is bringing back original features and styles. Character is being restored with classic fireplaces, ceiling details, period colours, and antique or reproduction furnishings and décor. Along with this resurgence, a new demand for wood candlesticks that replicate the styles of the past (refer to the following table for style examples), has emerged. | Allows the homeowner to get the effect of previous eras without paying the hefty antique price. |
| Reclaimed | Candlesticks made from reclaimed wood can impart a special quality to room décor. If made from aged wood, they have often weathered to develop a silvery/ grey effect. | Can look fabulous in rooms with a beach or seaside colour theme. Also look really good in Shabby Chic interior styles. |
Vintage and Antique Style Wood Candlesticks
This is a brief overview of style elements relating to wood candlesticks back to the early 18th century.
| | |
| --- | --- |
| Retro | Candlesticks that reflect the style of home décor in the 50s, 60s and 70s. |
| Art Deco | Symmetrical and geometric styles dominate. Wood was often combined with chrome and brass accents and fittings. |
| Art Nouveau | Swirling loose patterns based on nature particularly floral forms. |
| Arts and Crafts | Handmade, simple farmhouse styles. Wood was often 'natural', without varnish or veneer. |
| Edwardian | Influenced by Art Nouveau, the Arts and Crafts movement and a revival of Queen Anne styles. Typified by light furnishings and interior décor, so candlesticks in light delicate styles and wood like elm and teak |
| Victorian | Elaborate styles, often heavy in materials and colours. Candlesticks in hardwood like oak, ebony, walnut, rosewood, and mahogany. |
| Georgian | Elegant, ornate and formal styles, with candlesticks in mahogany, oak, walnut, rosewood, and elm. Revival |
Finding Wood Candlesticks on eBay
Searching for wooden candlesticks on eBay is done by following menu categories, or by using text search boxes.
Following Menu Paths
There are several menu paths to track down wood candlesticks for sale. Each menu path starts by first selecting the Categories link on the top-left of each eBay page. Then follow any of the paths listed below by selecting the category, then the sub-categories to display different lists of available candlesticks: There are several menu paths to track down wood candlesticks for sale. Each menu path starts by first selecting the All Categories link on the top-left of each eBay page. Then follow any of the paths listed below by selecting the category, then the sub-categories, to display different lists of available candlesticks: By clicking on the Antiques category, a new page will load, showing sub-categories. Under the Woodenware sub-category, select Candlesticks. Another method would be to click on the Antiques category, and then select the Decorative Arts link. On the new page, look to the left hand side and under Product, select Choose more. This will open up a list of products to select. Check the box for Candlesticks/Candelabra and press the Go button. The last step with this method is to select the Wood checkbox under the Material header. Finally, a third option would be to choose the Home & Garden category. From here, hover the mouse over Furniture & Living. A list should appear and click the Home Decor link. A large list of sub-categories will be available on the new page. Select the Candle & Tea Light Holders one. Finally, check the box for Wood under the Material header.
Searches
Enter the following search terms in the Search box at the top of each eBay screen: Wood candlesticks, Antique wood candlesticks, and Vintage wood candlesticks. Also, try substituting the word 'wood' for 'wooden', as this sometimes returns a larger listing of items to examine.
Summary
Wood candlesticks come in a large variety of sizes, different wood species, and finishes. They enhance the ambience of home lighting when grouped to create pools of light, and help create an intimate romantic atmosphere. Finished and unfinished pieces can be used not just in the home but at special occasions like weddings and banquets. Paired with subtly scented and coloured candles they can provide a striking decorative accent. Whether new, vintage or antique in style, wooden candlesticks can be found in styles that will support period interiors or modern designs.