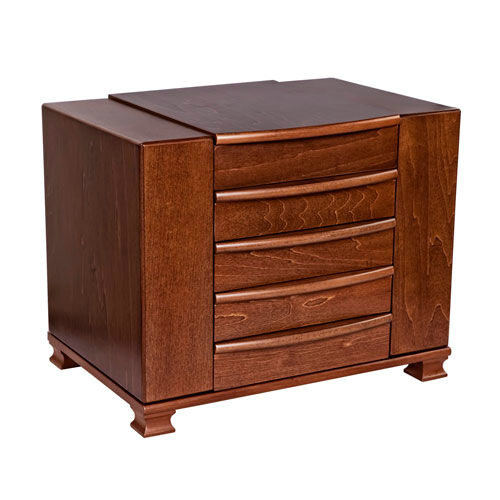 Jewellery boxes come in various types, styles, and materials, but the purpose is always the same: to store, protect, and display different jewellery items. Some of the most popular materials used to manufacture jewellery boxes include wood, leather, fabric, and metal. While many jewellery boxes are used for protecting and organising jewellery items during travel trips, there are certain boxes that are specifically manufactured to complement a room's decor. Women are mostly the owners of jewellery boxes, but men and children are also in the minds of some manufacturers, and jewellery boxes for men and children do exist.
At least introductory level knowledge about the various types of jewellery boxes, selecting the right box, and jewellery box finishes is important to choosing an appropriate jewellery box. Many jewellery boxes are available in traditional brick-and-mortar jewellery shops and department stores as well as online. eBay also features a wide array of jewellery boxes in wood and many other materials.
Characteristics of Wooden Jewellery Boxes
Wooden jewellery boxes are often the largest in size and can contain several drawers and cabinets with doors made from wood or glass. The most popular woods used to manufacture wooden jewellery boxes include oak, mahogany, teak, and burl wood. More often than not, wooden jewellery boxes turn into family heirlooms and are handed down through the generations.
Jewellery boxes for women can be as small as chests or as large as bureaus with multiple drawers stacked one above the other. Most jewellery boxes provide sufficient space for holding necklaces, bracelets, rings, earrings, and more. Sliding drawers are usually used in jewellery boxes for convenience. High gloss lacquer is generally used on wooden jewellery boxes, and some boxes are artistically carved, while others are sleek and simple.
Jewellery Box Details
Jewellery not only has a monetary value, but also an emotional attachment to it, as well. A buyer, therefore, naturally wants to keep it safe from any damage or theft, and jewellery storage options are of considerable importance. Jewellery boxes are one of several good ways to keep jewellery items safe. Jewellery cases are readily available in several styles in jewellery shops as well as online.
One very good analogy for the use of a jewellery box is that of a cupboard. A cupboard protects clothes and other fashion accessories, and jewellery boxes protect jewellery. An organised wardrobe makes it easier for a buyer to take care of clothes. Similarly, an organised jewellery storage box makes it easier for a buyer to take care of precious jewellery items like gold, diamonds, platinum, gemstones, et cetera.
In order to choose a wooden jewellery box, a buyer should pause to consider several things, including the type of wood, the design, the construction, and the features. Sorting through the various options available on online sites like eBay with this knowledge in hand is a highly recommended practice.
Materials for Jewellery Boxes
Good looking and durable jewellery boxes can be made of different materials. Wood, however, has its own deserved place as a long-lasting material and is often the preferred choice of buyers for many reasons. Jewellery cases that are made of wood can easily stand the test of time and tend to look great even after decades if proper care is taken. Velvet linings inside the boxes can prevent damage to gemstones. These linings are also helpful for holding jewellery in place.
Security and Construction of a Wooden Jewellery Box
Security is an important aspect of a wooden jewellery box and, therefore, should be considered seriously by a buyer before making a purchasing decision. The drawers of a jewellery organiser should fit perfectly, and the doors should click shut. Strong hinges should be used to hold the top lids in place. Using locks for added security is a common practice, especially for keepsake boxes and jewellery armoires. A box should preferably be chosen that has a large number of shelves so that there is no need to change or replace it once the quantity of jewellery increases. Another important consideration is the circumference of a jewellery stand base. It should be wide enough to avoid tipping when slightly disturbed.
Sections of a Wooden Jewellery Box
A jewellery box or armoire should have separate compartments or sections for different kinds of jewellery in order to avoid damage to jewellery that can sometimes happen when different pieces come in contact with one other, accidentally or otherwise. A separate hanging hook or section should, therefore, be used for each necklace, chain, bracelet, et cetera. Fabric-covered tubes can be used to wrap and store bracelets, as well. Slots for rings are necessary in order to store them securely. Similarly, earrings should be stored separately, and each piece should have a separate hole.
Design of a Wooden Jewellery Box
Jewellery boxes with various designs are readily available, and the selection of a particular design depends primarily on a buyer's preferences. It is a common practice, however, to purchase a box that matches the home decor. Some highly sophisticated jewellery boxes that are made from precious metals are used as decorative items, as well. Vintage designs are also popular with jewellery collectors and enthusiasts.
The size of a jewellery stand or armoire is also important, and a buyer should keep in mind his or her personal needs and not just rely solely on product reviews, as they vary from person to person and do not necessarily depict a true and complete picture. What is merely a suitable box for one person can be an outstanding purchase for another and vice versa. The location where a jewellery box is placed should be closely inspected and measured to make sure the purchased box is the appropriate size.
Jewellery Boxes for Children
Women mostly keep jewellery and jewellery boxes for years or even decades, and they often become family heirlooms that are handed down through the generations. In fact, women often introduce their young teenage daughters to their own jewellery boxes and encourage them to start keeping their jewellery items in these inherited vintage boxes. This makes a really good gift and teaches girls the value of jewellery and how to keep it safe. For teenage sons, watches are a great gift, and wooden watch boxes should, therefore, also be seriously considered to help them keep their watches in nice condition.
Pouches and Original Boxes
Jewellery boxes help store valuable collections in one place, hence minimising the risk of loss. Original boxes that often come with branded items are of great value and should not be thrown away. They not only enhance the beauty of a gem, but they are also useful if the item is ever resold. Extra boxes come in handy when travelling, as well. Pouches help an owner store a delicate and valuable piece of jewellery separately from other items.
Buying a Wooden Jewellery Box on eBay
With the advent of the Internet, purchasing items is now just a click away and less hassle. Jewellery and jewellery boxes and pouches are readily available on eBay. The site features a huge collection of wooden jewellery boxes. One easy way of searching for a jewellery box on the site is to use the search bar on the eBay homepage. You can enter relevant queries to see the corresponding results and the available varieties. Possible relevant terms include 'jewellery boxes' and 'wooden jewellery boxes'.
One highly recommended practice when using the site is to read the user comments and seller history of a potential seller before making a purchase. Return policies vary greatly from seller to seller, brand to brand, and even product to product. It is, therefore, recommended that you take your time reading through the return policies for potential items in order to avoid any unforeseen incidents caused by confusion.
Enter your postcode as a filter in order to look for local listings for jewellery boxes. This helps reduce or even eliminate the delivery charges if the seller is agreeable to a local pickup. As soon as your transaction is complete, you can collect the item at an agreed upon time.
Conclusion
Jewellery boxes come in lot of variations, but the purpose of storing, protecting, and displaying jewellery is the same. In addition to wood, popular materials for jewellery boxes include leather, fabric, and metal. Wooden jewellery boxes are very durable and often hold a special place in consumers' hearts because they can be handed down for generations as family heirlooms. Wooden jewellery boxes are also often designed to complement room decor in homes.
Women are not the only audience for jewellery boxes as some people might think. They are also popular with children and men. Men often use them for wristwatches, and children may inherit valuable jewellery and jewellery boxes from their parents or other loved ones.
Knowledge of wooden jewellery boxes, including their construction and security aspects, is imperative to making a wise buying decision. eBay features a huge collection of jewellery, jewellery boxes, jewellery pouches, and other accessories in various styles. A buyer is virtually guaranteed to find the perfect wooden jewellery box to perfectly complement his or her jewellery collection.