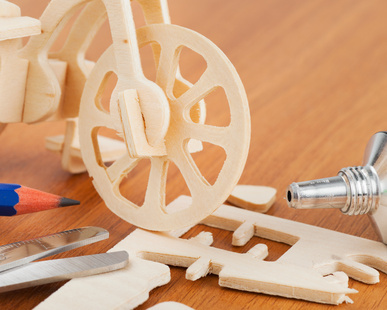 There is a wide variety of different wooden model kits available to buy on eBay ranging from fun figures to serious scaled down versions of historic ships. Kits aimed for children and beginners usually come in quite simple designs and sometimes have the wooden pieces already cut out, whereas kits aimed at adults can be incredibly detailed and require a lot of skill and concentration.
Wooden model kits are enjoyable and challenging to build, but they are also pleasing to admire when they are fully assembled. Some people use the model making process to de-stress, whilst others are fascinated with the historical accuracy of the kits. Before purchasing a wooden model kit on eBay it is important to ensure that you pick the appropriate skill level.
Types of Wooden Model Kit
The most popular kinds of wooden model kits are:
Aircrafts – These kits come in both military and non-military varieties, but military model kits are far more popular. They are often made with balsa, which is a low-density and high strength wood. Aircrafts from World War I, World War II, and modern jet planes are favourites among hobbyists. Some models are designed to be static, whereas some are equipped with aerodynamic designs to glide through the air.
Boats & Ships – These kits are extremely popular. There are many different kinds of wooden model ships such as: fishing boats, historical British vessels, and military ships. Some wooden boats are designed to be housed in glass bottles, whilst others have motors that are controlled by remote control devices.
Cars – These kits usually have a distinct aesthetic style, and are less realistic than model boats or model aircrafts.
Figures & Animals – These kits are especially popular with children and beginners. They are often easier to assemble than other model kits and feature fewer parts.
Helicopters – Leonardo da Vinci's 15th Century aerial screw helicopter is a popular choice for historically inquisitive model makers.
Military – Due to the expansive diversity of different subjects available, there is a huge demand for military wooden models.
Motorcycles – These kits are great for beginners and have a similar aesthetic style to wooden model cars.
Matchstick Kits – These models are made from special matchsticks that do not have combustible heads. The matchsticks are stuck to paperboard formers with glue to create a wide variety of different designs.
Other types of wooden model kits include:
Rockets & Space
Scenery & Buildings
Tanks
Trucks
Wooden Model Kit Scales
Some wooden model kits are designed to scale to their real-life counterparts. It is important to understand how big the model will be when it is finished before you make a purchase.
In terms of the scale ratio, the smaller the number, the larger the finished product will be. A ratio of 1:12 denotes that the wooden model is 12 times smaller than the original subject.
The model scaling system is well established among some types of model, but subjects such as animals and figures are not always built to scale. These are the most common scale ratios for aircrafts, military vehicles, automobiles, and ships:
| | | | | | | |
| --- | --- | --- | --- | --- | --- | --- |
| Aircraft | 1:24 | 1:32 | 1:48 | 1:72 | 1:100 | 1:144 |
| Military Vehicle | 1:16 | 1:124 | 1:35 | 1:48 | 1:72 | 1:76 |
| Automobiles | 1:8 | 1:12 | 1:16 | 1:18 | 1:20 | 1:24 |
| Ships | 1:72 | 1:96 | 1:144 | 1:350 | 1:450 | 1:600 |
Wooden Model Kit Skill Levels
Another important thing to consider when buying a wooden model kit is how difficult it is to put together. Some kits require a lot more work than others. In order to gain maximum enjoyment, it is vital that you choose a kit with an appropriate skill level.
The skill level system is not universal between all brands. It is primarily used for model ships and boats, as these are the most popular kinds of wooden model kits. However, the following characteristics can be applied to any type of wooden model:
Skill Level 1 – Kits that can be built without prior model building experience. Only simple hand tools are needed, and sometimes glue is not necessary. Some kits require basic cutting and fitting of timbers. These kits are suitable for beginners and children aged 8 and upward.
Skill Level 2 – Kits that require slightly more skill and some prior experience with simple hand tools. Some parts will need cutting, fitting, and shaping. These kits can be suitable for beginners and those with a little more confidence.
Skill Level 3 – Kits that can be fairly tricky at times. Prior experience in building wooden model kits is recommended. These kits require cutting, fitting, shaping, and fabricating wooden and metal parts. They are not suitable for beginners.
Skill Level 4 – Kits that are intended for experienced and skilled modelers. These can be fairly complex and are only suitable for intermediate level model makers and upward.
Skill Level 5 – Kits that are designed for experienced and skilled modelers only. Attention to detail is vital and some parts are very complex.
Skill Level 6 – Kits that are designed for expert modelers only. These kits are extremely difficult to build and require a lot of intricate handiwork.
Basic Tools Required to Assemble a Wooden Model
These are some of the basic tools that are required to build a wooden model:
Craft Knife
Pliers
Tweezers
Wire Cutters
Sandpaper & Sanding Block
Wood Glue
Clamps
Hammer
Nails
Builders Square & Magnet Set
Plank Bending Tool
Cutting Mat
Paints, Stains & Brushes
Glass Jar
It is useful to note that there are some beginner model kits that will not need the majority of these tools.
How to Build a Wooden Model
Every wooden model kit has a different assembly process, but there are some important steps to follow for all types of model. It is vital to follow the instructions attentively and carefully to get the most out of the model kits. To avoid disappointment and ensure that the wooden model kit is put together properly, always double check the instructions and remember not to rush anything. This is a basic guide on how to build a wooden model kit:
Use a traditional stain on the wooden parts to seal the wood and prevent warping when you paint them. This process should be performed by applying multiple layers of light coating, buffing the surface with an old cloth in between each layer.
Paint the wooden parts lightly and slowly. It is important to apply multiple layers to prevent the finish being ruined by runny paint.
To protect the model from dust and humidity, let it dry for at least 24 hours in a vacuum packed area.
Check that all the pieces are the right length. If some deterioration or warping has occurred, cut the wood back to the right size and clamp it to a hard surface to flatten out any imperfections.
When sticking the pieces together with wood glue it is important to ensure that all corners are square. Use a builder's square to create a right angle and hold everything in place with a set of magnets and then apply a light coating of wood glue.
When everything is stuck together it is time to apply any decal stickers. First, cut out the sticker from the sheet, dip it in warm water, and apply it to the model. To remove any excess water or air bubbles, wipe the decal firmly with a cotton swab.
After 24 hours of drying time the wooden model is complete. Now it is time to put the finished product on display.
How to Buy a Plastic Model Kit on eBay
There are hundreds of different wooden model kits available to buy on eBay. These products include:
Aircrafts
Boats and Ships
Cars
Figures & Animals
Helicopters
Military
Motorcycles
Tanks
Trucks
Rockets and Spaceships
Buildings
Wooden Matchstick Kits
To find a plastic model kit, visit the Toys & Games portal, then click the Model Kits link, select Wooden & Matchstick Kits and choose a category. For example: Boats & Ships, Figures & Animals, or Motorcycles.
To find a specific size, model, or make of wooden model kit, click the eBay search bar at the top right-hand corner of the page and type in a query. For example: "Mamoli 1:135 HMS Bounty Wooden Model Kit".
When a suitable wooden model kit has been found it is important to look at all of the pictures and read through the available literature on the product before making the purchase. This helps to give a good understanding of the exact specifications of the model. If more information is needed just Ask the Seller a question.
To buy the chosen model kit, either place a bid, Buy it Now, or place your Best Offer. Most eBay payments are made with PayPal, which ensures that the transaction is safe and secure.
Conclusion
There are lots of different wooden model kits available to buy on eBay but to get the maximum enjoyment out of the experience it is very important to make sure that you choose a kit with the appropriate skill level.
It is also vital to ensure that you have all of the necessary equipment and follow the instructions carefully. If used correctly a wooden model kit can provide hours of enjoyment whilst it is being constructed, and a lifetime of admiration once it has been finished and displayed.
Buying a wooden plastic model kit is simple and rewarding on eBay.