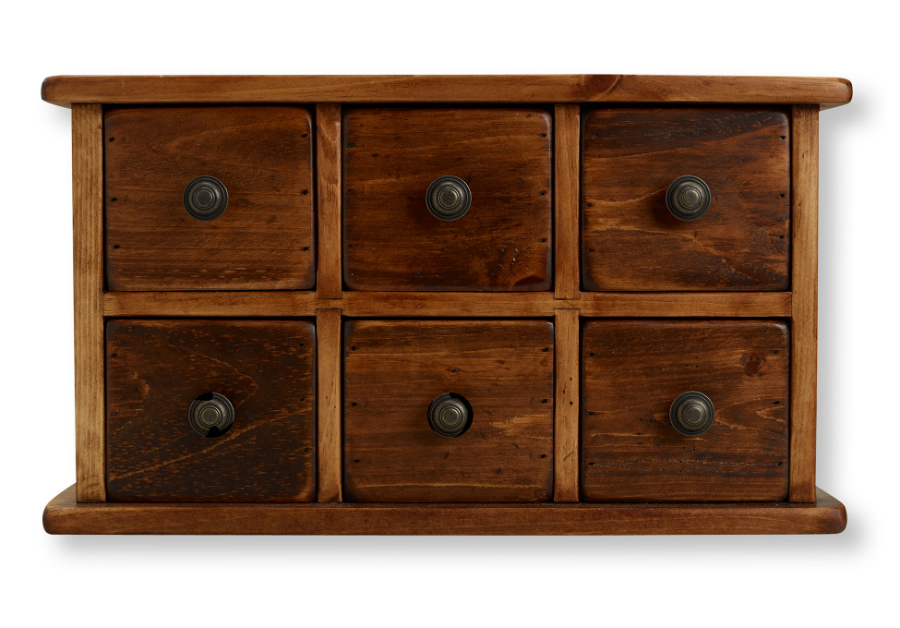 Storage boxes have been used for hundreds of years to solve the problems of small living arrangements and an increased amount of possessions. Whilst they began as simply practical creations, they have since become aesthetically appealing and a pleasant yet practical addition to home décor. A variety of materials and functions make them a great way to solve a variety of problems, but also provide a challenge for the buyer to research the correct wooden storage box for their needs.
About Wooden Storage Boxes
Wooden storage boxes have been around for hundreds if not thousands of years. Wood is one of the oldest materials that man began to work with and these boxes have a strong place in the antiquarian sector, having become incredibly expensive and stylish in English homes during the 1700s, 1800s and 1900s. Storage continues to be a problem for people, even more so as we begin to collect more and more belongings. Storage difficulties in modern households and a return in fashion for wooden furniture has led to global demand for wooden storage boxes. The cheaper and lighter plastic boxes are favoured for a solely utilitarian purpose, whilst wooden storage boxes are a far more aesthetic option. Wooden storage boxes are used from trinket boxes on a dresser all the way up to trunks and chests.
Choosing A Wooden Storage Box
The function of a Wooden Storage Box can be the first or last priority of the producer. Each product can be vastly different from the last, with entire series lines being dedicated to a certain market. The wealth of difference in material, purpose, and type call for some interesting and necessary reading to ensure the right product decision is reached.
Type of Wooden Storage Box
| | |
| --- | --- |
| Trinket Box | Trinket boxes or jewellery boxes are one of the smallest varieties of wooden storage boxes. They are designed to sit on dressers and desks, and are often made to be decorative as well as functional. A lot have lacquered or enamelled plates on the lid; otherwise they feature some inlay or inscription. More expensive trinket boxes can be lined with a soft material like felt to protect soft metal jewellery. |
| Chest/Trunk | Chests and trunks are some of the largest wooden storage boxes, acting as depositories for larger items or large collections of items. Chests often have rounded lids allowing more items to be stored in the created space, whilst trunks are often flat lidded and offer a wider, flatter space. Most chests and trunks are lockable or at least can fasten tightly close. |
| Blanket Box | Blanket boxes are a variety of trunks which normally sit at the bottom of a bed. They are used primarily for the storage of bedclothes, linens and blankets. Expensive examples will include a material lining to protect the delicates. |
| Toy Box | Toy boxes are rarely made from wood now, but their durability allowed a lot of older examples to still be around. Wooden toy boxes are normally left with an open top and are made from hardwoods like oak to ensure that children cannot break or splinter them. |
| Outdoor Storage | Outdoor storage boxes are normally very large, heavy and expensive. If made from wood, they are normally treated to ensure that they are "weather-proof". Most modern outdoor storage boxes are made from plastic but wooden versions offer a degree of warmth and attractiveness to the garden. |
Special purpose wooden storage boxes like humidors which store cigars at the correct humidity are predominantly made from wood, but are treated and finished by experts to create the right conditions for the contents. Strong boxes, safes, and toolboxes were once made of wood, but are rarely seen now with the advent of tough modern metals.
Material for Wooden Storage Box
| | |
| --- | --- |
| Pine | Pine is a species of softwood found prominently in Scandinavia and mainland United States. It is easily carved and shaped which makes it great for furniture, as does its ability to be stained and painted. Transport costs are kept down by abundance and low weight, meaning that pine can be one of the cheapest types of natural timber. |
| MDF | MDF (Medium-density Fibreboard) is a man-made composite wood formed by breaking down natural wood into fibres, then combining it with a resin. MDF is one of the most prevalent and popular man-made woods (compared to plywood and particle board) and is very strong, light, and cheap. MDF is rarely used when aesthetic appeal is important because of its artificial appearance, but is widely used with a practical view in mind. |
| Wicker | Wicker is an ancient form of woodwork which involves the weaving and threading of naturally growing grasses like cane, rattan, willow, reed, and bamboo. When weaved together, wicker becomes a strong and attractive material to work with, though needs proper maintenance to ensure its longevity. Synthetic wicker has become popular made from plastic and resin, used widely in outdoor furniture because of its resistance to weather and rot. |
| Mahogany | Mahogany is one of the densest, heaviest, and most resistant natural woods. It is one of the most expensive, but is considered one of the most luxurious, with its natural dark stain and attractive knot patterns. Storage boxes made from mahogany are often purely decorative. |
| Oak | Oak is a commonly used wood for storage boxes as it mimics the strength and density of mahogany whilst being lighter, easier to work and far cheaper. |
| Walnut | Walnut is another of the most expensive woods and is often used in expensive and luxurious furniture. Depending upon its age and where it has been grown, it can range through a wide spectrum of colours from ash grey to warm purple. The natural patina that walnut develops over the years make it an incredibly beautiful wood, as does its curled grain. |
Choosing New or Used Wooden Storage Box
Looking for wooden storage boxes will open up to a marketplace of different conditions. Each type will have its benefits and drawbacks and the proper research is required to ensure that the end product suits the needs.
| | |
| --- | --- |
| New | New wooden storage boxes will obviously have the benefits of never having been used before. Whilst this should mean that they will have the longest life expectancy and the least potential for damage, modern wooden storage boxes can be mass produced and made from cheaper materials. Hand-made wooden storage boxes will normally be made from more expensive and durable wood. |
| Used | Used wooden storage boxes are popular because of their lower price but it must ensured that the wood and any parts are in condition. Hinges and straps can wear out whilst the wood itself can be exposed to rot and woodworm. |
| Vintage | Vintage wooden storage boxes are in themselves a variety of used boxes, but are considerably more expensive because of their characteristics. Vintage wooden storage boxes might be Edwardian or Victorian in appearance, or they might simply be rustic and difficult to find 'new.' Many looking for vintage boxes will be looking for the distressed and 'well used' appearance. |
| Reproduction | Reproduction vintage boxes are being made to try and tap the market, mass producing wooden storage boxes which have been artificially distressed through rapid use or decoration. Whilst these will be cheaper than the originals, very few of them are convincing in their "perceived age." |
Closing and Fastening a Wooden Storage Box
| | |
| --- | --- |
| Hinged Lid | Hinged lids have the benefit of being attached to the box at all times, meaning they're unlikely to get lost or damaged separately. Many hinges are made of brass which is a soft metal, so be sure to check on the condition of any metal hinges for misshapen areas, rust or corrosion. |
| Loose Lid | Loose lids are simply a topside of wood which can be removed and replaced at will. Whilst great for practicality and the ability to pile items with the lid removed, the lid can be lost or damaged far easier. |
| Leather Straps | Leather straps with buckles are popular on wicker boxes which would have difficulty holding a hinge. Leather can deteriorate over time and will likely begin to fade at the points of the most stretching pressure, while the buckles can put strain on the material and engineer weak points which can snap. |
Finding Wooden Storage Boxes on eBay
Clicking All Categories on the left of the eBay homepage will bring up a long list of categories, from which navigating to Home, Furniture & DIY and then to Storage Solutions is possible. From here, the filters can be toggled on the right to find only Wooden Storage Boxes..
Conclusion
Wooden storage boxes are the perfect solution to a home requiring extra storage space but not wanting to bring unsightly plastic into the home. From the shine and sheen of a new wooden storage box to the distressed and vintage look of an older storage box, choosing to buy in wood will bring a touch of class and distinction to any home. Be sure to assess the quality and the condition of the materials before any purchase is agreed.