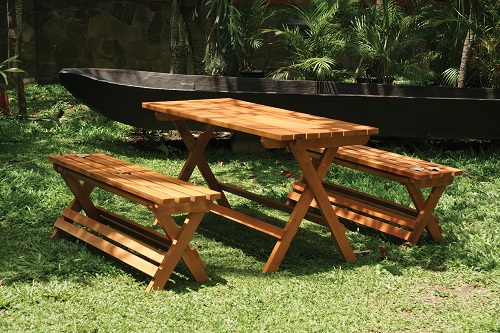 A Wooden Table and Bench Set is a great solution to seating and dining problems both indoors and outdoors. A bench offers a more communal essence than individual chairs, whilst the ensemble of wood gives a rustic and homely feel to the set.
About Wooden Table and Bench Sets
Benches began life as a lower class of seating when chairs were reserved for the higher society and more important people in society. They have become more synonymous now with seating of convenience, whilst their partnership with tables is a very common site in public outdoor areas. Wooden Tables and Benches have been around for hundreds of years, and as such there is a wealth of styles to choose from today. eBay is a great place to find the right Wooden Table and Bench Set for any occasion, from inclusion in a farmhouse dining room to filling a gap in the garden.
Choosing a Wooden Table and Bench Set
Wooden Table and Bench Sets are very unique, with a huge variety of styles and types existing today. Other things to consider include materials, assembly, size, shape, weight, price, and more.
Type of Wooden Table and Bench Set
Indoor sets will have different requirements, functions, and abilities to those designed to be used outdoors. Choosing the wrong type could mean that the product doesn't perform as well as it is intended to.
| | |
| --- | --- |
| Outdoor | Outdoor wooden table and bench sets should be built to withstand weather, moisture, damp, rot, and other challenges brought from spending time in the open. They are generally a lot heavier as to stay in position and withstand strong winds, and it's rare to see anything but solid wood being used. Outdoor wooden table and bench sets are normally made from hardier woods with good outdoor resistance like teak. Many will also be finished in a specialised paint or varnish, which will aid with the pressures of weather. The fixings, like screws and bolts, should also be made from a resistant material. |
| Indoor | Indoor wooden table and bench sets have a lot more freedom in design and material, as the pressures are far lower. Indoor varieties are often lighter and cheaper; they can be made from veneer rather than solid wood and can utilise more aesthetic woods, which may be less resistant. |
Material of Wooden Table and Bench Set
The type of wood used for a table and bench set can determine many of its functions. Many species of wood are unsuitable for outdoor conditions, whilst some can be too heavy and impractical for indoor use. Other factors like acceptance of paint and stain, carving ability, and price also pigeonhole which wood can be used for types of table and bench sets.
| | |
| --- | --- |
| Oak | Oak is one of the most popular and widely used types of wood for furniture, as it is both hard whilst still being easy to work with and shape. Oak can be used both indoors and outdoors, with white oak being preferred for the latter as it has a good resistance to moisture. Red oak is slightly cheaper, though doesn't have as attractive a natural grain pattern as white. |
| Pine | Pine is also very popular for furniture, though is far more suited for indoor use. It's very cheap and widely available, and will take stain and paint very well. Most flat pack furniture is made from pine. If using pine outside, it should be left unfinished or painted to allow it to breathe and naturally dry out when it takes on moisture. Sealing the wood can speed up the process of decay. |
| Teak | Teak is a very good type of wood to use for outdoor furniture. The combination of a fantastic aesthetic grain and colour, alongside one of the strongest resistances to weather makes it the top choice for outdoor wooden table and bench sets. Unfortunately teak can be very expensive because of this demand, but buying a used set is always an option as it has great longevity. |
| Cherry | Cherry wood is similar to oak in being hardy but easy to work with, but has a much richer colour of dark red. Though more expensive than oak and a little harder to find than it was some years ago, cherry furniture is considered some of the most beautiful. |
| Mahogany | Mahogany is one of the most traditional, and expensive, types of wood to be used in furniture. Its ability to last for years and look great naturally or with just a little oil makes it a superb option for furniture, but expect to pay more than most other woods. |
Wooden Table and Bench sets can either be made from solid wood, or veneer. A veneer table and bench set would be made from a cheaper, often man-made wood like MDF or Plywood and then finished in a thin layer of more expensive and aesthetic wood. This makes the furniture far cheaper but also makes it weaker, harder to repair and lessens its longevity. Solid wood furniture is made from a single species of wood, meaning that chips and scratches will only reveal the same wood beneath; rather than the cheaper wood that a chip on veneer furniture would show. Solid wood furniture is much more expensive and often heavier, but can be expected to last for much longer.
Style of Wooden Table and Bench Set
As well as the location and the material of the wooden table and bench set, it's important to take into account some other functionalities of the furniture. Always read the seller's description carefully to determine if the product is right for its purpose.
| | |
| --- | --- |
| Fixed | Fixed wooden table and bench sets are often called picnic sets or pub sets, as they are often seen in public outdoor use. These types are generally heavier and more difficult to transport. Fixed sets are not common for domestic use, but can still be found for sale if looking for a novelty piece of furniture. |
| Loose | Most wooden table and bench sets will be loose, with the benches being separate pieces of furniture from the table. This makes them far easier to transport, maintain and clean; alongside making it simple to customise the layout and accommodate for extra people around the table. |
| Assembly | Pay close attention to the specifications of the wooden table and bench set; check whether it requires assembly and whether it can be dismantled once built. These will have a big bearing on transport costs, or whether the product can be transported at all through normal means. |
Choosing A New Or Used Wooden Table and Bench Set
All wooden furniture will come under scrutiny when bought in a used condition because of its potential to deteriorate and change over time. The longevity of natural materials depends upon a lot of things, including the intrinsic properties of that material as well as user care and conditions.
| | |
| --- | --- |
| Used | There is a huge market for used wooden furniture, particularly for indoor products. Used outdoor wooden table and bench sets will be slightly rarer because of the tendency to decay over the time and lose re-sale value, though some fantastic deals can still be had. For both indoor and outdoor use, contact the seller and ask them to inspect for mould, moisture patches, softer areas, and any evidence of woodworm or termite. |
| New | New wooden tables and bench sets are much easier to buy, in terms of their condition. As long as they arrive in their original packaging, they should never have been used, but it's always worth checking both with the buyer and on the product itself when it arrives. |
Find a Wooden Table and Bench Set on eBay
Finding a Wooden Table and Bench Set on eBay is very easy; first of all open the All Categories directory on the Home Page. Click Garden & Patio to open up a list of more options, then click Furniture Sets. This will open a results page, in which filters can be applied on the left to sort the results by Material, Type, Condition and more. Wooden Table and Bench Sets can also be found in the Tables and Bench categories. Filtering in the Benches category by Table & Bench Set will yield the best results.
Conclusion
Selecting the right type of wood is one of the most important things to consider when looking for a wooden table and bench set, but don't underestimate the significance of things like condition and function. Conducting the search on eBay allows buyers and sellers to communicate more efficiently than on other formats. With the information provided above, it should be a more straight-forward exercise to research and select the perfect wooden table and bench set on eBay.