Whether you want to give a favourite outfit another lease of life or get a brand new look, find out how eBay can help you freshen up your wardrobe-staple denim jeans.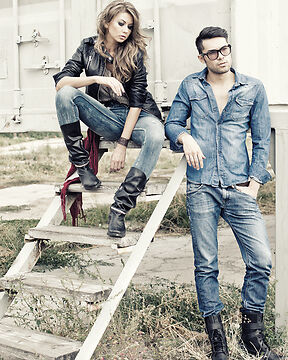 Your guide at a glance
Why update your jeans?
For her – timeless style: skinny jeans
For her – hot right now: boyfriend jeans
For him – timeless style: slim fits
For him – hot right now: understated tones
Keeping up with the latest trends can be a time-consuming – and costly – task. That's one of the reasons why a couple of pairs of versatile jeans are such a wardrobe staple. They look great, feel comfortable and go with just about anything. They form the element of an outfit that doesn't need agonising over.

Yet even jeans undergo subtle reinventions as the seasons pass. A different cut, adjusted rise or new wash could completely refresh many of your day-to-day clothes choices, preventing what you instinctively reach for becoming dated looking.

Jeans don't have to make a huge dent in your bank account, either. Wrangler have been producing high-quality, classic American clothing and denim jeans since 1943 – there's little that suggests the old pioneer spirit like a pair of vintage Wranglers – they don't cost the Earth and are still at the cutting edge of fashion today.

Why?
When
skinny jeans
burst back onto the scene in the mid-Noughties, many assumed they were a flash in the pan and that boot-cut jeans would soon be the denim of choice again. Yet here we are a decade later and skinny jeans are still a vital item for many women.
Thirty years on from being the sole preserve of big-haired LA band members, a good pair of skinny jeans will work with almost any body shape, flattering legs and emphasising what you wear on your top half.
What to think about:
Dark colours and washes are the most slimming on legs, and they have the added benefit of instantly making what you wear look more formal. Try to go for a size smaller than you'd normally wear – the jeans will loosen after a couple of days' wear and you don't want to ruin your silhouette with bagginess. The same goes for your ankle area. A pair of sleek ankle boots will be overshadowed by fabric bulking around the tops of the feet, so turn up if necessary.
Team them with:
Narrow shoes such as simple plimsolls, ballet pumps or heels, and slim-fitting tops and shirts. If you prefer wearing hi-top trainers, balance them out with a jacket and accessories on top.
Recommended Wranglers:
Look for Jess skinny jeans in the
Ladies' Wrangler
section of eBay.
Why?
Easier to wear than a pair of skinny jeans and paraded around Hollywood by the likes of Gwen Stefani and Eva Mendes,
boyfriend jeans
are supposed to look like you've whipped them out of your partner's wardrobe.
Far more comfortable to wear, easier to squeeze into and allowing you enough breathing space to have a decent lunch, boyfriend jeans are incredibly popular, especially if they appear more worn and distressed.
What to think about:
There's not so much to think about. Wear them rolled up and down, wear them to a bar or to the shops. They're more relaxed jeans; the idea is you wear them with the minimum of fuss.
Team them with:
Simple, loose-fitting T-shirts and vests along with flat shoes. The looser the jeans, the simpler and more relaxed the rest of the outfit should be. Glam heels should be reserved for slimmer-fitting jeans.
Recommended Wranglers:
Wrangler Roxanne jeans offer more room than a pair of skinny-fits, yet just as much effortless style.
Why?
After the hip hop-inspired rise of baggy jeans in the 2000s, sharp indie bands inspired a comeback for skinny jeans. Yet for fans of more subtle fashion statements,
slim fit jeans
offer a close cut and straight or tapered legs that look great with shoes or trainers.
Mid-rise slim fit jeans in particular flexible enough to go with almost any item of clothing, so you can get dressed, feel relaxed and look fresh.
What to think about:
Although there is more room in a pair of slim fit jeans compared to traditional skinny-fitting examples, it's still important to make sure they don't bunch up or sag. So, you could hem the legs just where they meet your feet, showing off a little bit of your socks and a good pair of shoes. It's an option that works for all heights.
Or, you could cuff the ends of the legs a couple of inches above your ankles – this is perfect for breaking up the vertical line of tall men who aren't so confident about their leg length.
Team them with:
Flexible enough to be worn with brogues, trainers and boots, slim fit jeans truly are trousers for all occasions. Complete the look with a brushed cotton sweater, simple, block-coloured T-shirt or a blazer.
One great tip for when you find a pair of jeans you love is to buy a pair that fits you snugly around the hips (the closer, the better as they'll loosen after a couple of days) and then buy the same style in the next size up – the size that fits you more comfortably. That way, you have going out jeans and an everyday pair.
Recommended Wranglers:
Spencer jeans from
Wrangler
are a smart, svelte choice.
Why?
Previous years have seen all manner of brightly coloured jeans striding around the nation, but this year is all about a dark, understated look. It means that your jeans can act as an anchor to the brighter items in your wardrobe.
Khaki greens, burgundies and ocean blues replace bright greens and reds, which means you'll be able to wear more with each pair of jeans. Rugged is back in favour, too, so you can sling your jeans in the wash without worrying about whether the colour will fade and take on a worn look.
What to think about:
Choose darker colours as these are more likely to slot into your existing wardrobe – plus they'll last longer when the trend inevitably changes. Earthier colours will also complement bold patterns on shirts throughout summer.
Team them with:
Bright, intricate flowery shirts and fine print tops will be offset by a pair of worn-looking jeans. Plus, your striking, customised trainers will stand out.
Recommended Wranglers:
Pick up a pair of
Wrangler Ohio
jeans in earthy hues or deep blues.