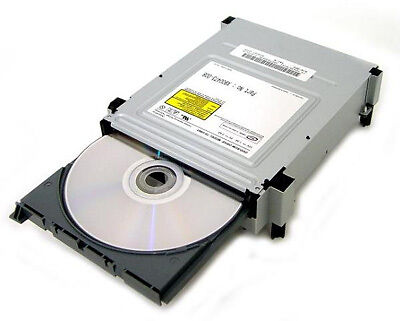 Early production runs of the Xbox 360 are equipped with a 12x DVD drive, capable of a maximum read rate of 15.85 MB/s. The original production DVD drives were manufactured by both LG and Toshiba. Beginning in November 2006, a new model the BenQ VAD6038 was introduced, which is said to run faster than the previous models and, in addition, is much quieter. There is a new drive by LiteOn.

Games are stored on standard dual-layer DVD-ROMs with 6.8 GB on the older XGD2 (Xbox Game Disc 2), but the newer XGD3 discs contain 7.8 GB of usable space available for game content. The option to apply a regional lockout to games is available to publishers, although DVD region codes are always enforced for movies. Microsoft has implemented methods to prevent hacking through the drive. Later drive models have the external debug triggering removed and black hard glue added to cover all the chip and controller pins. The drive is able to read both DVD±R and DVD±RW in addition to being able to play DVD-Video out of the box, unlike its predecessor, which required the purchase of an add-on remote. The system is also capable of playing standard CDs along with CD-R/RW, CD-DA, CD-ROM XA, CD-Extra, WMA-CD, MP3-CD, and JPEG Photo CD. Some users reported problems with the disc drive, as when a user changes the console's orientation, the inserted disc may brush against the drive's pickup assembly and incur scratches to it. The users manual advises against changing the console's position while there is a disc in the drive. Other users report experiencing disc scratching during normal horizontal usage.

Announced at CES 2006 and first publicly shown at E3 2006, an external HD DVD drive was released in North America on November 7, 2006 (for US$199.99) and in Japan on November 17, 2006 (for ¥19,800). In the UK, France and Germany, the HD DVD drive was released for €199.99/£129.99.[15] The HD DVD drive was bundled for a limited time with an Xbox 360 Universal Media Remote, as well as an HD DVD copy of Peter Jackson's King Kong.[15] The drive plays HD DVD movies, although all Xbox 360 games will remain on the DVD format. Microsoft has no plans to include an internal HD DVD player in future Xbox 360 designs. The drive connects to the Xbox 360 via USB and contains two integrated USB ports on the rear. Games can not be played on the HD DVD drive.

Microsoft has since discontinued the HD DVD add-on since the format was officially dropped by Toshiba. All remaining drives on store shelves have been drastically reduced in price by an average of US$50.00 to US$129.00 Some retailers have lowered it to as low as US$50.00 to clear it from their inventory.