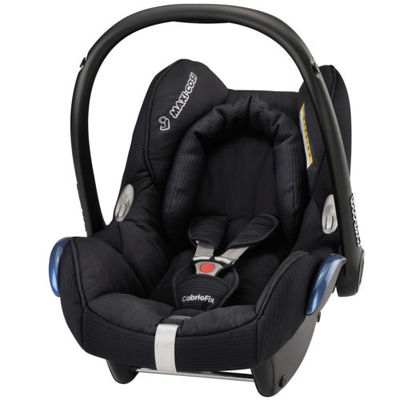 A baby car seat has been made to keep babies and toddlers safe when they are travelling in the car. Car seats are secured either by a seat belt or an isofix base and help to protect your child, if you are involved in a collision.

The Law
The use of car seats and belts for children are regulated by law. To ensure your child's safety in a car it is very important that you choose the right car seat and fit it properly.
Children less than 135 cm length or under 12 years old must use the child restraint appropriate for their weight in any vehicles. Rear facing baby seats MUST NOT be used in a seat protected by a front air bag unless it is deactivated manually or automatically. Only EU-approved child car seats can be used in the UK. These have a label showing a capital 'E' in a circle.
Choosing a car seat.
According to the current safety standards as set out in ECE R44/03 0r R44/04 For a younger child it is their weight rather than the age that is deciding which car seat is suitable and safe.
Car seats are categorised by groups.

Weight range Approx. Age Group
Birth to 10 Kg/22lb Birth to 9 months 0
Birth to 13 Kg/26lb Birth to 18 months 0+
9 to 18 Kg/ 20 to 40lb 9 months to 4 yrs. 1
15 to 25 Kg / 33 to 55 lb 4 to r Yrs. 2
22 to 36 Kg / 48 to 79 lb Upto 12 Yrs 3

Infant carriers
Babies are much safer travelling in rear facing car seats. You should use a rear facing car seat until your baby weigh upto 13 Kg or baby's head reaches the top of the seat. These are categorised as Group 0 and Group 0+ or simply infant carriers. Infant carriers have handles that let you to carry your baby in and out of the car without disturbing them too much. They usually comes with little pillows as well .Always make sure that the carrier is properly fitted when you put it back into the car. A great choice is the ISOFIX base – a really simple click in system meaning you are good to go in seconds. If your car seat is a part of a travel system, you can fit it straight on to a push chair or a pram.
Don't place a rear facing infant carrier n a front passenger seat fitted with an active air bag under any circumstances. As your baby gets heavier it is not so easy to carrying in and out of the car, you may need to leave the seat fitted in the car.
Your baby may probably out grow their first car seat when they are between 15 and 18 months, then you will need to buy a group 1 seat. Again remember it is the weight rather than the age is the deciding factor.
Group 1
Group 1 seats are heavier than infant carriers and have no handles. They stay in the car. When forward facing do not use on a front passenger seat unless your vehicle manufacturer declare it is safe to do so. Always check with your vehicle hand book.
Group 2 and 3
They are the booster seats for children from 15 kg to 36 Kg. A booster seat is ideal for older children until they can safely use an adult seat belt. Booster seats raise your child on the car seat to enable the best fit of an adult diagonal and lap seat across their hips and shoulders.

On ebay you got a wide range of car seats – both new and used. If you buying a used one, you should make sure that the seat has never been in a crash and there is no wear and tear. You will need the instruction manual also. (some of them is available online). So you know how to fit and use the seat.

Always register your product with the manufacturer. So in case of a product recall or any safety issue you will get updated.

This guide is written as a part of my bzzagent campaign and I hope that you found it helpful.