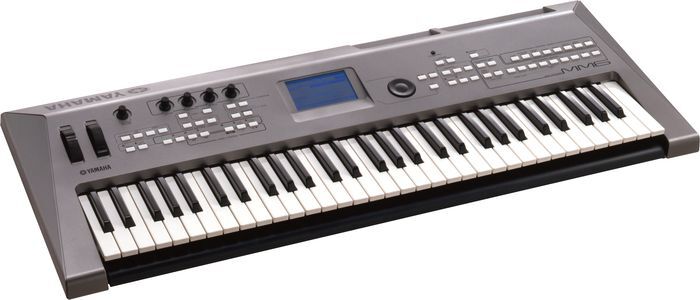 Yamaha is a huge international conglomerate that began life as a musical instrument manufacturer in Japan in 1887. Musical instruments still make up a significant percentage of their output to this day, and in fact they are widely regarded as experts in the field. Yamaha products are known for their high quality and advanced technology, and this is never more true than in the case of their synthesisers.
The Yamaha Synthesiser Range
Five different series of synthesisers make up the Yamaha range: MOX, MX, MM, XS, and MOTIF XF. Each series offers buyers something different in terms of technology, functionality, and design. Before buying a Yamaha synthesiser, it is important to know what is available throughout the entire range.
Yamaha MOX Series Synthesisers
MOX synthesisers offer 1270 sounds, including strings, drums, brass instruments, and pianos. There are also 6720 Arpeggiator patterns and 256 different pre-loaded performances, covering musical genres such as jazz and rock. Features on offer includes a built-in sequencer, recording and editing functions, and USB ports and software for computer integration.
MOX6 vs MOX8
There are two synthesisers in the Yamaha MOX range, the MOX6 and the MOX8. They are both powerful synthesisers, but fans of a full keyboard would be best advised choosing the latter. The MOS8 has an 88-key Graded Hammer Standard keyboard compared to the MOX6's 61-key semi-weighted keyboard. As a result it is a larger and heavier synthesiser, at 14.8kg compared to 7kg, but the extra size is justified by the enhanced versatility the instrument offers.
Yamaha MX Series Synthesisers
MX synthesisers feature a Performance Mode utilising 128 stored performances, and there are over 1000 sounds to work with. The technology on offer includes Virtual Circuitry Modelling, which can be used to create retro synthesiser sound effects. Recording can be done on-board or through USB connection to a computer. Further bi-directional ports are provided for connecting devices such as an mp3 player.
MX49 vs MX61
The Yamaha MX49 and MX61 are virtually identical in terms of design. The only real difference is found with each keyboard, with the names of the synthesisers referring to the respective 49-key and 61-key configurations. The MX49 is also slightly smaller and lighter than the MX61, with a weight of 3.8kg compared to 4.8kg. This weight difference is hardly noticeable, and both synthesisers are very light in comparison to some of the alternatives available.
Yamaha MM Series Synthesisers
MM synthesisers provide 418 voices and 22 drum kits that can be easily accessed using a category search function. There are also 213 Arpeggio types to utilise, and voices can be split and layered as required before being conveniently stored on-board using the Performance Memory feature. When playing live, they can then be immediately recalled with one simple press of a button. As with many other Yamaha synthesisers, MM models feature USB ports for connectivity and storing recordings on a memory stick, as well as software for computer integration.
MM6 vs MM8
Apart from a notable variation in size, there is no difference between the MM6 and MM8 synthesisers. The MM6 is designed to be portable, and it is therefore perfect for transporting to gigs or performances. It weighs only 5kg, and features a 61-key keyboard. The MM8 by contrast has a full 88-key keyboard and weighs 15.6kg. Its full range of keys means that it is an excellent choice for performing piano music.
Yamaha XS Series Synthesisers
XS synthesisers are perfect for piano players. They have high-quality keyboards and include an extremely accurate concert grand piano voice. Their Performance Creator feature allows individual voices to be called upon instantly while performing and layered on top of one another at the touch of a button. Recordings can be saved in the internal flash memory, or alternatively stored on an external USB memory device. XS synthesisers also feature a jack for connecting a microphone or guitar.
S70 XS vs S90 XS
The Yamaha S90 XS is slightly longer than the S70 XS in order to accommodate its larger keyboard. It has 88 keys as opposed to the S70 XS's 76, although both have balanced hammer effect keyboards. The S90 XS also has a small number of extra controls; for example, two very useful assignable function buttons. Finally, there is a weight difference of 2kg, with the S90 XS weighing 22.4kg compared to the 20.4kg of the S70 XS.
Yamaha MOTIF XF Series Synthesisers
MOTIF XF synthesisers feature a massive 741MB of waveforms in the internal flash memory. More importantly, the flash memory can be expanded to a total of over 2GB, meaning that there is huge scope for creating and recording music. With Virtual Circuitry Modelling, Expanded Articulation, and a tone generator that allows up to eight elements per voice, MOTIF XF series synthesisers incorporate impressive technology. There are also 7881 types of Arpeggios for even more sound options. The Performance Mode uses an Integrated Sampling Sequencer to allow complete songs to be composed, and a microphone jack provides a further option for vocal tracks.
MOTIF XF6 vs MOTIF XF7 vs MOTIF XF8
As with each series of Yamaha synthesisers, the differences between the MOTIF XF instruments relate solely to the dimensions and keyboard specifications. The Yamaha MOTIF XF6 and XF7 synthesisers both have FSX keyboards featuring initial touch and after-touch, the former displaying 61 keys and the latter 76. The Yamaha MOTIF XF8 is the largest synthesiser of the three, with a full 88-key balanced hammer effect keyboard, once again featuring initial touch and after-touch functionality. In terms of weight, the MOTIF XF8 is obviously the heaviest at 28.9kg, followed by the XF7 at 17.2kg and the XF6 at 16.1kg.
Buying the Right Yamaha Synthesiser
The range of Yamaha synthesisers on offer means that the needs of various buyers are well met. An inexperienced synthesiser user will not necessarily be suited to the same instrument as a professional musician. As a result, there are several factors for each buyer to consider before making a purchase.
Yamaha Synthesiser Size and Weight
Some synthesisers are very heavy, and take up a lot of space within a home. They are not particularly portable, and are not ideally suited for children. A better option in such cases would be a lighter synthesiser with a small keyboard, such as the MX49. Smaller keyboards with less keys are also easier to operate, meaning that they are often a good choice for synthesiser novices.
Synthesisers for Performers
Some Yamaha synthesisers include technology specifically for buyers who intend to play live. Features such as the Performance Creator mode make it easy to compose original performances or adapt the ones that come pre-loaded. Voices can be split and layered in real time during live performances, and individual recordings can be saved for posterity. Anybody who is interested in live performance should ensure that the synthesiser they are intending to buy has a Performance Mode, include a Performance Memory feature.
Sound Library and Polyphony
One of the most important factors to consider when buying a synthesiser is the number of voices available. In general, the greater the number of sounds to work with the better. The range of sounds on offer varies between synthesisers, so before making a purchase it is important to discover the quantity and types of sounds available. Some synthesisers, such as the MOX6, have over 1000 sounds to work with, while others, such as the MM6, have less than half that number. The latter is better suited to people who do not compose much music, but just play for fun, whereas a greater sound library is essential for serious musicians. In addition, the polyphony refers to the number of sounds that can be played simultaneously, so once again the greater the better.
Yamaha Synthesiser Integration with Computers
Modern musical recording and editing is often done using computers, meaning that effective computer integration will be an important feature for many synthesiser buyers. A USB port for connection is essential, and it is desirable to have music production software bundled with a synthesiser when making a purchase.
Of course, some buyers will simply want a stand-alone instrument that they can use to compose and record music. Synthesisers such as the MOX8, with its built-in sequencer, recorder, and editing function, would be ideal for this.
Synthesiser Memory
Most synthesiser users enjoy recording the sounds and music that they create, so before buying a synthesiser it is important to discover what recording options are available. Some synthesisers, such as the S90 XS, provide storage in the internal flash memory, while others allow recording to a USB memory device. The MOTIF XF8, with its upgradeable flash memory, is an excellent option for heavy users who do not want to have to replace their entire synthesiser every few years.
The Reliability of Yamaha Synthesisers
Yamaha synthesisers are high-quality instruments, and are, therefore, very reliable. However, as with any other piece of technology things can go wrong. When buying a synthesiser it is important to check that all of the keys, knobs, and buttons are in good working order, as they can sometimes stick. Connections such as USB ports should also be checked to ensure that they are secure.
Finding Yamaha Synthesisers on eBay
With the large selection of Yamaha synthesisers on eBay, it is easy to find the perfect instrument. The category Musical Instruments can be narrowed down firstly to Pro Audio Equipment and then to Synthesisers & Sound Modules. In the Brand menu clicking on choose more and then Yamaha will narrow the search down to only Yamaha synthesisers.
Conclusion
With such a vast wealth of experience, Yamaha are undoubtedly experts at producing high-quality synthesisers. Each series includes instruments that are technologically advanced, and that have all of the features that any professional or casual musician would want, hence their popularity on eBay.