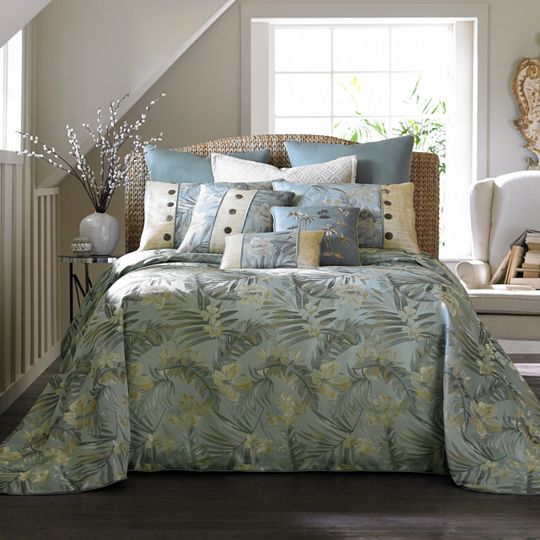 Few easier, yet more instantly transforming, bedroom improvements exist than the simple switch to a new bedcovering. While many hundreds of pounds, if not thousands, can go into giving a bedroom a makeover, one cost-cutting alternative is to refresh the bed linens. In one fell swoop, a bedspread can create anything from a tranquil, meditative mood to a warm, womb-like impact.
With every style, from natural, neutral fabrics to colour explosions on silks from India, the bedspread shopping experience has to be one of the most enjoyable, if not mind-blowing. Thick, soft bedspreads, paisley shawls, red patchwork satin alternatives, and crocheted granny squares are just a few of the many options.
To source a bedspread, it may be necessary to scour a large number of shops and outlets, from bigger department stores to general household and DIY warehouses. Smaller bed linen shops, market stalls, and gift shops are among the places that stock a limited number of bedspreads at any time.
An easier method is to look online. Selections of bedspreads from all over the world can be viewed and compared without leaving the house, and eBay's bedspread offerings are extensive. Purchasers can find on eBay at any time a host of new and used bedspreads to fit virtually every colour scheme and budget. In the pursuit of a suitable, appealing bedspread, buyers need to bear certain factors in mind, such as function, bed size, colour scheme, and the age of the item.
Introduction to Bedspreads
It is not surprising that the guest beds of classy holiday rental homes, boutique hotels, and desirable guest houses are almost invariably adorned by a pretty bedspread. Available in an almost infinite number of materials and combinations of materials, the bedspread is a real signature item that stamps the bedroom with an identity. Rooms with two single beds look exceptionally tidy and pleasing when two attractive, matching bedspreads are the first thing to catch the eye.
Although principally bedding items, bedspreads also do serve in other roles. Ornamental bedspreads may look fabulous as wall hangings that give a dramatic instant lift to a bland room. The recommended procedure is to start by compiling a mood board with a compilation of scraps of fabric, photos, and paint daubs that sum up the ambience and colour palette that you wish to recreate in your bedroom.
What to Consider When Buying a Bedspread
A primary consideration with bedspread buying is what the proposed function is to be. Once that purpose has been clarified, the size and style of the bedspread (including colour and fabric) are then the only remaining decisions.
Bedspread Functions
Is the bedspread for daily use, or is it an occasional item to be brought out for special visitors? Does it have seasonal relevance, for example, as something light to grace the bed when summer temperatures mean packing away the winter duvet and replacing it with a cotton sheet? Alternatively, is a warm winter bedspread desired specifically to provide added warmth?
On a quite different note, the bedspread may have a purely decorative function that serves, for example, to pull together a room's overall decorating scheme. In this case, the bedspread is often removed at bedtime and folded away to be replaced in the morning during bed making. Lastly, some bedspreads are purchased with the express intention of using them as either wall hangings or bed canopies.
Bedspread Dimensions
Bedspreads come in a myriad of sizes, not all of them standard, since, naturally enough, the homemade, artisanal bedspread often defies regulation dimensions, especially if it has been knitted or crocheted from squares or has been sewn together from patchwork pieces. Nevertheless, some common ground exists when it comes to the dimensions of bedspreads or throws that are intended for each of the standard UK bed types, which are single, double, and queen.
The sizes that are provided in the chart are representative of some manufacturers. Considerable variation exists among the many producers of bedspreads.
| Bedspread Size | Average Dimensions |
| --- | --- |
| | 150 cm x 220 cm |
| | 235 cm x 220 cm |
| Queen | 260 cm x 240 cm |
| | 265 cm x 260 cm |
| | 295 cm x 260 cm |
Depending on how much of the bedspread is to flow onto the floor, the above dimensions can be adjusted. There is nothing worse than acquiring a bedspread that does not fully drape over all three sides of the bed.
Bedspread Colours
In order to not regret the ultimate decision, the prospective buyer should take a cool, appraising look at the colours that have been used in the room and also at the furniture, flooring, and the bed itself. With the help of a mood board, a homeowner can explore the shades that could be considered for the proposed bedspread. A black bed frame, for example, works well either with greys or reds in the bedspread, but preferably not with a brown bedspread.
Selecting a Bedspread
Indulging a personal whim is a perfectly reasonable basis for choosing a bedspread. It is a fitting item for engaging in self-expression, and it can also bring new warmth and allure to a drab bedroom.
Styles of Bedspreads
There are almost as many types of bedspreads as the imagination can encompass. From shiny, slippery fabrics that are begging to be combined with fluffy cushions, glitzy silver light fittings, and assorted bling to warm, snuggly throws made from different wools, there is a huge spectrum of options where bedspreads are concerned.
Candlewick Bedspreads
A real classic, the candlewick bedspread had its heyday in the 1970s. The textured, often complexly patterned finish is normally found in solid, pastel colours with optional detailing in similarly pale shades. The texture is distinguished by its ridged, or furrowed, appearance. A candlewick bedspread is a great choice as the centrepiece in a 1970s revival bedroom, or it could be part of an eclectic-inspired boudoir.
Quilted Bedspreads
Possibly the most popular of all the bedspreads, the timeless quilted bedspread represents the pampered side of bedroom furnishings. Often in strong colours and in retro fabrics that possess a dull sheen, the quilted bedspread creates an image that has come to be associated with romance and opulence. Shiny silk, satin, or polyester styles may be appliquéd with various patterns. Cotton, linen, and polyester quilted bedspreads are either deeply quilted and puffy or just lightly quilted to produce a minimal 3-D effect. These types of bedspreads are often available in cheerful, multi-coloured prints.
Reversible Bedspreads
For an economical way of changing a bed's appearance, the decision to buy a reversible bedspread is a sound one. In many cases, a 'busy' print covers one side, while the reverse side is a solid colour. Stitching, quilting, or other textured effects often make these bedspreads interesting. Retro floral bedspreads that can strike a 'kitsch' note in a bedroom often come with a 'negative' of the same design on the reverse side. Geometric patterns, often in a two-colour scheme like blue and white, work in a similar way.
Indian Bedspreads
Hand-dyed, lightweight Indian bedspreads strike an exotic note in any bedroom. The Indian bedspread is a firm favourite, not just with buyers intent on a hippy or boho look, but also with buyers who like to conjure hotter climates and perhaps reminisce on their own travels. This is also a good purchase for a student who is leaving behind halls of residence and moving into a flat. With classic ethnic patterns available in strong colour palettes that are often on fine cotton or silk, these bedspreads contain a delightful lack of uniformity in their shading and in the irregularities within the printing. The result is an uncompromising statement that is strongly a matter of personal taste.
Crocheted and Knitted Bedspreads
A handmade crocheted bedspread or knitted bedspread transmits a classic nostalgic vibe. Buyers who are hooked on campervan culture and who like the notion of recreating the domesticity of the 1950s can inject an instant dose with a crocheted bedspread that features a sunburst pattern or the classic arrangement of granny squares patched together. Available in various price brackets, these treasures need careful washing to avoid shrinkage or distortion.
Woven Throws
If a more informal effect is preferred, perhaps as part of a casual country theme, a woven throw might be the answer. More than one of these warm, sometimes fringed items creates a popular layered look when subtle shades of the same colour are chosen. Natural, neutral tones suggest an expensive interior, yet throws can happily be purchased on a limited budget.
Buying a Bedspread on eBay
For the purchaser who has been considering a new bedspread for some time, the ability to sit down and sift through the many options on the comprehensive auction website eBay is a boon. Whether you are wavering between a scalloped bedspread or a traditional quilt, toying with the fun prospect of a faux fur throw or hoping to kit out your bedroom with a full set of bedding, you can easily find a variety of options.
The use of relevant keywords guides you towards a fruitful clutch of results. Thus, typing 'Cashmere blend bedspread' in eBay's search bar produces a useful and manageable quantity of varied wares that correspond to your wishes. Some results may even take you in new directions, as decisions about vintages and colours begin to solidify clearly.
Be sure to read the description in full and, in the case of a used bedspread, pay attention to the condition. Top sellers on eBay always provide clear images, and these include close-ups of worn or damaged sections, along with close-ups of interesting detailing, stitching, or trim. Once pinned down, you can bid on and purchase the bedspread and await delivery, which normally only takes a few days.
Conclusion
As a very cost-effective style statement, a bedspread can send out a signal of tasteful elegance or even grandeur. With suitable pillow covers and cushions to match, the perfect effect can be achieved. On the other hand, if the pillows and cushions are used to offset the bedspread, then a unique, individualised look often results. The buyer can then consider completing the look with a runner, which is a slender throw, in a harmonising shade. A popular choice is a runner in a subtly different weave or contrasting fabric that makes the most of the design appeal of texture.
The duvet held sway for decades, but the return of the bedspread has opened up more options for the style-conscious homemaker. On balance, when topped by a bedspread, a bed looks neater all around and a great deal more inviting. After securing a reasonably priced bedspread on eBay, the homemaker can look forward to future replacements, as he or she opts to update other bedrooms in the home.