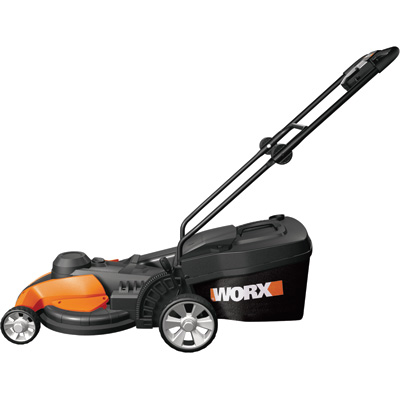 There are many different brands and types of lawnmowers. They come in various sizes. Larger, more powerful lawnmowers are required to maintain larger lawns. For large properties there are riding lawnmowers, and for handkerchief-sized lawns there are the trusty push lawnmowers. There are some lawnmowers designed to be pulled behind a tractor to cut the fairways of golf courses, or to trim the turf in parks or on athletic fields. It is important to choose the right lawnmower for your size lawn.
You could run around all over town looking in garden centres for the right lawnmower, or you could sit down in front of your computer, go online, and search for listings for lawnmowers on eBay. This online marketplace allows you to simply enter the description of the lawnmower you want into the site"s search engine. It then scours the hundreds of listings, looking for just the right lawnmower for you. Searching on eBay is the fastest and easiest way to find an electric or petrol powered lawnmower.
A Brief History of Lawn Mowers
The first lawnmower was created in 1827 by Edwin Budding, in Gloucestershire, and a British patent was granted to Budding in 1831. This mower was designed to cut sporting ground lawns and large gardens and was a replacement for the scythe employed to catch grass at the time. After an additional ten years, and many modifications, a mode of lawnmower that could be pulled by animals was invented.
Thomas Green made a chain-driven mower in 1859, and in 1899, an American named John Burr created an improved version of the rotary-blade mower and received the first American patent for a lawnmower. By the beginning of the 20th century, there were many types of mowers. They ranged from push to petrol-driven mowers.
Choosing the Right Lawnmower
When looking for a new lawnmower, think about the size of your garden. You also need consider the terrain. Is your garden near level or uneven? Who will be mowing the lawn? What attachments might you need to get the most out of your lawnmower. These accessories could include collection bags or mulching units.
Types of Mowers
There are many types of lawnmowers to choose. The features can vary from adjustable blade heights, push button starters, and rear wheels, to front wheel drive, and the ability to mulch. Depending upon your personal budget and the sizeof the lawn you need to mow, finding the right lawnmower can be a daunting task. Lawnmowers are classified by how they are powered and how the cutting blades rotate.
Lawnmowers with blades that rotate around a vertical axis are called rotary mowers, and those that use a blade assembly that rotates around a horizontal axis are known as cylinder or reel mowers. Mowers are available in electric, petrol-driven, and manual or push mower varieties, and each type of lawnmower should be studied to determine which would be the most appropriate for your needs.
| Type of Mower | Type of Lawn | Benefits | Features |
| --- | --- | --- | --- |
| | Perfect for lawns that are under a third of an acre; flat surfaces | Electric mowers have no noxious emissions, are easy to start up and are very quiet | Either corded or cordless, push style as well as self-propelled; narrow cutting swath; bagged or bagless styles available |
| | Ideal for lawns that are under half of an acre; flat as well as uneven surfaces | These mowers are high powered, have a wide cutting swath, and can handle thick types of grass | This style of mower will require periodic maintenance; available in push or self-propelled models; available as 3-in-1 mowers which can mulch, discharge and bag clippings |
| (Push Mower) | This type of mower is appropriate for areas of less than quarter acre; flat surfaces | Manual reel mowers are quiet, have no pollution concerns and are low maintenance | Manual push operation mower; very economical; imited features |
Choosing a mower that is appropriate for the size of your yard, the texture of the lawn you need to cut, and the type of terrain you will be mowing is essential. Different lawnmower types will perform better for certain types of terrain, such as hills, flat surfaces, or uneven surfaces. For the environmentally conscious gardener, a push mower might be the best choice, if your lawn is not too extensive. However, if you have a very large space to mow, you might want to consider buying a ride on lawnmower. Research the different types of lawnmowers as well as the benefits, by searching for different types of lawnmower on eBay.
Popular Lawnmower Features
Each type and model of lawnmower has particular and distinct features and benefits, making them more suited to specific tasks, different users, and a variety of terrain styles. Choose a lawnmower that will work properly for the type of lawn you have, be it a small patch of lawn or a very large, uneven or hilly area.
Self-Propelled
Self-propelled lawnmower usually move automatically. They either come in one speed or the user can vary the speed of the lawnmower. The mower is also available in front and rear wheel drive. Front wheel drive lawnmowers are ideal for flat terrain, while the rear wheel drive mowers work best on terrain that has hills or tougher grass to cut. In addition, if you choose to buy a model with a collection bag, the self-propelling feature helps with the additional weight, as clippings can sometimes add an additional 40 kilograms to the weight of the mower.
Electric Start
If you or someone else in your family has a hard time with pull start mowers, consider buying an electric start lawnmower. By simply touching one button the user can have their mower fire up in moments, making a difficult task that much easier.
Variable Speed
When you have two or more people who will be operating the lawnmower, a variable speed mower can be the ideal solution. If you need to move slower around trees and planting beds, you can do so with ease, while still have the capability of going faster over open spaces.
Blade-Brake Clutch System
The beauty of a blade-brake clutch system is that you can stop the blade from rotating without switching off the engine, making it possible to move obstacles from your path and continue mowing without having to restart the lawnmower or put your body in any physical danger.
Lawnmowing Tips
While you may not be aware of it, there are definite right and wrong ways to mow a lawn. Whether you end with a perfectly manicured lawn or one that is liable to produce weeds, diseases, clumping of grass, or some other problems depends upon how you mow your lawn. Improve the quality of your lawn as well as its appearance by following these lawnmowing tips.
Never Use Dull Blades
Using a dull-bladed lawnmower will rip and shred grass rather than cutting the blades of grass cleanly. This is important because when blades are ripped, they become more susceptible to disease. To avoid using a dull blade, sharpen the lawnmower"s blades every four to six weeks during the months you will be mowing your lawn.
Never Mow at Noon on a Sunny Day
Mowing your lawn at noon, which is the hottest part of the day, can destroy your lawn as the intense rays from the sun can burn freshly cut grass.
Wait to Mow Lawns Recently Fertilised
Never mow a lawn that has been fertilised within the last 24 hours. This is to prevent a freshly cut lawn from suffering chemical burns
Try Not to Cut Your Lawn Too Short
Mowing your lawn at a higher set level helps your grass grow a deeper root system. The deeper the root, the better access the grass has to nourishing moisture. Only cut 0.85 cm of the blade at a time to keep your grass healthier and avoid any making it vulnerable to disease or weed infestation.
Leave the Lawn Clippings
The reasoning behind this is that if you leave the clippings to mulch, your lawn will greatly benefit from them.
Never Drive on Your Lawn
Turn your car on the road, but never on the grass. Driving your car on your lawn will damage the grass by scalping it.
Mow іn Different Directions Each Time
When you continually mow in one direction, you can actually create ruts in the soil, compacting it and making it difficult for your grass to retain moisture. If you rotate your mowing pattern, you can cut north to south, or east to west, and even diagonally, until you eventually have that enviable tartan-like appearance that typifies professionally mowed lawns in sporting arenas and on golf course fairways.
Never Mow іn thе Rain
Although it may be tempting, never mow your grass wet because it is difficult to obtain a truly clean cut when the grass blades are clinging to the mower blades. If it is absolutely necessary to mow on wet weather days, raise the blade to reduce clumping and a buildup of clippings on the mower blade.
Remember tо Clean Your Mower
After you have completely mowed your yard and switched off the motor, be sure you scrape the buildup of grass clippings from the underside of the mower, so keeping the blades and the underside of the mower clean and tidy for the next use.
Never Wait Long Periods Before Mowing
Generally, the rule is that you should mow more frequently than to wait for your grass to become so high that it is difficult to cut. Longer grass will clog your mower blade, making your job that much harder.
How to Buy a Lawnmower on eBay
When you have thoroughly researched lawnmowers and are ready to buy, begin the process by typing in specific keywords into the search bar at the top of any page on the eBay site. For example, if you type in "electric lawnmower" the site"s search engine will generate a results page with potentially hundreds of listings that match that description.
Once you have pinpointed a handful of lawnmowers that interest you, be sure to read each listing carefully. Take note of vital specifications such as if the mower is new or used, has any imperfections you should be aware of, and is in good working order prior to buying it. If this this information is not present in the item description, you should contact the seller by clicking on their username, going to their member profile and clicking on the contact link. You can ask the seller any pertinent questions, including about their return and refund policies, before you complete the sale. While you are on their profile page, check out the feedback score. This number tells you how buyers have rated this seller in the past. The feedback score will help you to determine whether or not proceed with the sale or move on to a different seller.
Conclusion
Buying a lawnmower is not simply about running out and purchasing the cheapest, most readily available mower around. Rather it entails much more than that. Remember that there are three different and distinctly separate types of lawnmower: electric, petrol and manual, and that each type of mower will perform differently. Choose a petrol lawnmower for larger acreage and wider cutting swath and because they are high-powered and will get the job done quickly. Or, for a small to midsize lawn, an electric mower would be ideal as you can choose either a corded or cordless lawnmower model for smaller areas and greater convenience. And, finally, if your yard is very small, has planting boxes or inlaid paths, a manual or push mower may be the perfect solution for you. No matter which type of lawnmower you choose to go with, be sure to review the pertinent information about it and make an educated decision about which type of lawnmower is best to meet your particular needs. eBay"s simple to use search tools makes searching for the right lawnmower very easy.