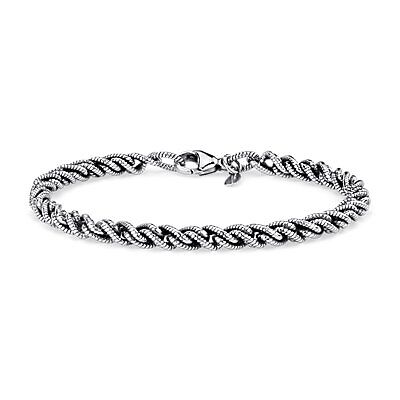 Silver bracelets are versatile and beautiful pieces of jewellery that can easily complement any outfit. With a large variety of styles and types of silver bracelets available on eBay, a shopper is certainly never starved for choice. Quite the contrary. eBay's easy to use search tools makes finding that perfect silver bracelet as easy as a few clicks of the mouse.
Whether you are in the market for a silver bracelet for yourself or someone else, it pays to know how to use the site's local search engine and search filters to find a silver bracelet on eBay. Often, it's a simple matter of plugging a search query into the search bar on the site's homepage, but things will go a lot faster if you have some idea of what you are looking for. When reading the item descriptions posted by eBay sellers for silver bracelets, you should also take note of specific information regarding the type of silver the bracelet is made of, style of bracelet, and type of clasp, as well as the cut, colour, and type of gemstones.
The First Bracelets
In Ancient Greece, soldiers wore a defensive band of armour called a 'bracel'. These items of armour were worn on the forearms, made of leather, and were very often ornamented with gold, silver, and gemstones. Grecian women liked the look of the bracel and smaller versions of the bracel made especially for women proved popular in Ancient Greece. These small ornamental pieces of jewellery came to be known as 'bracel-ets', and this piece of jewellery soon found its way into almost every culture on Earth.
Types of Silver
Bracelets are generally made from sterling silver, which is an alloy consisting of 92.5 percent pure silver and 7.5 percent copper. There are several different types of silver used to make jewellery, each with varying amounts of pure silver.
| Type of Silver | Millesimal Fineness |
| --- | --- |
| | 92.5 percent |
| Mexican Silver | 92.5 percent |
| French Silver | 95 percent |
| Britannia Silver | 95.8 percent |
| Russian Silver | 96 percent |
| | 99.9 percent |
Most examples of sterling silver jewellery comes plated with a coating of 0.99 percent fine silver to give a nice shine.
Types of Silver Bracelets Available on eBay
Silver bracelets have been a staple of feminine jewellery for thousands of years. This type of jewellery can be worn with formal or casual attire, making bracelets quite versatile. The types of silver bracelets available on eBay range from beaded and bangle bracelets, to tennis and shamballa bracelets. On eBay, one finds a variety of silver bracelets to suit all styles, tastes, and occasions.
Silver Bangle Bracelets
Silver bangle bracelets are available in a wide array of styles and patterns. From suede bands with silver links to ball strands, eBay boasts thousands of listings for silver bangle bracelets. Are you searching for a fancy bracelet to wear to a formal occasion? If so, a silver bangle bracelet set with gemstones is a safe bet. The variety of gemstones include amber, jasper, and green onyx, as well as other gemstones. For dressier affairs, choose a silver tennis bracelet with white diamonds, lemon diamonds, or gemstones, such as sparkling violet or pink crystal, emeralds or garnets. For a less formal look, one should think about buying a solid, ornament-free silver bangle bracelet and pair it with a silver chain.
Silver Chain or Link Bracelets
Silver chain bracelets are timeless and elegant. There are weave strand bracelets, anchor chain, bead or ball chain bracelets, as well as rope, snake, and link chain bracelets available on eBay. No matter what the occasion, whether formal or casual, a nice silver chain bracelet can complement almost any outfit.
Silver Cuff Bracelets
Silver cuff bracelets are wide, rigid bangles that have a narrow opening on one side. To wear a cuff bracelet, the wearer simply slips their wrist through the opening. There are thousands of silver cuff bracelets available on eBay, making it easy to choose a style that works with your wardrobe. For instance, if you are attending a formal event, a silver cuff engraved with subtle patterns paired with a single, simple pendant, is elegant and understated. Although silver cuff bracelets rarely come adorned with gemstones, there are some styles available that come inlaid with gemstones, such as emeralds, rubies, or sapphires. If you are looking for a less formal silver cuff bracelet to wear with a casual ensemble, there are thousands of bracelets to choose from on eBay. A simple, silver cuff can be worn to dress up any casual clothing without the look coming off as overly dressy.
Silver Charm Bracelets
There are a variety of silver charm bracelets available on eBay, too. Rope-style silver charm bracelets, link, chain, or double-linked chain silver charm bracelets are all excellent choices. Silver charm bracelets are extremely versatile and can easily be worn with any type of outfit, or for any occasion. For a more formal look, choose charms made from gemstones, and to keep it simple and less formal, choose small charms crafted into whimsical designs.
Tips for Buying Silver Bracelets on eBay
No matter which type of silver bracelet you ultimately choose, there are a few things that you should consider before you go through with the purchase. For instance, it is important to measure your wrist to ensure the proper fit. A common length for bracelets is 17.78 cm, but you can generally add or remove links to achieve the right length for your wrist. In addition there are a few others tips, a savvy shopper should be mindful of.
Examine the Bracelet Clasp
Along with a description for the silver bracelet, the seller will include several photos in their listing. Look closely at the photos of the bracelet you are interested in. Does the clasp appear to be in good condition? How well does it appear to meet at the closure? If it does not seem to close completely, you might want to look for a different bracelet. There are a number of different types of clasps. One should think about how each claps works and how easy or difficult it is to open and close each type of clasp.
Lobster
One of the most popular types of bracelet clasp is the lobster clasp. It has a side hook that retracts from a small loop. This style of clasp resembles a lobster's claw. If the bracelet in question has this type of clasp, look to see if the hook and loop meet and that there is no gapping.
Spring Ring
This type of clasp is very similar to the lobster clasp, but is completely round. These clasps are often harder to open and close than lobster clasps, so when looking at the seller's pictures of the bracelet, take note of the clasp's appearance to see if it has been bent, or is in less than perfect condition.
Box Clasp
The box clap, or square clap, has a metal wedge that slides into the latch. It is not as strong as either a lobster or spring ring clasp. When examining photos of the clasp, check to ensure that the metal wedge is not bent and there are no parts missing. Request a close-up from the seller of the clasp engaged to make sure that the clasp on the bracelet actually locks.
Box Clasp with Safety
This is the same as the box clasp as above, with a safety guard attached to keep the bracelet from opening and falling off the wearer's wrist. Look at the guard to see if it is still securely attached, and not bent or broken.
Toggle
A toggle clasp consists of a ring into which a T-shaped bar can be inserted to hold the bracelet ends together. If you are considering a bracelet with this type of closure, look at the ring to make sure it is not broken, and inspect the 'T' part to see if it is still securely attached to the opposite end.
Hidden
The hidden clasp is a box-like clip that is camouflaged in the design of the bracelet. Generally, a safety guard or chain is present to ensure that that the bracelet doesn't fall off if the clasp slips open. When examining the bracelet, you should make sure clasp is in good condition, and that the safety is present.
Safety
This clasp is an oval or egg shaped cage with a very sharply curved hook that can latch onto it inside the oval cage, keeping the bracelet secure. This is the closure found on antique or older jewellery. Look closely at the clasp to see that all pieces are in place, and not bent, broken or missing.
Inspect the Stone Settings
Study the stone settings carefully if you are shopping for silver gemstone bracelets. Do the gemstones appear to be firmly seated? Are all the prongs present in the setting? A loose setting can result in the loss of a stone.
Identify the Purity of the Silver
eBay users are able to sort the listings for silver bracelets by the type of silver the bracelets are made of. For instance, you can sort the listings to only show bracelets made from sterling or fine silver. Sterling silver is the lowest level of silver purity available, whereas fine silver is the highest. Silver plate is generally a bracelet that is sterling silver with a fine silver coating applied, which can wear off with extended wear. Before buying a silver bracelet, read the listing carefully to determine the purity of the silver. For fine silver bracelets, you should enquire after a certificate that confirms the silver's purity.
Consider the Cut and Colour of Stones Carefully
There are a number of gemstone cuts and colours from which to choose. Some bracelets have square-cut stones, while others have marquise, round, or oval cut stones. In addition to the different cuts of gemstones available there are different colour stones as well. Some gemstones come in a range of shades. For instance you can find purple gemstones in shades from very light violet to deep purple.
How to Buy a Silver Bracelet on eBay
When you are ready to buy a silver bracelet, simply enter specific keywords into the search bar at the top of eBay's homepage. For example, enter a specific search phrase like 'silver gemstone bangle bracelet &', and the results page will only display listings that match that search query. You can always use search filters on the results page to narrow your search even further. For instance, you can choose to modify the search results by selecting the condition of the bracelet (new or used), the metal (sterling silver or fine silver), or whether or not the silver bracelet comes with gemstones. You can search for a silver bracelet that has a specific type of gemstone. You can also select the cut and the colour of the gemstone.
Once you have selected the silver bracelet you want to buy, be sure to look at all of the attached pictures closely to see if the item has any noticeable flaws, and read the item description very carefully. If any information is missing, you can ask the seller questions by going to their member profile and clicking on the contact link. While there, you might want to read the feedback scores left by previous buyers. This information helps you to determine whether the seller has successfully followed all the selling guidelines as stated by eBay, or whether you might be better off looking for a different seller.
Conclusion
Silver jewellery is one of the most popular and traditional styles of jewellery on the market today, and a silver bracelet is not only a wise style choice, but a good investment as well. If you are looking for a silver bracelet to complement a formal outfit for a night out at the theatre, there are silver tennis bracelets set with diamonds or other gemstones, or a delicate silver chain bracelet. If you need a piece of jewellery that complements your edgy look, choose a chunky silver bracelet. No matter which style of silver bracelet you are interested in, or whether you want to wear diamonds or semi-precious stones, eBay boast thousands of listings for silver bracelets. If you you are looking for a specific type of silver bracelet, but you rather not have to trawl through several different high street shops or traditional brick and mortar jewellery stores to find it, shop on eBay for a varied selection of bracelets that you can browse through all in one place.