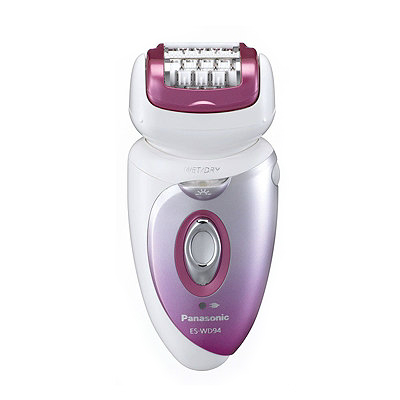 How Epilators Work
Epilators originally used a spring mechanism to remove hair, but modern epilators have a series of rotating metal plates, which move together to effectively tweeze hair out at the roots. The more 'tweezers' an epilator has, the more hair it can remove at one time – although this could be more painful for many people. It's possible to find models with as many as 72 tweezers for sale online, on websites such as eBay.
Many women find that regrowth after epilation is slower and finer, so the epilator only needs to be used every few weeks to eliminate this regrowth. Today, epilator models can be found which are corded or cordless, and there are even wet and dry epilators, which can safely be used in the bath or shower.
Is Epilation Right for You?
Epilation is a great choice for hair removal for several reasons:
It's cheaper than waxing – whilst purchasing an epilator is an initial outlay, there's no need to pay for expensive salon appointments or wax for use at home.
It's more affordable than shaving – buying razors and shaving gel can work out more expensive over time than investing in an epilator (affordable epilators can easily be found on websites such as eBay.
It's ideal for sensitive skin, unlike waxing or hair removal creams which could cause irritation.
After the first session, epilation is less painful than other methods of hair removal such as waxing or sugaring.
It requires less time commitment than shaving, hair removal creams or waxing – most women can wait 2-3 weeks between epilation sessions, and regrowth is smoother and softer.
Whether or not epilation is the right hair removal method for an individual is a very personal choice, and depends on all of these factors plus more; but as an affordable, reliable and convenient method of hair removal it is at the top of the list.
Epilation versus Waxing
Waxing has many fans thanks to the smooth finish it provides on legs, the bikini line and the under-arm area. But attending a salon for waxing can be expensive and time consuming, and many women struggle to find the time and money for regular appointments, often turning to hair removal creams or shaving in between sessions to manage regrowth.
Whilst waxing can be carried out safely at home, the results are not as smooth or effective as a salon treatment. Epilation on the other hand can be carried out from the convenience of home and is a relatively quick and easy method of hair removal. Because it removes the hair right at the root, regrowth is slower and finer, making hairs less noticeable, and an epilator can be used on any part of the body including the face. Epilation is also ideal for those with more sensitive skin and is safe to use without the risk of irritation.
Popular Epilator Brands
There are many popular brands of epilator available today, many of which can be found on eBay at an affordable price. Here are some of the most popular brands around at the moment:
| Brand | Benefits |
| --- | --- |
| | The Silk-Epil range has been very successful. |
| Epilady | The very first epilator – whilst the original design used the spring method for hair removal, the design of today has moved on. |
| Philips | The Satin Perfect epilator is one of Philips most popular models and can be used wet or dry – it can be found online, on websites such as eBay. |
| Panasonic | Panasonic's ES-WD51-P epilator can epilate, shave and trim. |
| Emoji | Emoji's newest model features 72 tweezers – the highest number of any epilator available today. This means a large area can be treated at one time. |
Choosing the right brand is a very personal decision and will depend on a number of factors, such as the features desired, budget, appearance of the epilator and how it works – whilst some women prefer epilators with a high number of tweezers, others will find this incredibly painful and opt for a slower hair removal process.
Extra Features
Choosing the perfect epilator does not have to be a difficult decision. Here are some of the extra features and options available on models that can be found on websites such as eBay today, and their benefits in the hair removal process:
| Feature | Benefits | Brands/Models |
| --- | --- | --- |
| Cordless/rechargeable | Cordless, rechargeable epilators can usually be used in the bath or shower and are convenient as they don't need to be plugged in when used – great for quick and easy hair removal on the go. | Epilady Legend, Philips Satinelle, Braun Silk Epil |
| Corded | More power than cordless option – must be plugged in when using but there is no risk of forgetting to recharge. | Epilady Discrette, Remington Smooth & Silky, Braun 1370 Silk Epil |
| Wet and Dry | These can be used safely in the bath or shower, for those who prefer – although epilation achieves optimum results on dry skin. | Braun Silk Epil Expressive Pro 7681, Philips SatinSoft Wet/Dry |
| Massage function | Helps to dull nerve endings and soothe skin for less painful epilation. | Philips HP6576 Satin Perfect, Braun Silk Epil-5 |
| 3 in 1 | The 2 in 1 or 3 in 1 models offer a trimmer and sometimes a shaver attachment – trimmers help cut the hair to the best length for improved epilation. | Panasonic's ES-WD51-P |
Should you Buy Used or New?
When deciding to buy a used or new epilator, there are a number of influencing factors at play, such as budget and desired features. Used epilators can often be found online in mint condition, on websites such as eBay, where it is possible to pick up a bargain.
Whilst buying a new epilator is a more hygienic option, it will cost more than purchasing a used model on eBay, and if specific features are of importance, it will often work out more affordable to purchase a used epilator. The condition of a used item should be detailed in the product description, where any damage or defects will be listed, so it is important to read this thoroughly. Replacement heads for used epilators can be found for a reasonable price online.
Choosing the Perfect Epilator
When it comes to the 'perfect' epilator – there is no such thing. It is entirely a personal decision as to what style, features, price and brand is right for the individual in question. It is possible to find a wide range of epilators online – eBay have a broad selection to choose from, and a search can be carried out based on the most important features.
The method of use is one of the most important factors to consider when choosing the perfect epilator – will it be used in the shower or bath or on dry legs? A cordless, wet and dry model will be required for use in a wet environment, although it is important to remember to charge these epilators after each use – they cannot be used whilst plugged in, so if they are not charged, last minute emergencies can occur. If using an epilator on dry legs, a corded model usually offers more power and there is no risk of forgetting to charge it.
Another important factor to consider is the number of tweezers – more expensive models will often feature more tweezers, which are ideal for removing more hair at once over a larger area. However, this can often be more painful, particularly for those who have never used an epilator before. It makes sense to invest in a mid-range model rather than one with the most number of tweezers. Those new to epilation should consider buying a more affordable, used model until they see if it is for them – then they can upgrade to a more expensive epilator.
Replacement Parts
It is easy to find replacement parts for epilators online, on websites such as eBay. Whilst a new epilator usually comes with a 12 month warranty, those buying a used epilator may need to buy a replacement head straight away, or a new charger for cordless models. Whilst the epilator is within the warranty period, it can be sent directly to the manufacturer for any repairs or a replacement if required due to a fault. Once the warranty period has run out, replacement heads and spare parts can be purchased online to prolong the life of the epilator. It is easy to find heads, chargers and other accessories such as epilator cleaning brushes online.
How to Buy Epilators on eBay
The easiest way to buy Epilators online is to explore eBay. Just visit eBay and go to the drop-down menu of categories on the left-hand side of the page. Select Health and Beautyand this will open up a list of sub-categories. Go to Hair Removal and select Electrolysis and Epilators. From here you can type 'epilators' or the specific brand desired into the search bar at the top of the page.
Narrowing a search further is easy by selecting from a range of refinements including selecting new or used condition and deciding whether to bid on items or opt for 'buy it now' where the epilator is available at a fixed price and can be purchased instantly.
There are many different models of epilator to choose from, and searches can be narrowed using a certain term if looking for something specific. Just type the words related to the search, such as 'Epilady Discrette' into the main search box. For further tips on how to search eBay, go to the Search Tips page.
Conclusion
Epilation is a popular method of hair removal that will continue to rise in popularity amongst women (and men) looking for an affordable and convenient hair removal method that also offers long lasting results.
Because it removes hair at the root, epilation provides long lasting, silky results for 2-3 weeks for most people, and epilators can be found online, on websites such as eBay, at very affordable prices. Cheaper than waxing and without the fuss of shaving or hair removal creams, epilation is a relatively simple and easy to use method of hair removal. Epilators are available with many extra useful features, such as a massage function to reduce pain and wet and dry models, which can be used in the shower or bath. It is easy to find the perfect epilator by shopping online, where there is a wide range of brands and models to choose from.