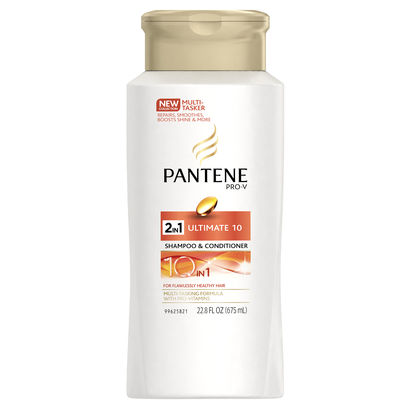 The English word 'shampoo' derives from the ancient Hindustani word champo and dates back to the 18th Century. Almost everybody in the UK uses shampoo on at least a daily basis, and 2-in-1 shampoo and conditioner treatments were developed to promote an even more convenient combined personal care option for busy working men and women.
There are thousands of 2-in-1 shampoo and conditioner brands on the market, some that are particularly well known and others which are deluxe or even homemade. As part of a daily health and beauty regime it's essential to keep hair looking as vibrant and fresh as possible.
Buying 2-in-1 shampoos and conditioners can be managed in an extremely cost-effective way if buying in bulk is a consideration. Alternatively, luxury brands can be found affordably when buying online too. Salon quality shampoo and conditioner products are much sought after by more discerning customers, and these can be found easily simply by looking on eBay.
Choosing 2-in-1 Shampoo and Conditioners
There are many things to consider when buying a 2-in-1 shampoo and conditioner. There are specific products for specific hair types and there are brands which individuals may prefer. Keeping this in mind, the information below is a good start for choosing the right 2-in-1 shampoo and conditions product:
| Product Type | What it Does |
| --- | --- |
| Straightening and Smoothing | Contains a coating ingredient that enhances ability of straightening irons |
| Volumising | Thicken the hair's cuticles |
| Clarifying | Improves the quality of chemically damaged hair – not for colour-treated hair |
| Colour-Specific | Contains ingredients designed to enhance your chosen hair colour e.g. shampoos specifically for redheads |
| Dry | Quickly refreshes your hair when you can't wash it properly |
| pH Balancing | A technically advanced formula which rebalances the pH of hair – usually used for damaged, dry hair |
| Balancing | Different from pH Balancing, these shampoos remove the oiliness from hair whilst also preventing it from drying out. |
The shampoo and conditioner range reflects the needs of a wide community and, therefore, there is something for every hair type. It is possible to find shampoo and conditioner brands for different ethnicities too for example, 2-in-1 products for Afro-Caribbean hair. Colour-specific shampoos and conditioners are big business, with brands branching out into producing chemically formulated options for buyers with different dyed hair colours. Sourcing medicated shampoo and conditioners also poses no problem for individuals living with medical conditions of the scalp or hair.
There are products which are considered generic and therefore perfectly adequate for any hair type but the diversity in the industry now means that people can buy products specifically designed for their needs. It is often possible to find generic products for extremely competitive prices.
Other products which make up part of the wider health and beauty care range can be easily sourced alongside shampoo and conditioners. These types of product often complete a brand's range or complement their 2-in-1 shampoo and conditioners.
Organic and Natural 2-in-1 Shampoo and Conditioners
There is a growing interest in organic 2-in-1 shampoo and conditioner products. The growth in ecologically minded consumers means eBay can be used to source these types of products. Many customers now believe it is essential to live as green a life as possible, and these types of products are a way of making sure individual personal care is sustainable. Organic products will contain no chemicals or parabens and will be made fully from naturally sourced ingredients and some of the most popular ingredients include:
Aloe Vera
Coconut Milk
Essential Oils such as Lavender or Orange
Shea Butter
Beta Glucan
Tea Tree Oil
Many of these ingredients have natural cleansing qualities and Shea butter for example also enhances the hair's natural shine and quality. There are critics of every type of product, but equally there are many fans and the organic market is growing as a whole. Across eBay it is also possible to find sellers producing their own shampoo and conditioning products which buyers can choose to purchase.
Branded Shampoo and Conditioners
Online is also a great place for sourcing branded hair care products. It is often the case that deals comfortably within budget can be found and are often noticeably more affordable than the same product on the high street. The range of brands available allows for consumers with different favourite products to source their specific required brand. From the high-end luxury items to more regular high street brands, the range provided is indicative of the popularity of a product. Sometimes it is possible to source products which have been discontinued by a brand or in a regular store. These sorts of product are particularly rare and sought after but can definitely be found.
Cost-Effective 2-in-1 Shampoo and Conditioners
Sticking to a budget is key for getting the best value for money. There are many cost-effective ways of purchasing 2-in-1 shampoo and conditioners online and of course the price paid will reflect the quality and possibly the rarity of the item. There are products which appeal to every budget and there are plenty of affordable options available.
Buying in bulk is one of the simplest ways of making a great saving. There are many bulk-buying options on eBay and they can result in huge savings and a stockpile of the product that is most sought after by the buyer. It is most common that buyers choose to stock up on their single favourite product such as the 2-in-1 shampoo and conditioner which exactly fits their needs and is available for a competitive price.
In addition to bulk buying the same item, it is possible to find combined deals online where the 2-in-1 shampoo and conditioners are packaged with other products from the same brand or complement each other. This is another way of ensuring the best possible value is achieved. Most branded products are part of a much larger range and are keen to share their whole range with as many consumers as possible. Equally, eBay sellers can further interest buyers in their products if deals are available on their branded ranges.
It is even possible to buy commercial products, such as those marketed directly to salons, allowing buyers access to products which may be almost impossible to buy elsewhere. Products that may be advertised as exclusive to salons find their way onto eBay, and that gives buyers the chance to replicate the salon experience at home. Many of these products are relatively rare as well as being sought after and therefore buyers may want to keep a close eye on any auctions for these types of products so they don't miss out.
How to buy 2-in-1 Shampoo and Conditioners on eBay
The simplest way of buying 2-in-1 shampoo and conditioners on eBay is to explore the site fully. Browsing will help locate the specific item that is needed and give a clearer picture of what's available. Visit the eBay homepage and find the Health category. A list of sub-categories will then be opened and from there you can select Hair Care & Styling Tools. From there a number of further options will open up including Conditioners and Shampoos separately. This will show two different ranges of products and within each there will be a selection of 2-in-1 shampoos and conditioners. You can alternatively choose to simply search for 2-in-1 products.
Using the sidebar navigation tool it is possible to further narrow the categories down with options including Treatment Type such as volumising and specific brands such as L'Oreal. There are thousands of items to choose from so the chances of finding the item required are high. The sections are split up very clearly to allow for buyers to easily locate the item they need but there are instances where this isn't possible. Where it isn't immediately visible buyers can simply use search function and type in the words relevant for the product in mind. Buyers interested in bulk deals could for example type the word 'bulk' into the search bar to see what results are revealed. More information on how to use eBay's search function is located on their Search Tips page.
Conclusion
Shampoo and conditioner have become essential daily use items in the modern household. 2-in-1 shampoo and conditioners make the daily personal care regime much faster and easier, hence their popularity and the wide range that has become available. Using eBay to source these products is one way of ensuring a great value and quality purchase. It is possible to secure items that are unavailable elsewhere, and your search can be tailored specifically to your personal care needs.
Caring for your hair appropriately can lead to better looking, longer lasting results and the right product is key to keeping it in the best possible condition. There are products on the market for every imaginable hair type and the development of technology in the industry means more products are launched every year. For competitive prices and an unbeatable range eBay is an ideal starting place for securing 2-in-1 shampoo and conditioners.
In an ever expanding market a good source of the products which you prefer is always valuable and eBay's wide marketplace means buying online can be the best way of ensuring the product you need is available when you need it.