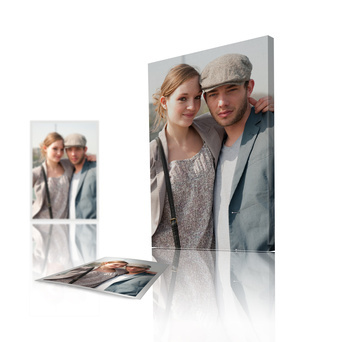 There is a vast range of canvas prints available on eBay to suit every budget.
This eBay guide offers you some general tips and advice on finding affordable canvas prints.
Print Type
Firstly you must decide whether you want a stock canvas print or a customised one.
Stock canvas prints are generally mass-produced prints, available from a number of eBay sellers.
Custom or personalised canvas prints are prints created using your own images, such as digital photographs.
There are several options to consider when you are looking to buy an affordable canvas print.
Canvas Material
The canvas material itself is an important factor when it comes to keeping your canvas print affordable.
The two primary materials used are cotton and polyester, or a composite of the two.
Cotton canvases are made using natural cotton fibres. Polyester canvases, however, use synthetic fibres. Cotton canvases are more expensive to produce; this puts cotton canvas prints at more of a premium.
You may find sellers offering prints on cotton/ polyester composites. Depending on your budget, you should be able to find a blend which provides an affordable option without compromising too much on quality.
Canvas Weight
The weight of the canvas, measured in grams per square metre (GSM) is also important to consider.
The heavier the canvas, the more ink can be absorbed. Whilst this will create higher quality and more durable prints, the price will also go up.
Even if you are on a strict budget, you should not expect a print to be produced on a canvas which is lighter than about 320 GSM. Images that are printed on canvases lighter than this are likely to be of relatively poor quality.
Printing Technique
There are two commonly used techniques for canvas printing:
Ink-jet: Prints using this technique are also known as giclées. Digital images of a photograph or piece of art are printed directly onto the canvas using high-resolution printers. These prints are usually more easily affordable.
Dye Sublimation: This uses a heat-pressing technique rather than printing directly onto canvas. Whilst this method can produce highly detailed images with vivid colours, the process is generally more expensive.
Ink Type
Two of the more affordable types of ink used for canvas printing are pigment inks and dye inks.
Dye inks have a wide colour range, producing prints with particularly brilliant colours. They are cheaper than pigment inks, so should create more affordable prints. The downside of dye inks, however, is their tendency to fade. Unlike pigment inks, dye inks are not UV resistant, making them fade considerably when exposed to sunlight.
Pigment inks are commonly used in canvas printing. They are more expensive than dye inks, and offer a narrower colour range. They are more resistant to UV rays, however. This means that they will last for longer without fading.
Image Resolution
When looking to make your print as affordable as possible, the resolution of the image is an important aspect to consider.
Print resolution is measured in dots per inch (DPI). The higher the resolution, the clearer and more detailed the print will be. Using a high DPI requires more ink, so is more expensive.
The print resolution offered by sellers will vary considerably, from around 360 DPI to 2880 DPI. For a photograph, you would expect a resolution of around 1440 DPI. Depending on your budget, you may be willing to sacrifice an element of picture quality in order to create a cheaper print.
Canvas Size
Sellers will usually have a wide range of canvas sizes available for buyers.
The size of canvas you desire will heavily influence the price you pay. As you would expect, a small 20cm x 20cm square print will cost considerably less to produce than a large 1.5m x 1m print.
Framing
Whether you are interested in a stock print or are creating your own, your print will usually come as a rolled canvas or gallery wrapped.
Gallery wrapping: This is the process by which a canvas print is stretched over a simple wooden frame. The canvas is then stapled or glued to the back of the frame. This means that the canvas print is delivered ready to hang without any visible hardware.
To further reduce costs, you may also like to confirm that your gallery-wrapped print is delivered with wall hangers attached.
Rolled canvas: This is a cheaper alternative, as you do not receive the canvas stretched out over a frame. Although you will have to purchase stretcher bars or an alternative frame, it is usually cheaper to frame a print yourself.
Varnish: Some sellers may add a coat of varnish to your print. This better protects your print from damage and makes it easier to clean. Whilst some sellers may offer this as a free service, others may charge for it.
Find Affordable Canvas Prints on eBay
You will find a wide range of stock canvas prints for sale on eBay, as well as a variety of sellers offering affordable, customised canvas print services.
Category
First of all, you should go to eBay's Art category. You should then click on Canvas/ Giclee Prints.
Once here, you will notice a range of options in the navigation bar on the left hand side of your screen. These are particularly useful if you are looking for a certain kind of stock print. You can narrow your search by selecting specific subjects, colours and styles. If you are trying to find a more easily affordable canvas print, it will be sensible to specify your price range.
If you are on something of a tight budget, you may also like to narrow your search to 'used' items. You will find a number of canvas prints that are still in great condition, offered to you at a lower price due to their second-hand nature. Pre-owned prints are not unusual; as with all works of art, taste and fashion change all the time and many people simply have to have the very latest. This is good news for people who do not mind buying pre-owned as it often means that there is a wide variety available on eBay.
If you are buying a pre-owned canvas print, remember that you can always ask the seller for close-up photographs, or photographs of a particular area of the print.
Keyword search
If you are looking for a specific type of canvas print, you may find it easier to use the Keyword search bar at the top of the page. This is also an especially useful tool for finding sellers offering a personalised service. For example, you could narrow your results by searching for "personalised canvas prints" or "custom canvas prints" (without quotation marks).
You can also select "Search title and description" to expand your search results. Visit eBay's Search Tips page for more tips on searching with keywords.
In order to guarantee the best deal you should take the time to shop around. Find similar items and compare how they have been produced. You will then have a good idea of the best deal you can achieve with your budget.
If you can't find exactly what you're looking for, try browsing eBay Stores or tell the eBay Community what you're looking for by creating a post on Want It Now, or save a search on My eBay and eBay will email you when a matching item becomes available.
Buy Canvas Prints with Confidence
Make sure that you know exactly what you're buying and understand how eBay and PayPal protect you.
Know Your Item
Read the details in the item listing carefully.
Remember to add delivery costs to your final price. If you're buying a high value item, check that the seller will insure it until it is delivered to you.
If you want more information, click the "Ask seller a question" button on the seller's profile or the "Ask a question" link at the bottom of the item listing page.
Always complete your transaction on eBay (with a bid, Buy it Now or Best Offer) otherwise you will not be covered by eBay Buyer Protection.
Never pay for your eBay item using an instant cash wire transfer service like Western Union or MoneyGram. These are not safe ways of paying someone you do not know.
Know Your Seller
Research your seller so that you feel safe and positive about every transaction.
What is the seller's Feedback rating?
How many transactions have they completed?
How many positive responses do they have?
What do buyers say in their Feedback?
Are they positive about the seller?
Most top eBay sellers operate like retail shops and have a returns policy.
Do they offer a money-back guarantee?
What are their terms and conditions?
Buyer Protection
In the very unlikely event that you do not receive your item or it is not as described, eBay Buyer Protection covers your purchase price plus original delivery cost.
Conclusion
Canvas prints are an elegant and stylish way of adding a personal or colourful touch to any room. It's easy to search eBay for more affordable canvas prints.