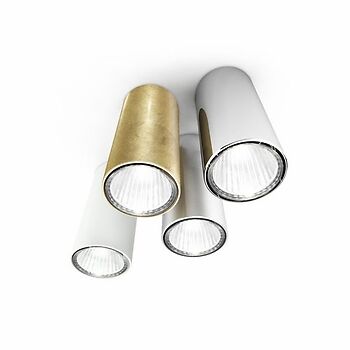 A ceiling light is one of the most important aspects of a room. A correctly chosen light can complement a room's decoration, furniture and make a huge impact on the total ambience of the space. The vast range of materials, styles, and fixtures mean that whatever a room's style, there is the perfect light out there for an affordable price. Search through different makes and their corresponding prices to find the light that will literally brighten someone's day for a long while to come.
About Ceiling Lights
Ceiling lights traditionally take the form of one large fixture or several smaller ones. The light can be a grand, beautiful centrepiece of a room or it can be a subtle, unobtrusive collection of gentle light sources. Ceiling lights aren't just a purely decorative feature of a household; they are also an important source of energy use. Choosing the appropriate light can make a house more energy efficient and save money in the future. Lighting has always been an important element of human society. Candles were the main source of light in candlesticks and chandeliers before the first light fixtures were manufactured in the early Twentieth Century; shortly after the mass production of the incandescent light bulb began. They started off as very heavy, metal fixtures that were only used for industrial applications and in the richest homes. The metalwork ranged widely, right from crude metal lamps right up to beautiful hand-wrought pieces. Lighting has changed a lot over the years and expanded to include fluorescent lighting and LED spot lights.
Choosing Ceiling Lights
Although finding the right ceiling light is a matter of personal taste, there are several factors that can be used to narrow the search. These include material, size, design, and especially price.
Which Room?
Once the need for a ceiling light has been established, it's important to decide what type of light is appropriate for the space. Items are often listed under types of rooms, but it is very hard to generalise. For example, a small flat and with a very modest living space may benefit from searching for a light in the 'study' section.
| Room | Description |
| --- | --- |
| Living Room | Living room lights tend to be the biggest and most decorative. They have the most bulbs, the highest power ratings and are best suited to large spaces as well as being good for living rooms they are also useful on large staircases. |
| Bedroom | These lights tend to be more subtle and intimate. A dimmer is a useful feature for all bedroom lights.. |
| Kitchen | Unobtrusiveness is a must in the kitchen; they tend to get very crowded at the best of times, without having to duck under a chandelier! Steam and other cooking fumes mean that the more durable the kitchen light material the better. |
| Dining Room | Sitting down to enjoy a good meal is the perfect opportunity to enjoy the surroundings. Dining room lights tend to be the most decorative. |
| Bathroom | Bathroom lights are also best made from durable materials. Safety is also an important factor in choosing a bathroom light; electric wall switches in a bathroom are hazardous to health for obvious reasons. |
Number of Bulbs
Probably the most practical element of a ceiling light's design is the number of bulbs in the light and their power rating. Too few lights and the room won't be lit adequately, too many and a dimmer will be needed to reduce the brightness. The only way of being sure of getting it right is to go into a specialist light store and give them the details. As soon as it's known what the specifications are, then it's easy to shop around for some great bargains on eBay!
Ceiling Light Material
Light fixtures are made from a range of different materials, each of which has their own impact on price and durability. Listed below is a selection of those available.
| Material | Description |
| --- | --- |
| Chrome | Chrome doesn't oxidise or corrode; it is also attractive and needs little maintenance. |
| Glass | Glass can be very decorative, comes in lots of different colours and is used to refract light around the room. However, glass is relatively expensive and breakable. |
| Crystal | Crystal is very beautiful and delicate. The light-scattering property of this highly refractive material also makes it good for lighting large rooms; it is more expensive than glass. |
| Brass | Brass is a very versatile material. It can be polished up for an attractive shine or it can be dulled down for an antique look. The latter option avoids the inconvenience of brass slowly tarnishing |
| Aluminium | Aluminium doesn't require much maintenance and is an easy metal to work with which means that very decorative fixtures can be created. |
Types of Ceiling Light
There are many different types of light; choosing one is purely a matter of personal preference. Here are a list of common types and their features.
| Type | Description |
| --- | --- |
| Pendant | A pendant light usually takes the form of a single bulb hanging down from the ceiling. |
| Chandelier | A chandelier is an ornate, decorative light. It can be made from a variety of materials and holds many bulbs, great for large spaces. |
| Spot Light | Spot lights are very low maintenance and the bulbs often last for a very long time. They are very good for bathrooms and kitchens. |
| Recessed | Recessed lights aren't mounted on the ceiling; instead they are sunk into it for the ultimate discretion. Very useful in places with low ceilings. |
| Tiffany | Tiffany lights look like upside-down lampshades and create a gentle light reflected off the ceiling. They can be made from a range of materials including metals and coloured glass. |
Ceiling Light Styles
Along with different types of ceiling lights there are many different styles. By searching through these styles and choosing appropriately, it is possible to match a ceiling light to its surroundings.
| Style | Description |
| --- | --- |
| Art Deco | These lights tend to be colourful and incorporate many geometric and angular shapes into their designs. |
| Art Nouveau | Art nouveau lights tend to be made up of sinuous, elongated and curvy lines. A lot of these lights are made from aluminum or metal which can be worked in an appropriate way. |
| Contemporary | Contemporary lighting tends to include straight lines and sleek metallic finishes. Recessed or track lighting is used to draw attention to well-placed art and accessories. |
| Modern | Modern lighting is very clean and uses a lot of white, dramatic lighting to highlight clean, minimalist interiors. |
| Traditional | Traditional lighting seeks to emulate styles from the past and often uses traditional materials, like brass. It uses simple shapes, patterns and colours to create effect. |
Fitting Ceiling lights
Once the right ceiling light has been found, it has to be fitted. Unlike many DIY projects, fitting a ceiling light is a very difficult and potentially dangerous project. Many ceiling lights are heavy and require careful wiring to install them successfully. When working with electricity, the highest level of care must be taken so it is recommended that a trained professional is employed to fit the light.
Conclusion
A ceiling light is an integral part of any room. There is a huge variety and scope for personal choice, just like anything that is chosen for display in a home. This is a great opportunity to select something really special. It is what will create the atmosphere in a living space; it shows someone's personal belongings and the people that they care about. These are things worth illuminating and appreciating as fully as possible.