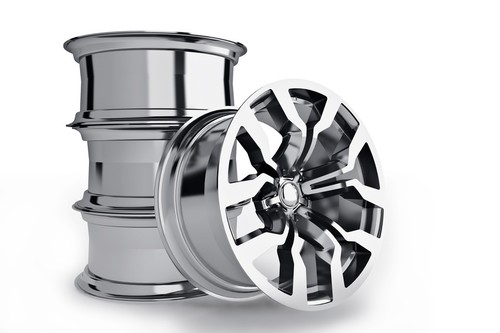 The wheels of a bicycle are the one of its most important components and can enhance a riders' experience of their bike enormously. The wrong pair can mean an uneasy, slow ride and even put people off riding in the first place. Changing the wheels is perhaps the most valuable upgrade a cyclist can make.
The current market is full of alloy wheels – which are usually made from aluminium – that have replaced the old-fashioned steel design. eBay has a whole host of different makes and sizes within its listings.
Purpose of Wheels on a Bicycle
The wheels of a modern bike are a simple concept but intricate design. They can have extremely thin spokes which still need to be sturdy, along with lightweight rims and different material for the hubs. The wheels are important to the bike's performance because they provide:
The main function of a bike. Quite obviously, without wheels then the bicycle is worthless. They are the hardest-working element of it so need to be efficient and fitted to suit the riders' intention; for example if you are a casual, sporadic rider or a more professional and dedicated one.
Better quality of ride. A high-quality set of wheels can make a bike trip more enjoyable allowing for a faster, more precise and smoother ride. Again, it helps if you choose the right wheels for the right journey.
More efficient pedalling. As the wheels are doing the majority of the bicycles work, and the rider is controlling the wheels via the pedals, it is important to find a good set to ease the strain of pedalling. The heavier and sturdier the wheels are means the harder they are to turn around.
Components of a Bicycle Wheel
Below is a table listing the three core parts which make up an alloyed bicycle wheel.
| Bicycle Component | Description |
| --- | --- |
| Hub | The hub of a bike is the centre part of the wheel, consisting of an axle and ball bearing which allow for the circular motion. It is where the spokes can be attached. Aluminium is most commonly used to make up the hub. |
| Rim | The rim is the circular metallic component of the wheel that forms its shape. They are now most commonly made from aluminium alloy. |
| Spokes | The spokes are the thin metal strips that connect the rim to the hub. The add strength to the rim and support weight applied on the wheel. There are typically between 28 and 36 spokes. |
Which Type of Bicycle to Purchase?
The first thing is to consider when buying a bike is what it will be used for and on what surface. There are plenty of different types of bicycle, some of the most recognisable being:
Road Bikes
BMX Bikes
Hybrid Bikes
Mountain Bikes
Racing Bikes
Track Bikes
Triathlon Bikes.
If there is a chance that the bike will be used for anything apart from conventional flat-surface road use then make sure to research all the bikes on the market and their different characteristics. Keep in mind the area the bicycle will be used in respect to any hilly terrain, etc.
Will the bike be used often or just for infrequent recreational use? Think about increasing your budget if planning on cycling often in a more professional manner or for a sporting activity. If commuting to work with a bike then it may be best to look into buying a foldable model which can be stored easily.
Buying Alloy Wheels for a Bicycle
There are a few things to consider when purchasing bicycle wheels which are listed underneath:
Wheel Size
First of all is to select the correct size, which should be displayed in inches. To avoid confusion the wheel size is the diameter of the wheel plus the width of the tyre. Be careful to measure it in full.
Weight
A lighter wheel will generally be faster but may be more fragile due to the weakened overall mass. Be careful not to trade in stability and safety for a small improvement in speed.
Rim Width
Just because a rim is a bit wider doesn't necessarily mean it will make the bike slower. If in need a thicker tyre for increased grip and traction then the agility of the wheel may not be affected that much if the correct wheel is found.
Tubeless Wheels
There is also the option of Tubeless wheels which don't require a separate inner tube. They are preferred by many cyclists as they are lower in pressure which provides for better traction. They also are less likely to puncture and cause flat tyres, although they are by no means immune to this. Bear in mind even though you can convert a standard bike into a tubeless one, it can be quite tricky.
Rim/Hub Brakes
Another consideration with choosing a wheel is whether to go for rim brakes as opposed to hub brakes. There isn't much difference in both, but the force the rim brake needs is generally lighter. This means less pressure is applied on the bicycle frame. Investigate further the advantages of both types of brake and make a decision depending on which type of bike it will be used for.
Physique of User
Is the user of the bike a certain size or weight that may require extra precautions when it comes to choosing the wheels? Also take into account any other people who may use it, friends or family for example.
Carbon Wheels
An advancement for bike wheels has come with the availability of carbon wheels. They are extremely light with deep rims which improve a bicycle's acceleration and performance up hills. Carbon wheels are much more expensive than steel or aluminium wheels and may not be worth price for the general bike user.
There is also the option of visiting a specialist cycling company and requesting custom-built wheels, which can be designed to meet certain requirements.
How to Buy Alloy Wheels on eBay?
If you are looking for new alloy wheels then buying eBay has a wide range on offer, as well as pre-owned options. Be sure to set a realistic budget for which type of alloy wheels are needed. If an upgrade is needed then it makes sense not to under-spend on an inept pair of wheels that may need replacing again in the near future. A set of new alloy wheels differentiate massively in price from up to £1000 for a first hand high-quality pair, to only around £40 for those at the lower end.
The leading cycling brands will provide new alloy wheels in addition to their selection of bikes. Look out for wheels from Raleigh, Peugeot, Wilkinson, Shimano and Strada.
Knowing which particular type of wheel you want makes searching on eBay easier, such as Shimano Road Bike Wheels 26". However, if unsure specifically of which alloy wheel to purchase then follow the steps below to narrow a search:
You can check on eBay to find all the alloy wheels available in one place. If you type in a selection of the following keywords (bike, bicycle, alloy, wheel, wheels) then a host of results should appear.
It will be more than likely necessary to narrow the listings down even further. Select 'Cycling' from the side-bar on the left as a starter. The most results relative to alloy wheels here will then be in the 'Bike Parts' section, so click here too. To narrow down even further, select 'Tyres and Wheels' from the Component Type preference.
Now a selection of new categories should appear on the left subtitled 'Component Sub-Type.' This will take you to all the alloy wheels listings as well as the accessories for them such as spokes, hubs and bearings.
Select 'Complete Wheel' and browse the alloys that have appeared. Browse by Brand, Condition, Material and Price to pinpoint the desired alloy wheels.
After selecting a wheel or pair of wheels, then make sure to read the item's description carefully. Check for things such as the:
Postage Cost
Terms and Conditions
Warrantee Circumstance
Returns Policy
Then be sure to check out the seller themselves and their eBay history. Be sure to ask a question to them if unsure of any details.
If searching for a particular wheel then another tip is to check reviews of it from different sources, in particular from previous users. This will give a first-hand analysis of a particular wheel and whether it will be suitable to a certain bike and certain conditions.