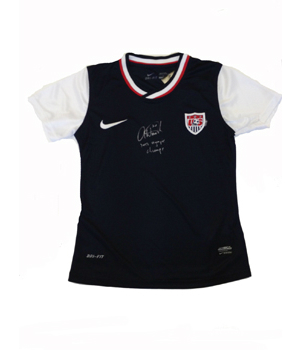 The 2012 London Olympics were a historic event that featured many incredible athletic feats. These feats are of significant historical importance, and include 66 broken Olympic records and 30 broken world records. Notable athletes include Jamaican runner Usain Bolt, and American swimmer Missy Franklin. Spectators, fans, and collectors all have a desire to memorialise this great event and apparel is a great way to accomplish exactly that. The Olympic Committee offers many different authentic types of apparel in a variety of styles that are sure to meet any interested buyer's needs.
The 2012 London Olympic apparel may be centred around the country a buyer supports. It may also focus on a particular athlete the buyer is a fan of. The apparel may not relate to any country or athlete, and may just be related to the games themselves. Finally, one last type of apparel is performance apparel that buyers who participate in specific activities may be interested in. Regardless of whether a buyer wishes to commemorate the 2012 London games, or perform in the same apparel as their favourite Olympian, there is a type and style of Olympic apparel to suit those needs.
Events at the 2012 London Olympic Games
There were 36 overall events at the 2012 London Olympic games. These included: archery, boxing, cycling, football, gymnastics, shooting, swimming, and weightlifting. Within those 36 events, 66 Olympic records and 30 world records were broken. 37 women and 29 men were the record breakers. Team Great Britain dominated the cycling events with virtually a clean sweep of all the major events and setting new Olympic records. Other big winners included the United States of America and China.
Types of 2012 London Olympic Apparel
There are many different types of apparel related to the 2012 London Olympic games. The first type is casual wear aimed at spectators and fans. This includes all apparel that is not historically valuable or designed for performance. The next type of apparel is performance apparel and this includes sport specific apparel such as running shoes or swimsuits. Finally, one last type of apparel are collector's items.
This apparel has usually been used in the Olympic games, and is not intended to be worn but instead is usually displayed as a collector's item.
| Casual Apparel | Performance Apparel | Collector's Item |
| --- | --- | --- |
| User wears the product | User wears the product | User displays the product |
| Usually inexpensive | Moderately priced | Most expensive |
| For casual use | For intense workouts | For value or aesthetics |
The chart shows the different types of apparel and their typical usage. The options may seem overwhelming at first, but depending on what the buyer intends to do with the product should drastically narrow down their options. Many buyers can quickly narrow down their options by either eliminating, or focusing on, collector's apparel. That greatly narrows the search so the buyer can concentrate on more desirable products. If a buyer is seeking apparel that can be worn, they have to decide whether they intend to wear it for athletics, or if it is simply clothing.
Casual Wear
Casual wear is general apparel designed for fans. There are many different types of casual wear that includes everything from sweatshirts to slippers. Other common casual wear apparel includes: hats, tee shirts, socks, jackets, etc. Casual wear is often comfortable, and relatively inexpensive compared to other types of Olympic apparel. Also, casual wear comes in a broad range of sizes therefore it makes an appropriate choice for everyone from children to seniors.
Casual wear also comes in a variety of styles. Some casual wear may relate simply to the Olympic Games in a more general sense. This style commemorates the dates and location of the event. Another style of casual wear is country specific, and allow fans to show their support for any of the participating countries. One last style is athlete specific and may be a replica of the apparel worn by the Olympic athlete. These may include jerseys, swimsuits, singlets, etc.
Performance Apparel
Performance apparel differs from casual apparel in that it is designed for athletes. While some casual wear is similar to performance apparel, significant differences are usually present. For example, a casual wear jersey likely bears the name of a specific athlete, and is made of materials that are not designed for high performance. Common materials include cotton or polyester. These types of materials are not suitable for high intensity activity.
Conversely, performance apparel may or may not be associated with a specific athlete, but it is designed with certain materials that are suited to the activity. For example, moisture wicking material may be used, a more snug fit for improved aerodynamics, or other features such as spikes on running shoes, or additional padding on high stress areas. Performance apparel is designed to replicate the performance levels expected by Olympic athletes. It is not necessarily associated with any one athlete or country and is designed for high exertion athletic activities.
Collector's Items Olympic Apparel
Just like any sort of memorabilia associated with significant historical events, Olympic apparel is no different. Many Olympic athletes used apparel is displayed in museums, by collectors, or by countries themselves. The 2012 London Olympics had no shortage of incredible athletic feats, and any apparel worn during those accomplishments is likely to be incredibly valuable. Swimsuits, swim caps, goggles, uniforms, and shoes are just some examples of valuable apparel, depending on who wore it and how they performed in it. Since so many world and Olympic records were broken at the London games, collector's items were relatively plentiful and are in high demand.
Collector's apparel should not be worn or used for personal athletic applications. The value of the apparel is historical, not practical. Collectors would be wise to protect and preserve this type of apparel with appropriate cases, displays, or similar equipment. Some Olympic apparel can accrue significant value, and may eventually be displayed in museums, not unlike works of art. There is an active market surrounding this type of Olympic apparel and thus, prospective buyers should conduct thorough due diligence of the product before deciding to make the purchase.
Sizing
Sizing is another significant factor when purchasing Olympic apparel. Performance and casual Olympic apparel are sized differently. Performance apparel on the one hand is sized to fit snugly. This usually provides a more sensitive feel for the athlete, or a more streamlined physique. Shoes, uniforms, helmets, and other competitive items should be sized to fit just right, even bordering on tight, to get the most out of the product.
Casual apparel is usually fitted more comfortably since it is not typically designed for high performance use. Casual apparel is supposed to fit and feel relaxed. Garments such as shirts, hats, jackets, and others for the casual wearer don't always need a precise fit. Obviously, with collector's apparel, sizing does not matter as much. The product is not meant to be worn, but rather to be preserved or displayed.
How to Buy London 2012 Olympic Apparel on eBay
Buying apparel relating to the London 2012 Olympics is easy and straightforward when a buyer uses eBay. eBay provides a variety of ways for shoppers to search for, organise, and filter relevant results. In addition, eBay has such a wide variety of options, and an active market that virtually guarantees that buyers can find the ideal product at a favorable price. A general keyword search can be a great place to start, which is done by simply typing general keywords into the search box located on every page.
Alternatively, shoppers can also navigate through eBay's easy to use categories to display a broad range of results. Once the results have been displayed, shoppers can refine their results, or organise them in a variety of ways. Results can be sorted by price, time left at auction, or buying format, in addition to being refined by feature, type of apparel, etc. Apparel is a very common item so shipping issues should be non existent. Regardless of what the shopper is seeking, the wide selection and active market on eBay provides shoppers with the most options to find the ideal product to suit their needs.
Conclusion
The 2012 London Olympic games were a memorable time in the United Kingdom's history. Many souvenirs and other memorabilia were manufactured, but few are as popular as the actual apparel. Buyers can find many different types and styles of apparel that is related to the 2012 London Olympic games on eBay. Whether they are searching for casual apparel, performance apparel, or collector's items, apparel is a great way to memorialize a spectacular event.
Jackets, shirts, caps, and other common garments are casual apparel. Typically relatively inexpensive and easy to find, casual apparel is the most common. Performance apparel must be precisely fit, and is used to maximise athletic performance. Collector's items are items that have some sort of sentimental or historical value associated with them, and are meant to be displayed, not worn. eBay has all the types of apparel from the 2012 London Olympics available in so many styles, a buyer is certain to find the right product.