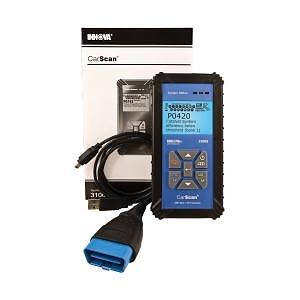 An automotive diagnostic tool is a handy device that car owners can plug into their vehicles. The diagnostic tool checks the systems in the car and reports problems, if any. Owners then write down the special codes that appear on the device's screen and look them up in a manual or other resource that can help them interpret the codes. By using an automotive diagnostic tool and related equipment, owners can find out in advance why their vehicles may be experiencing problems. An owner can then decide whether to fix the problems on his own or take the car to a repair shop instead.
Before a car owner embarks on a search for diagnostic tools and related equipment, they need to educate themselves about the features in these devices. eBay is an excellent place to shop for automotive diagnostic tools and equipment. Shoppers enjoy low prices, a varied selection, and many search options to choose from. Before buyers shop on eBay, it helps to find out about the eBay buying process so that they can get the most out of their experience on this website.
Searching for Automotive Diagnostic Tools and Equipment on eBay
Shoppers choose eBay for many reasons. The website has thousands of sellers whose combined listings provide access to a wide variety of products. These products are organised into various eBay categories to make them easier to find. eBay also has a powerful search engine that enables users to find items quickly. The eBay search bar is located on every page of the website.
To begin a search, buyers click on the search bar and type in a search query; in this case, a phrase such as "automotive diagnostic tools" or "automotive diagnostic equipment" is appropriate. Within seconds, eBay's search engine should populate pages of product listings for automotive diagnostic tools and related equipment. If buyers need to adjust a search, they can click on the search bar again and add another descriptive word. They can also start a completely new search from the page that they are on, without having to return to the home page.
Saving a Search on eBay
Shoppers may not always see what they want immediately, or they may wish to keep an eye on the eBay listings for automotive diagnostic tools until they find the right bargain. In such cases, eBay's save a search feature is useful. When buyers save a search, they give eBay permission to email them whenever a new automotive diagnostic tool that matches the original search is posted for sale on the website. When the buyer receives an email, he can go directly to the new listing and see if it is the right product at the right price. This is one way in which eBay simplifies the search process for buyers and helps them get low prices for high-quality products.
Filtering Searches for Automotive Diagnostic Tools and Equipment on eBay
A search query such as "automotive diagnostic tools" is likely to render many listings. The number of listings that show up depends on the number of sellers offering that type of product at the time when the search is conducted. In some cases, the results may number into the hundreds or thousands. Many buyers do not have time to look at every listing, so eBay provides convenient filtering options. As buyers choose the options they prefer, eBay automatically narrows the search results to match those preferences. The result is typically a shorter, more tailored list of products that closely match the buyer's needs.
Filtering Search Results by Subtype and Interface
First, buyers should use search filters to identify the types of automotive diagnostic tools they want, whether it be digital, analogue, or multimeter. They may choose a specific kind of diagnostic tool, including a battery/alternator tester, a code reader/scan tool, a multimeter/thermometer, or a probe/circuit tester. They can also elect to see results for diagnostic tool accessories such as code readers, cables, and software. Additionally, they may have the option to choose an interface type such as serial, USB 1.1, or USB 2.0.
Filtering Search Results by Condition
Car owners can purchase automotive diagnostic tools in either new or used condition. They should see both options under the "Condition" search filter on the eBay results page. All buyers need to do is select the condition they prefer. If they choose "used", then eBay instantly removes all listings of new automotive diagnostic tools from the results page. New automotive diagnostic tools have a longer lifespan, but pre-owned automotive diagnostic tools that are of good quality may also serve their owners well for many years. If buyers would like to purchase used automotive diagnostic tools in order to save money, then they should ensure that the sale includes a return period in case the item stops functioning shortly after purchase.
Filtering Search Results by Seller
Buyers can also use the "Seller" search filter to choose the preferred type of seller. If they have created a "My Saved Sellers" list of favourite eBay merchants, they can select this list to view products from those sellers. Shoppers can also search for listings by typing in a specific seller's eBay user ID.
Many buyers prefer to work with the eBay Top-rated sellers. Top-rated sellers are given a specific seal that is placed on their listings. The seal is awarded when sellers have received overwhelmingly positive feedback from buyers because of the high quality of their products, their quick responses to questions, favourable return policies, and their practice of shipping items promptly. Buyers can check the appropriate box to see only the listings available from Top-rated sellers.
Filtering Search Results by Price
Expenses related to car maintenance and repairs can mount quickly. A buyer who is looking for an automotive diagnostic tool wants one that is of good quality and is affordably priced. eBay's price range filter can help buyers set their pricing goals. They can fix a minimum and maximum range for the price, and eBay adjusts search results accordingly, removing the listings that do not fit within those parameters.
Filtering Search Results by Shipping Options
Buyers have a few options when it comes to receiving their products. The chart below explains each option.
| Shipping Option | Description |
| --- | --- |
| Free Postage and Packaging (P&P) | Seller pays shipping expenses |
| Shipping Fee | Buyer pays some or all of shipping expenses |
| Express Delivery | Buyer pays extra to receive items more quickly |
| In-Person Pickup | Buyer and seller arrange a meeting to exchange the item in person without shipping fees |
Before buyers plan in-person pickups, they should check with sellers to verify that such a meeting is possible. Some sellers are protective of their privacy and prefer not to meet with customers face-to-face. However, many eBay sellers are willing to work with customers to ensure transactions that are satisfactory to all parties involved. Some may agree to meet buyers at a third-party, neutral location rather than at a private home. Others may offer to deliver the item to the buyer's home. Maintaining clear, open communication is essential to finding a mutually beneficial arrangement.
Filtering Search Results by Distance
Shoppers can use the "Distance" filter to decide which listings they want to see. They can view all items, items from the United Kingdom only, items sold by sellers in the entire European Union, or items available from sellers worldwide. A buyer can also enter a specific postcode and then choose a kilometre radius to find sellers within that area. This makes it simple to support local eBay sellers and to arrange for in-person pickups of items in order to avoid shipping fees.
Searching for Automotive Diagnostic Tools and Equipment in eBay Shops
If buyers do not immediately locate the automotive diagnostic tool and equipment of their choice with a typical eBay search, they can consider searching eBay Shops. This is an area of eBay's website that has no auctions, but instead features online retail spaces run by eBay sellers. When a user does a search for automotive diagnostic tools in eBay Shops, the results page lists links to shops rather than to specific product pages. Users can click on a shop link to browse the products sold there.
Contacting eBay Sellers
In the course of the search for automotive diagnostic tools and equipment, buyers may have questions. They may want to know how old a used diagnostic tool is and the extent of its wear and tear. They may need digital photos of products before they feel comfortable making a purchase. In addition, buyers may have questions about a seller's return policy, shipping offer, and other details. Buyers can get in touch with eBay sellers by clicking on the Ask a Question link in the product listing. They can also click on the seller's name, go to the seller's eBay profile, and click on the Contact Member link. These links allow sellers and buyers to message each other securely and privately.
Conclusion
By using automotive diagnostic tools and equipment, car owners can save themselves time, money, and stress. A diagnostic tool can identify issues within the car's systems. The codes that appear on the diagnostic tool's screen allow owners to determine if they can fix an issue on their own or if it needs to be addressed by an auto repair shop.
When buyers shop on eBay, they can take advantage of the website's many user-friendly features. They can search and get results quickly, and they can tailor the list of search results to reflect their specific needs. Buyers can also select the shipping options they want. They can choose to support their favourite sellers by adding them to a "My Saved Sellers" list and purchasing products from them. eBay's broad selection of products, convenient search options, and easy checkout process provide buyers with satisfactory transactions and products that they can use for years.