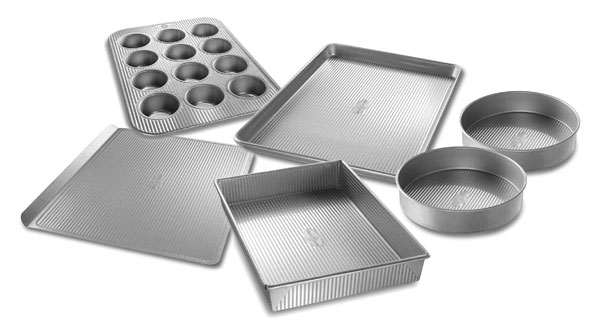 The aroma of cinnamon-spiced and other tempting treats wafting from the kitchen never fails to induce the craving for irresistible home-baked goodies. Many people continue the family's baking tradition as a hobby and to indulge their sweet tooth. Others reserve baking for special occasions. Every kitchen could use a few basic items of bakeware for everyday or occasional cooking.
Bakeware Essentials
Baking sets come in various shapes, sizes, and types of materials such as non-stick, metal, glass, ceramic, and silicone. Disposable aluminium pans are also widely available. Here are some commonly used bakeware.
| | | |
| --- | --- | --- |
| Casserole dishware | Baking casseroles, roasting meat, and poultry | Enamel with steel, glass, ceramic, stoneware |
| | Baking bread, cakes, squares, pies, etc. | Glass, ceramic, cast aluminium, non-stick, silicone, enamel |
| Muffin baking moulds | Baking muffins and cupcakes | Aluminium, silicone |
| | Baking cookies, pastries, bread, pizzas, etc. | Sheet aluminium, stainless steel |
| Disposable pans | Pans, moulds, and trays in all shapes and sizes | Bendable lightweight aluminium |
Glass Bakeware
Glass is a healthy choice for bakeware because it does not leach toxic chemicals. However, incidents have been reported of glass bakeware breaking in the oven or when cooling on a countertop. Even tempered glass shatters or breaks under certain conditions. Usually, the cause is mechanical breakage from the impact of dropping or colliding with a hard object. Manufacturers that use soda lime silicate attest that it's relatively safer because the glass breaks in smaller, dull-edged pieces. Its predecessor borosilicate is prone to shatter into larger, sharper shards. Manufacturers also claim that soda lime silicate has higher resistance from breaking against hard surfaces or scratching from sharp utensils. On the other hand, comparative tests by a consumer advocate organisation show that borosilicate withstands higher temperatures than soda lime. Breakage is typically caused by failure to follow the manufacturer's instructions for safe use. Do not exceed the maximum oven temperature that the bakeware can tolerate. Glass does not take well to sudden drastic changes in temperature, such as oven to cold sink water or freezer to oven. Transfer a glass bakeware from the oven on to a cooling rack. Do not scour or scrape glass bakeware with sharp utensils.
Ceramic, Stoneware, or Enamel Bakeware
Ceramic, stoneware or enamel sets are versatile and hold up well to being shuttled back and forth between freezer/fridge, oven, dinner table, and microwave. They have multifunctional purposes as bakeware, storage containers, and serving ware due to their lovely designs. While one can certainly bake cakes in them, these types of bakeware are usually used for meat, lasagna and side dishes. They can also be popped in the oven for warming up food. Newer manufactured bakeware do not leach harmful substances. Improved glazing procedures have discontinued the use of potential toxins lead and cadmium.
Non-stick Bakeware
Non-stick bakeware is ideal for baking bread and cakes. Some metal pans come with non-stick coating. Premium brands of non-stick bakeware eliminate the need for greasing, while others may need a little spritz of cooking spray before baking. Extra caution is required in handling non-stick sets to maintain their protective finish. Metal utensils and scouring pads will scratch the coating. Follow care instructions to prolong the life of non-stick bakeware. The chemicals PTFE (polytetrafluoroethylene) and PFOA (perfluorooctanoic acid) that may be present in non-stick pans have raised health issues in the past. The synthetic chemical PFOA is used to produce the fluoropolymers contained in non-stick coating. Due to concerns about the possible carcinogenic effects of PFOA, a number of manufacturers have agreed to its gradual phase-out in their products. Tests conducted on non-stick pans reveal that PFOA evaporates during the manufacturing process, diminishing its danger to humans. Consumers worried about the hazards of exposure to PFOA from overheated pans will be well-advised to use safer types of bakeware.
Metal Bakeware
Generally, metal bakeware heats up at a rapid rate and can tolerate higher oven temperatures. Metal baking pans are primarily made of aluminium due to its ability to conduct heat efficiently and produce even cooking. Stronger than stainless steel, aluminium is also lighter and cheaper than copper. However, copper has the advantage of being a better heat conductor. The tough, heavy-duty cast iron bakeware distributes heat evenly. On the other hand, its dense material makes for a slower rise in temperature and longer baking time than the other metals.
Dark vs. Light Aluminium Baking Pans
Whether light or dark, aluminium pans heat up well, resulting in evenly baked food. However, the light aluminium's paler, shinier surface reflects heat while darker aluminium absorbs heat more. For this reason, light-coloured aluminium is practical for baked goods that do not need to be browned, such as cakes and cookies. Light-coloured aluminium bakeware is made of disposable aluminium foil, durable aluminium, or chemically reinforced anodised aluminium. The heavy gauge variety is a more efficient heat conductor and turns out better cooked food. Dark-coloured aluminium pans do a quicker job of cooking and browning foods because of their greater heat absorption capability. Cooking experts recommend reducing the oven temperature by 25 degrees when switching from light to dark pans. Anodised dark aluminium pans perform even more efficiently and have more durable construction. No matter what shade they are, aluminium pans are not recommended for cooking recipes containing highly acidic ingredients, such as tomatoes. The chemical reaction of aluminium with certain types of foods changes their taste, so aluminium pans are not suitable as food containers either.
Silicone Bakeware
The introduction of silicone baking sets to the market has given rise to their share of defenders and doubters. Made of synthetic rubber with bonded silicon and oxygen content, silicone bakeware is thermally stable and safe for oven or freezer use. It's a chemically inert material which does not react with food, distort flavours or emit odours. Other advantages are its light weight, durability, easy cleaning, and maintenance. Silicone sets are rust-proof, won't shatter like glass or scratch like metal, although sharp utensils can cut through them. On the downside, the floppy structure of silicone bakeware makes it a challenge to securely grip them with oven mitts or potholders. To address this issue, some sets come with handles for a firmer grip. Although silicone doesn't get too hot to handle, burns may result from contact with spilled food. During food preparation, batter with raw eggs may also be spilled easily on kitchen surfaces and cause cross-contamination. Consumers are advised to choose food-grade silicone bakeware and cook foods within the recommended temperature of 220 degrees C. Silicone pans are not as good heat conductors as metal, so cakes may not turn out with the perfect golden crust for nice texture and frosting. The cake's edges may also not lift well from silicone moulds. On the eco-friendly front, silicone is not biodegradable, but it does eliminate the use of disposable parchment paper and paper muffin moulds. Homemakers recommend the use of silicone liners for cookie baking trays. The cookies will turn out a bit more crisp, but will not stick and keep the tray clean. Silicone mats are also handy for kneading and rolling out dough without the need for sprinkling more flour. Some brands are conveniently marked with measuring guides for pie crusts or pizzas.
Comparison of Various Bakeware
Here's a comparative summary of the different types of bakeware.
| Material | Health and Safety Issues | Cleaning | Handling and Storage | Quality / Lifespan |
| --- | --- | --- | --- | --- |
| Ceramic, stoneware or enamel | Advanced glazing procedures have banned the use of potential toxins | Non-stick glaze makes it easy to clean. Wipe with a paper towel to loosen the food sticking to the sides or bottom before washing. | Heavy | Develops cracks over time |
| Aluminium | Nil with proper use | Line with parchment paper or drizzle with a non-stick spray before baking for easy clean-up. Soak with warm soapy water to soften crusty fragments. | Light Nesting saves space Keep away from moisture to prevent rusting. | Gets rusty over time |
| Cast iron | None | Soak with warm soapy water to soften crusty fragments. | Very heavy Apply a coating of cooking oil to prevent rust. | Can rust over time |
| Non-stick bakeware | PFOA | Easy to clean; use non-abrasive sponge | Light | Protective coating wears off |
| Glass bakeware | None | Easy to clean | Heavy | Can break or crack |
| Silicone bake sets | Low toxicity, if any | Moulds with smooth interiors are easier to clean than those with waffle design. | Light Flexibility allows folding for space-saving storage | Repeated dishwasher cycles will eventually wear out silicone pans. |
Find Bakeware on eBay
If looking for specific kinds of bakeware, then type the appropriate keywords. The search can be refined per category (Cookware, Dining & Bar), sub-category and so on until the results are narrowed down per individual preferences on type, brand, colour, condition, price, material, etc. If interested in browsing the selection of bakeware sold on eBay, start with a broad search. Typing "bakeware & ovenware" yields available listings. To continue, click the links or check the boxes that match preferences, such as "non-stick". Some reviews and guides on eBay offer instructions on the proper use of particular types of bakeware and other valuable information.
Conclusion
Safety and health issues surrounding bakeware are a legitimate concern affecting everyone. When purchasing bakeware, essential features to consider are non-toxicity, heat conductivity and resistance, durability and tolerance to temperature fluctuations. Multi-functionality and easy cleaning are important for everyday use bakeware. Bake sets that are dishwasher- and microwave-safe are plus points as well. With proper care, quality bakeware can last for many years.