Vehicle braking systems contain several parts that work together to provide fast braking action. The brake lines, which carry fluid throughout the hydraulic braking system, are one of the most important parts of any braking system. Manufacturers such as Hel and Goodridge construct brake lines to connect via fittings, and consumers should know how to determine which brake line fittings to purchase.
Types of Brake Line Fittings

Vehicle experts divide brake line fittings into four primary groups: Banjo, centre support, male, and female. Within each of the four groups, consumers must choose the style that matches the composition of their brake line assembly.
Type

Styles

Banjo

Round-Straight

Round-Bent

Block

Tube-Either Side

Tube-Left

Tube-Right

Centre Support

Clip Mount

Bracket Mount

Female

Clip Mount

Bolt-On Mount

Bulkhead Mount

Bracket Mount

Male

Standard Mount

Bulkhead Mount

Clip Mount
Consumers should pay close attention to the labelling on brake line packaging to ensure they purchase the right type of fittings for their vehicle's braking system. Choosing the wrong type of fitting can cause braking malfunctions that can lead to serious accidents. With the wrong fitting, the end can pop off due to brake fluid pressure or car vibrations.
Brake Line Adapters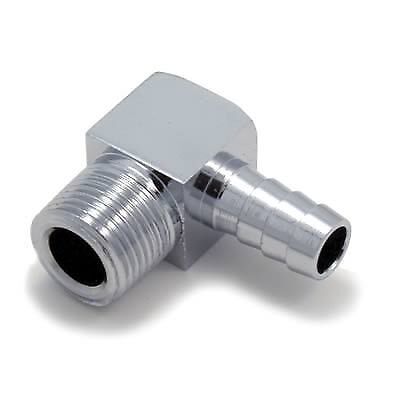 Car and motorbike manufacturers produce a number of different types of brake lines that mostly differ on the circumference of the line that carries the brake fluid. Most modern, new brake lines possess larger circumferences to carry more fluid or a thicker housing to ensure long lasting durability. Vehicle owners who perform their own brake line replacements can expect to find new car and motorbike lines that do not match the size of the current fittings. To compensate for the mismatched circumference sizes, vehicle owners should purchase fitting adapters that secure to the fitting end configuration, as well as connect to the brake line. Most brake line fitting adapters contain corrosion resistant materials, such as copper and stainless steel. Consumers can often buy both the fittings and adapters in one package.
Brake Line End Configurations
Choosing the correct brake line fitting end configuration ensures a secure connection between the fitting and brake line assembly. Consumers occasionally require a pipe thread configuration, but a vast majority of fitting end configurations involves flares.
Flare End Configuration

Description

ISO

Also referred to as Bubble

45 degrees

Female seat angle at 96 degrees

Double

45 degrees

Inverted seat angle at 42 degrees

Connect securely to braided brake lines

DIN

Also referred to as Mushroom

31 degrees

Female seat angle at 120 degree
Flare end configurations provide users with more secure connections than the connections made by pipe thread configurations. The threads tend to wear down over time, especially for vehicles that operate mostly in stop and go traffic. Car and motorbike manufacturers produce pipe thread end configurations for brake lines on some luxury cars and classic motorbike models.