Some motorcycles have power and intensity in mind, while others cater to speed and performance. However, Cagiva motorcycles are designed to be an incredible balance of both, offering exceptional racing speed, while also handling off-road and demanding travel with ease and safety. Between 1978 and 2012 Cagiva produced a variety of motorbikes used in the racing circuit as well as by consumers looking for a thrill. Your Cagiva motorcycle should suit your style and riding goals.
Cagiva SuperCity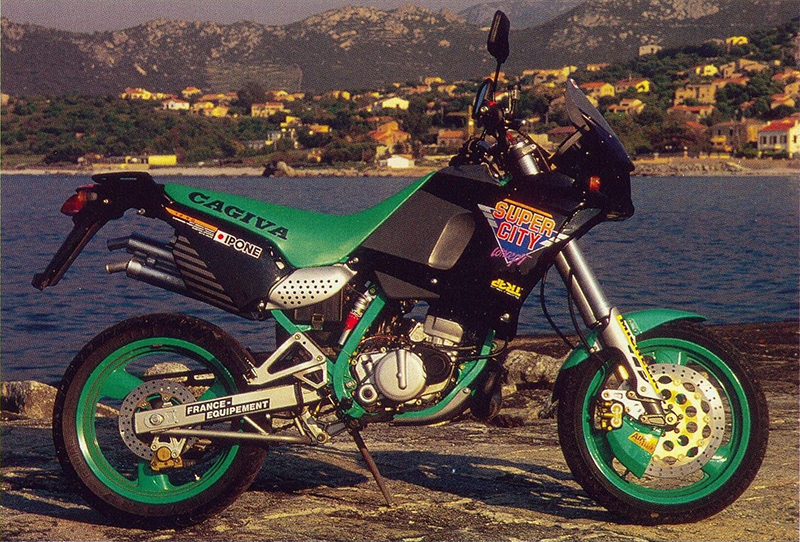 Produced between 1992 and 1999, the Cagiva SuperCity offers speed and fun. Featuring a 2-stroke, liquid cooled engine and 6-speed transmission, the SuperCity 125 is capable of an impressive 15 HP. Without any liquids, the motorbike weighs a mere 125 kg, making it light enough to maintain swift speeds and tight control. This 125cc motorbike offers a powerful pick-up, with fast initial speeds. This speed, however, has the downside of decreased mileage as compared to a smaller 100cc engine. The 14-litre capacity engine has a fuel efficiency of 17.7 kilometres per litre. For safety and control, the SuperCity features both front and rear brakes.
Cagiva Planet
The Cagiva Planet provides fast, thrilling rides that fuel efficiency does not limit. Often compared to the Ducati Monster, this smaller version offers the power and appeal in a sleek package. The liquid-cooled, single-cylinder engine achieves and maintaining 80 mph, with exceptional control and safety via firm braking. Sporty control enables you to enjoy the high speeds it achieves comfortably and safely by keeping control of turns and stops completely in your hands. The attractive design makes it aesthetically appealing as well, while the comfortable suspension lets you to enjoy your ride for longer. Under-the-seat storage makes this an ideal bike for quick errands or daytrips.
The ultimate in racing motorbikes, this lightweight, 6-speed motorcycle achieves tremendous speeds, but with masterful control and manoeuvrability that make it ideal for both racing situations and recreational use. The single-cylinder Cagiva Mito engine produces 34 HP for a solid, powerful feel and has the ability to handle both urban riding and more challenging terrains safely and comfortably. Introduced in 1989, the Cagiva Mito became Valentino Rossi's first racing bike. Rossi went on to become MotoGP world champion nine times. The light, highly responsive frame and design, accompanied by easily accessible and visible instruments, creates a riding experience that gets you in touch with the racing spirit of the Mito. When choosing Cagiva Mito parts for repair or rebuilding, ensure they have not been damaged or modified in any way.