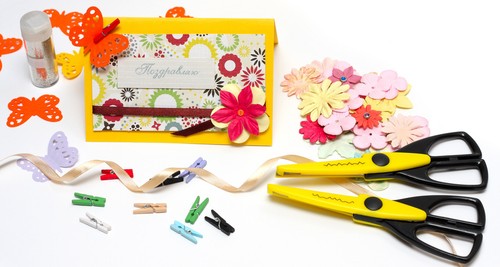 Whether you want to start making cards for fun or for profit, you need cardmaking tools. Before you begin collecting the tools that you need, research the various craft methods to identify the ones that appeal to you. Basic cardmaking tools can be used for all types of cards, but you may need specialist tools for certain effects, such as embossing. Many cardmaking tools can also be used for scrapbooks and vice versa. Determine what you are able to spend before learning about the tools available.
At a basic level you will need to cut, measure, and glue paper and accessories. More advanced techniques may require tools like stencils, stamps, punches, a light box, and a stylus or embossing tool. If you are new to cardmaking, consider buying a cardmaking kit to get started. Cardmaking tools are available from craft shops, department stores, and from a number of online sources, including eBay.
Cutting Tools for Cardmaking
Cutting tools are the most important pieces of equipment used in cardmaking. Cutting tools are available in various types, including craft knives, scissors, and guillotines. For safety, always use a metal ruler for guiding any tools and place a cutting mat on the work surface.
Craft Knife for Cardmaking
A craft knife can be used to cut out stamped pictures, make stencils, and trim paper. Choose a round handle that is comfortable to hold and well balanced, and remember to buy spare blades.
Scissors for Cardmaking
Scissors are invaluable, so invest in two pairs of sharp scissors, one small and one large. Scissors are also available in decorative designs that can cut wavy or scalloped patterns.
Pliers and Wire Cutters for Cardmaking
If you want to work with wire or thin metal sheets then buy pliers and wire cutters. Pliers can be used to bend the wire and wire cutters can be used to trim metal sheets and mesh.
Guillotine for Cardmaking
Use a paper trimmer or guillotine to create straight, clean cuts. These cutting tools usually come with built in rulers, making it easy to measure as you go. There is nothing worse than trying to cut with a dull blade, so always keep replacement blades on hand.
Metal Ruler for Cardmaking
While a ruler's primary purpose is to measure, it makes a good edge when cutting with a craft knife. A metal ruler is better suited to guide a sharp blade as the blade cannot cut into the ruler and deviate from its course. Choose a ruler that is at least 30 centimetres long and use it to measure, for positioning and trimming, and to ensure that folds are accurate.
Cutting Mat for Cardmaking
Consider the amount of cutting that you are likely to do and invest in a good quality cutting mat that provides a firm surface and protects tabletops. A self-healing cutting mat with a grid is recommended for cardmaking. Self-healing mats repair themselves as you use them, so cuts are not permanent. Having one with a grid makes it easier to line up paper and accessories while you work. If you are unsure of the size that you need, choose a larger mat rather than a smaller one.
Punches for Cardmaking
Punches for cardmaking allow users to create quick and easy decorative effects. They can be used directly onto the card or on panels mounted onto paper. Punches come in a variety of shapes and sizes, from those that add tiny embellishments and details, to bigger devices that can cut large patterns and designs. Border punches can be used to create unique paper and envelopes by punching precise, repeated patterns.
Stylus and Embossing Tools for Cardmaking
A stylus is most often used to create crisp folds. The card is measured and marked before the stylus is run along a metal ruler, scoring a line in the paper. If you do not feel that you need this tool at the moment, use a dried up ballpoint pen for scoring. A stylus can also be used in place of an embossing tool and to apply glue in hard to reach places. A bone folder can also be used for scoring and creating neat creases.
Heat Guns for Cardmaking
A heat gun is used to create interesting finishes. This tool was traditionally used to melt embossing powders, but can also be used to dry ink, cure paint and liquids, and warm shrink-wrap and some plastics. This tool can damage surfaces and is best kept away from young children while in use and while cooling.
Adhesives for Cardmaking
Adhesives are essential when making cards. Different types of glue serve different purposes. The table below lists adhesive types with their most suitable applications.
Adhesive Type

Application

Variety of uses

Variety of uses

Excellent for beads, crystals, and sequins

Paper to paper adhesive

Attaches ribbons and flowers

Sticks fine paper

Gives a flat smooth finish

Adds dimension to create a raised design
PVA glue is white, but dries clear and foam pads are sticky on both sides. When buying cardmaking tools, begin by investing in a glue stick and PVA or multipurpose glue because these are the least costly and most versatile options.
Pencils for Cardmaking
An HB pencil and a good rubber are needed when measuring card or paper before cutting. Use a 2B pencil when tracing designs as the graphite is softer and easier to erase. Consider buying a set of high quality watercolour pencils to add colour to stamped images. This can also be done with markers, paints, inks, or brush pens, but watercolour pencils can be used to create different effects without investing in a large range of supplies. While you can use a normal brush with these pencils, a water brush makes it easier to turn the pencil marks into paint.
Lights and Light Boxes for Cardmaking
Work in good light for the most accurate and detailed results. An angle lamp with a daylight bulb allows you to position the brightest light where it is needed. A light box is simply a box with a light inside and one transparent side. A light box is not an essential cardmaking tool, but can be useful when tracing designs onto paper or embossing.
Rubber Stamps for Cardmaking
Rubber stamps come in a huge variety of shapes, sizes, and designs, from numbers and letters to cartoon characters and animals. Wood mounted stamps are traditional stamps with the rubber image mounted on a wood block. Wooden peg stamps are small rubber images that are mounted onto peg dowels. Unmounted clear resin stamps are becoming increasingly popular. These stamps are designed to cling to a wooden mounting block, allowing the user to change the image and use the same block. Outline stamps are used to create an outline of an image for colouring in. Solid stamps create a solid image, but have less detail than outline stamps.
Ink Pads for Cardmaking
Different varieties of ink pads and inks are available for use with rubber stamps. Dye-based ink pads are usually made of felt and use water-based and non-permanent dyes and inks. Pigment ink pads are slightly thicker, have a foam pad, and come in a range of colours. Embossing ink pads are used for heat embossing with embossing powders and a heat gun. Stamps can further be inked using brush markers, which allow you to use more than one colour for each stamp.
Stencils for Cardmaking
Stencils can be bought ready made or can be homemade. Paper or card stencils can only be used once or twice, but those made of sturdier, non-absorbent materials last longer. Brass stencils are generally used for embossing in conjunction with a light box, but can be used for other types of stencilling too. If you do not have a stencil to hand and are not confident about making your own, use peel off stickers as stencils. Stencils can be transferred to paper with paint, coloured chalk, ink, or any number of sources with a sponge, brush, or spray. Special pastes can be spread through a stencil to create a raised effect.
Cardmaking Kits
If you are new to cardmaking, consider buying a cardmaking kit to get started. These kits are often themed and include a number of designs based on a central theme. Take the techniques used and the age group that it is aimed at into account. Ensure that everything that you need to make the cards is included in the kit.
How to Buy Cardmaking Tools on eBay
eBay sellers offer a wide variety of craft tools and supplies. To find the right cardmaking tools for you, simply search by typing a phrase, such as "flower punch", into the search field that can be found on every page to see the items available for sale. Refine your search by choosing the most appropriate item features.
Before You Buy on eBay
Before you buy on eBay, take a moment to learn about the item and the seller. To do this, simply click on an individual product to see the item listing page. Here you will find all that you need to know, including the item description, buying options, the seller's accepted payment methods, postage and packaging costs, and the seller's feedback information. Click on the number next to the seller's username to see his or her full feedback details. This allows you to see what other buyers have to say about a specific seller's products and customer service.
Conclusion
Having the proper cardmaking tools allows you to create card designs and embellishments that are unique and suited to your needs. The most basic tools required allow you to cut, resize, and paste paper and accessories. Always use a sharp cutting edge for crisp, neat borders and images. Use adhesives that do not bulge out over the edges of the paper and trim. It may be necessary to invest in more than one type of glue.
Your cardmaking tool collection can be built up over time, so as tempting as it may, there is no need to buy everything at once. Keep an eye out for bundles and second hand sets to speed up the collection process without spending your entire budget in one go. If you are new to cardmaking, consider buying a few books for some inspiration, tips, and techniques. Making your own cards allows you to show your nearest and dearest how much you care by giving them unique cards. Of course, selling handmade cards can also be profitable and is a great way to collect money for more tools and supplies. eBay sellers offer a wide selection of cardmaking tools that are suitable for every project and budget.