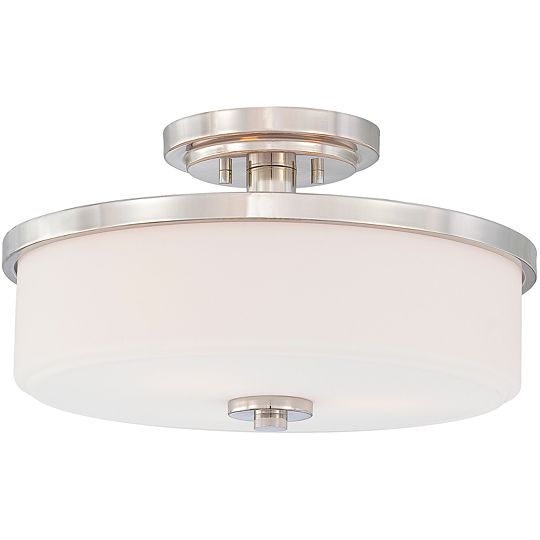 A dining room's ambience should be a warm and welcoming one. It should heighten the pleasure of enjoying a well presented and tasty meal in the company of friends or family, and encourage good conversation and social interaction at the dinner table. Ceiling lights in a dining room play an important role in setting an intimate and friendly tone while dining, and incorrect lighting will rob the occasion of much of its mood of enjoyment. Buying ceiling lights for a dining room should involve careful consideration of the dining room's shape, furnishings, and overall decor. Lighting should be neither too bright nor too dim and should complement particular areas of interest in the room. The serving area should be adequately lit and the dining table itself should have soft, but sufficient lighting to ensure that dinner guests can comfortably enjoy what they eat. Admiring the beauty of a particular ceiling light does not necessarily mean that it will beautify every dining room, and it could end up looking awkward and cause the overall appearance of the room to seem unbalanced. Buying a ceiling light for a dining room is all about dimensions and decor. The table below offers some guidance on what kind of ceiling light is appropriate for the various shapes and sizes of dining rooms.
| | |
| --- | --- |
| Chandeliers | Large chandeliers are obviously intended for large rooms and can add an impressive touch to the decor of a dining room. High ceilings are an absolute requirement as the chandelier needs appropriate hanging space if it is not to appear stuck to the ceiling. Dimensions of both the chandelier and the dining room are crucial if this type of dining room ceiling light is to be displayed as impressively as is intended. The smaller chandelier types can be as effective in the large dining room if more than one is used in imaginative groupings; perhaps having a small central chandelier hung low over a table being flanked by two others which are set higher. If the smaller chandelier is used in a smaller dining room, then it should also be hung low for effect. |
| Pendant Type Lighting | Pendant ceiling lights come in all shapes, sizes, colours, and designs, and one to suit the decor and dimensions of any dining room can be found. In the more contemporary dining room setting, these can be experimented with in numerous ways. The tube type of pendant lights can look stunning in this setting if they are grouped and the lengths at which they are hung are staggered. They are also perfect for highlighting a particular feature of a dining room, such as a recessed server or any other item of interest. Turning the spotlight on such items can initiate great dinner table conversations. Copper, brass, or bronze pendant lights often fit very well with the vintage or country style of dining room decor, and it is well worth experimenting with the myriad of shapes available. This is definitely one of the more versatile types of ceiling lights for a dining room. |
| Semi-flush Ceiling Lights | Semi-flush ceiling lights are well suited to the smaller dining room and are available as single units or as 3 or 4 unit multi lights. A multi light fitting with softly lit globes could illuminate the dining table with a single, matching unit being utilised either on the ceiling or on a wall to highlight other features of interest in the dining room. Mixing and matching of the many colours and design styles can be an effective means of complementing the dining room's decor, particularly where features have been highlighted, and creating overall warmth in the room. Designs and colours to suit traditional, antique, contemporary, retro, and any other decor that is desired are freely available and invite experimentation. |
| Flush Ceiling Lights | Flush ceiling lights for the dining room can be accommodated in any dining room design. Styles range from the very elaborate to the simple and the materials from which they are made cover any dining room decor. Glass, metal, and wood units are available in a variety of colours that can be manipulated by the use of coloured globes to create a warm and friendly ambiance. Flush ceiling lights in a dining room can be spectacularly effective when used in groups incorporating various sizes. A smaller grouping can then be placed to offset special features to perfection. It is again very important to consider the dimensions of the dining room in question before deciding on the purchase of particular flush ceiling lights. |
| Spot Lights | Strip lighting or tiltable spotlights can be used to great effect in a modern dining room of any size. LED lighting within a home is growing in popularity with the main reason being its energy efficiency. In the modern or contemporary dining room, setting down lights and up lights can create focal points in the dining room which can include paintings on the wall or a particularly interesting piece of furniture or ornament. LED or strip lighting is also a great way to light up a bar area and create the desired ambience. Although they are a wonderful way to backlight glass-panelled, vintage display cabinets with stunning effect, they are not as effective when used as ceiling lights in a vintage setting. |
Buyers will certainly not feel restricted for choice, whatever the preferred lighting options may be, and the wide array of available ceiling lights for the dining room is possibly the only dilemma that will be faced. Good ceiling lights do not usually come cheap and lessons learned from errors in judgement can be really expensive and frustrating. It is truly worthwhile to do a lot of research and perhaps even a mock-up of a dining room layout before purchasing ceiling lights for the dining room. Getting advice from various knowledgeable sources will help in determining what type or style of lighting is best.
Conclusion
It is well worth the time spent on researching the subject when deciding on the best and most effective method of lighting for a dining room. Buying ceiling lights for a dining room need not cause apprehension or frustration if done sensibly and with the aid of expert advice. Hindsight can bring costly regrets. If properly done, the effects of ceiling lights in a dining room will be remarked on and appreciated by many dinner guests for a long time to come, and it will all be down to how well the lighting offsets the decor and, particularly, any items of interest. Incorrect and glaring lighting in a dining room can stilt conversation and ruin the mood of, what should be, an opportunity to socialise in a warm and intimate setting. The results of time spent on food preparation and table settings can be completely wasted if dinner guests feel somewhat intimidated by the lighting in a dining room. Those who place little or no importance on the consequences of turning on the lights may be left instead with trying to illuminate the reasons for many dinner invitations being declined. Choose ceiling lights for the dining room well and nothing will be left to chance and dinner parties will be experienced the way they should.