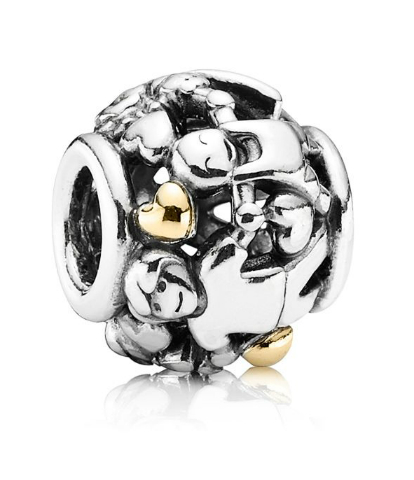 Charms are small trinkets that are added to jewellery, mainly bracelets, to represent certain events in a person's life. The charms can also be added for decoration in any way that suits the wearer's taste. Putting together a meaningful charm bracelet requires planning and preparation. There are several factors that must be taken into consideration before purchasing the charms to go on a bracelet. A shopper must take the time to find the right size bracelet before considering the charms she wishes to attach to it. When shopping for charms for a piece of jewellery, shoppers must determine the type of charms they need as well as gather the tools required to attach the charms to the bracelet. By shopping on eBay, shoppers can find a large selection of charms of all types, as well as a variety of jewellery-making supplies. Whether putting together a bracelet made from silver and gold, or a costume charm bracelet, eBay has a huge assortment of charms to choose from.
What Is a Charm Bracelet?
A charm bracelet is a piece of jewellery that is worn around the wrist. It has small trinkets or pendants attached to it known as charms. The charms may simply be for decorative purposes, or they may have personal meaning to the person who made or wears the bracelet. The charms can be added or removed as desired so that the wearer can truly customise her bracelet to suit her personal taste. Charm bracelets have been around since the Bronze Age, and they have remained a popular type of bracelet since then. While the charm bracelet is the most popular, people can also find charm necklaces and anklets.
Choosing the Proper Bracelet Size
Before buying charms for a bracelet, it is important to purchase a bracelet that is the proper size. Shoppers can find chains suited for charms made from a variety of materials and made in different lengths to best suit the wearer. Shoppers who are unsure what size bracelet to buy can find the average sizes listed in the table below.
| Wrist Size | Wrist Measurement | Bracelet Size |
| --- | --- | --- |
| Small | 145 mm or less | 170 to 190 mm |
| Medium | 150 to 170 mm | 175 to 215 mm |
| Large | 175 mm or more | 200 to 230 mm |
The bracelet sizes are presented in a range, because some wearers prefer a tighter fitting bracelet while others prefer a bracelet that is more loose-fitting. The easiest way to measure the wrist is to wrap a piece of string around the wrist, then measure the string with a ruler or measuring tape. Shoppers can also use string to approximate the size of the bracelet they wish to wear.
Types of Charms
There are thousands of charms to choose from to add to a charm bracelet. The charms come in all shapes, sizes, materials, and themes. When making a charm bracelet, the jewellery maker often chooses charms that have personal meaning or significance to the person who wears the bracelet. Usually the charms represent important events in the wearer's life.
Charm Materials
Charms can be made from a variety of materials. When choosing charms for a bracelet, it is important that the material that the charms are made from match the material that the bracelet is made from. For example, gold charms would not go well with a silver bracelet. Additionally, not all charms are made from precious metals. Shoppers can also find a wide selection of charms made from clay, plastic, wood, and rubber. Likewise, charms can come in multiple colours or shoppers can choose charms that are all the same colour.
Making Your Own Charms
For a truly personal touch, shoppers can purchase the materials to make their own charms. They can also be made from items that have been collected from nature. Polished stones, shells, clay, and wood can all be shaped and attached to the charm bracelet. When adding homemade charms to a bracelet, it is important that they are not too large, too heavy, or too bulky. Ideally, charms should be between 5 and 10 mm in size.
Choosing a Theme
The last factor to consider when shopping for charms is the theme. With thousands of charms to choose from, it is important that the shopper has a theme in mind to help narrow down the options. The shopper needs to take the time to outline which events he or she wishes to symbolise on the bracelet and go from there. For example, charms with numbers on them can be used to represent significant birthdays. If the wearer is an avid runner, then a charm that features a running shoe may be another good choice. The overall theme of the bracelet often relates to the life of the wearer, but the bracelet can be personalised in any way the maker sees fit.
Materials Needed for Making a Charm Bracelet
When people make their own jewellery, it is important that they have all of the necessary materials to get the job done. Since most charm bracelets have a bracelet made from metal and charms with metal clasps, tools are required to manipulate the metal and attach the charm securely to the bracelet. This ensures that the charms stay in place and do not fall off. People who wish to make charm bracelets need to be sure that they have the required charm connectors and pliers to complete the job.
Charm Connectors
Each charm has an eyelet on it so that it can be connected to the bracelet. Each charm should have a jump ring attached to it, too. This is a malleable piece of metal that can be opened and closed with a pair of pliers. These connectors are best for bracelets with charms that are meant to be permanently attached.
If the charms are to be switched out fairly regularly, then the amateur jewellery maker should use charm connectors. These are designed to open and close easily so that the charms can be taken off as needed. These are easier to open and close than the jump ring and also more durable. They are not likely to break or bend from being opened and closed multiple times.
Pliers
To add charms to a bracelet, two pairs of jewellery pliers are required. Chain nose pliers are the best type to use for this purpose. Since the jump ring is too small to open and close with fingers, the pliers can be placed on either side of the jump ring to open it. Once the jump ring is fed through the bracelet, the pliers are squeeze closed to secure the charm to the bracelet. Ordinary pliers found in the toolbox do not work for the purpose of making jewellery and may actually damage the metal.
How to Buy Charms for Jewellery Making on eBay
eBay has a large selection of charms and supplies needed to make charm bracelets or other pieces of jewellery. If you want to make a bracelet using silver or gold charms or a bracelet from colourful costume pieces, you can find everything that you need on eBay. Because the charms listed are from private sellers located all across the UK, you will find a larger selection than anywhere else. Additionally, the prices are often much lower than retail prices. In order to find the best deals, you need to know how to navigate the site and use all of the search features.
Searching for Charms
Start your search for charms for jewellery making by performing a basic keyword search. Enter a few words to describe the type of charm you are looking for, such as 'silver heart charm', to find all listings that match. You can then narrow down the listings by selecting different options, such as price and size. This reduces the list to a more manageable number to sort through. Arrange the list by price, condition, or distance to move the listings that best match what you are looking for to the top of the results page. You can then begin reading item descriptions and comparing prices to find the charms you are looking for.
Conclusion
Charm bracelets are fun to wear and also make great gifts. These pieces of jewellery feature charms or trinkets that can be added to represent important events in a person's life or depict objects and interests that they favour. Charm bracelets have been around for thousands of years in one form or another. While they can be purchased with charms already attached, charm bracelets are more personal when the charms are chosen and added by hand. This guarantees that the bracelet is one-of-a-kind. This means that buying charms can be an intricate process. The shopper must be aware of the many types of charms available and choose the size, material, and theme that best match the bracelet and the personality of the wearer. No matter what kind of charms a person is looking for or how much they wish to spend, eBay offers a huge selection of charms that fit a variety of budgets.