With the strong resurgence in the popularity of handicrafts and the do-it-yourself mentality, more and more people are engaging in textile work, ranging from mending their own clothing up to making it from scratch. Of the wide variety of fabrics available, floral fabric remains a consistent favourite for its versatility and timeless aesthetic quality.
Uses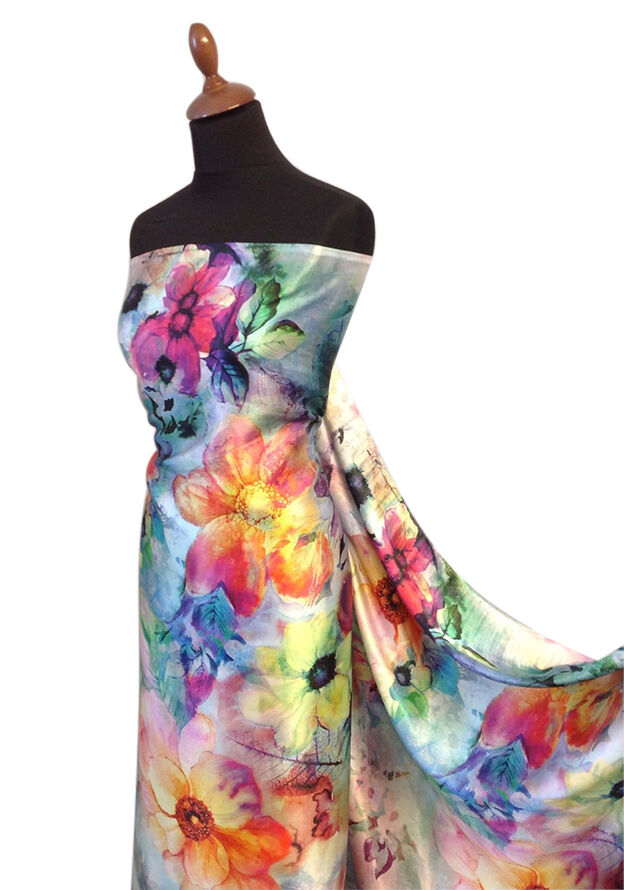 Buy floral curtain fabric to spruce up boring or outdated window treatments, as it invigorates the interior with a sense of the vibrant flora outdoors. Likewise, floral upholstery fabric breathes new life into old stuffy furniture, even if only employed in small doses, such as a new set of accent pillows. For the fashion savvy, each year brings new sets of floral dress fabric modelled after the latest fashions, ready to be turned into unique modern garments. Fans of nostalgic styles might instead go for a vintage floral fabric that, when used in conjunction with one of the many available vintage dress patterns, can recreate looks from any number of bygone eras.
Materials

As you might imagine, different projects call for different qualities or characteristics suitable to the item's specific needs. For instance, you would not choose the same floral fabric to reupholster a couch that you would to make a breezy summer dress. For curtains, consider both the mood of the room and its existing decor. Heavy fabrics, such as silk and velvet, tend to lend an area gravitas, whereas linen and cotton present a more casual feel. As for an upholstery project, temper aesthetic considerations with a healthy concern for durability, especially when working on heavily trafficked pieces of furniture prone to show signs of wear and tear. Synthetic blends of either cotton or wool offer the requisite resiliency as does vinyl.
Popular Patterns
Even with the considerable amount of competition, certain coloured floral fabrics continue to prove more popular than the rest. The constant demand for Ditsy floral fabricattests to crafting community's tendency to support particular brands, or even individual designers who dabble in the floral motif, such as Cath Kidston and Laura Ashley. When considering floral fabric in general, several different artistic interpretations of the theme have risen to prominence, including impressionist-inspired patterns reminiscent of watercolour paintings, traditional Victorian roses, and a variety of abstract takes, ranging from boldly stylised paisley to haphazard squiggles.