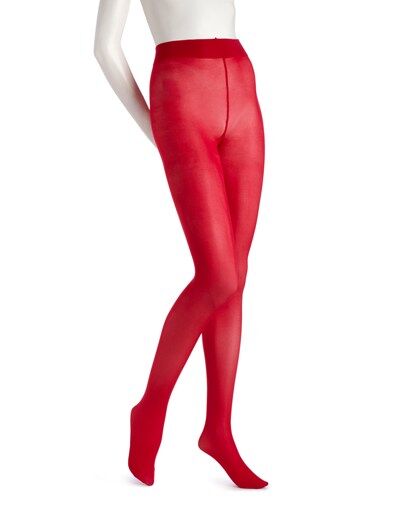 A good way of turning an otherwise dull dress into a chic outfit is to pair it with coloured tights. Contrary to popular belief, coloured tights are not only for young girls, but may also complement the style of many women as well. Coloured tights are a great and inexpensive way to transition your spring and summer wardrobe to autumn and winter.
Coloured tights are a fabulous way to change your overall look, while keeping warm during the cool weather months. Coloured tights can be purchased from most women's clothing retailers, as well as online from websites, like eBay. They add a rather nice touch to an otherwise dull wardrobe. They may be worn with a variety of textures, colours, and patterns and complement most outfits in a woman's wardrobe. Wearing coloured tights that are properly matched to an outfit make a woman stand out for all of the right reasons. There are few factors which should be taken into account when buying coloured tights, such as body type, skin tone, knowing how to match coloured tights, and appropriate sizing.
Choosing Coloured Tights
The colour of the tights that a woman chooses should reflect both her individual body type as well as her personality. Women's body types and skin tone can vary greatly, and not all colours of tights suit all body types and tones.
Coloured Tights by Personality
Women who are quite reserved and prefer to draw attention away from their legs are wise to choose tights with muted colours. Tights of muted colours include: chocolate, brown, navy, and other dark, neutral colours.
For bold women who do not mind showing off their legs, pastel colours are the way to go. Pastel-coloured tights should be paired with contrasting colours or neutral shades. Legs that are dressed in pastel-coloured tights attract a lot of attention to a woman's lower half.
Coloured Tights by Body Type
Women with curvy legs should consider purchasing tights in dark primary colours, which have the effect of making the thighs and lower legs appear slimmer. Women with curvy legs should avoid coloured tights that contain patterns and textures, which have a habit of stretching over curvy areas of the legs, causing them to appear larger.
Women who possess long, slender legs should opt for brighter colours. Bright colours draw attention to the legs and accentuate their length. Some of the best bright colours for women with slender legs include: red, yellow, and orange.
Coloured Tights by Skin Tone
A woman's skin tone has a lot to do with how a pair of coloured tights appears on her body. Different skin tones are complemented by different colours. For example, an older woman with a pale skin tone should avoid pink coloured tights, because they can make her face appear washed out.
Black tights can provide a nice contrast to light-coloured skin, but too much contrast may also make a light-skinned woman appear washed out; silver, on the other hand, generally balances light-coloured skin nicely. However, black tights generally complement women with dark skin tones by providing a sophisticated appearance. Gold tights also complement darker skin tones.
Grey and white tights are a safe bet for both light and dark skin tones. Navy blue is also a neutral colour for tights, and complements just about any skin tone.
Warm, bright colours like red, orange, and yellow can look stunning on women of any skin tone; however, it takes some balancing with the rest of an outfit to pull off these bright colours.
How to Match Coloured Tights
Tights are available in a wide range of colours; however, it is essential for women to understand how to incorporate all of those different colours into their wardrobe. It requires some skill to be able to wear a wide range of coloured tights, from the excessively bright to the dull, and still look coordinated. Colour coordinating a dress with tights is a brilliant way of transitioning a summer dress into the autumn. Do not be afraid to pair tights and clothing of the same colour. For instance, a grey dress with grey tights can look stunning if paired properly.
Another approach to coordinating tights with an outfit is to choose tights in a similar colour scheme, but of a different shade. For instance, try pairing some soft lilac-coloured tights with a saturated plum-coloured dress. The secret is to make sure that the tights are half opaque or even somewhat sheer.
Bright Tights
Bright-coloured tights should be included in the wardrobe of every ultra chic woman. By pairing bright-coloured tights with a black outfit, you accentuate and complement the entire ensemble. Bright tights may also be worn with outfits that contain muted patterns, so as to accentuate the pattern. If tights that are brightly coloured are paired with an equally bright outfit, the colours should match, otherwise the look appears unbalanced.
Choosing a Colour
When choosing a colour of tights to match an outfit, choose a colour that is displayed in a shirt, skirt, dress, or other piece of clothing that is worn with them. You can also choose a colour that is reflected in one of the accessories that you are wearing. This helps to highlight certain colours that are displayed in an outfit, as well as coordinate your look.
Wear Short Bottoms
The best way to show off coloured tights of any pattern or design is by pairing them with short skirts or even shorts. Shorter is better when it comes to bottoms, as this can allow the colours of the tights to pop. For those who are not comfortable with short outfits, even knee-high skirts are short enough to show off coloured tights.
When pairing a loose-fitting or flowing skirt with a pair of coloured tights, opt for a tight-fitting shirt to balance the outfit. Similarly, when wearing a loose-fitting shirt with coloured tights, pair them with a figure-hugging pair of shorts or a tight skirt. Another safe look is to pair a tight-fitting top with either a tight skirt or shorts, paired with coloured tights.
Pairing Tights with Shoes
When looking to pair coloured tights with shoes, opt to match the colours. For instance, try pairing black tights with black shoes for a long and lean look. If you are unable to pair tights and shoes of the same colour, attempt similar colours. For example, try pairing yellow tights with gold-coloured shoes, or nude coloured tights with brown shoes.
Coloured Tights Sizes
As with all women's clothing options, despite their stretchability, tights are also sized to fit women of all shapes and sizes. Whether one is tall, short, plump, or even slim, there is always a pair of tights to fit. Therefore, it is important for any woman who is considering buying a pair of coloured tights to know her correct size. In the event that a woman does not know her appropriate size for tights, she can either take her own waist and leg measurements, or visit a local tailor to have her measurements taken by a professional.
Buying Coloured Tights on eBay
Buyers can find an array of different types of coloured tights on eBay. Women's tights are available from a variety of sellers in different styles, textures, patterns, and colours. Finding coloured tights on eBay is very simple. All you have to do is go to any page on the eBay website and type your search terms into the search bar. For instance, you can type "dark red tights" into the search bar and a variety ofsearch results are populated immediately. The more specific the search terms, the more precise your search results. Once you input your search terms, you can browse the listings for the pair of coloured tights that suit your needs.
Before making a final purchase of any item, it is very important that you read through the seller's shipping and return policies. Also, read the seller's feedback from previous transactions with other consumers. Make sure you understand all of the terms of the transaction before doing business with a seller.
Conclusion
Choosing coloured tights is not always a straightforward affair, as there are many colours and a number of factors that a woman must consider. You need to know how to choose the right tights for your outfits, and the right shoes to pair with different coloured tights. Your skin tone and body type are other important factors to consider. There are some colours that do not go well with certain skin tones. Buyers also need to choose a brand with which they are comfortable. It is best to know which types of colours enhance your skin tone, body type, outfit, shoes, the season, and the occasion.
Coloured tights are a great addition to any wardrobe. You must know when and where the tights are worn so that you can appropriately choose between day and evening wear. There are some women who would rather play it safe with neutral colours, while others want to go all out with bold and brightly-coloured tights. Most women do not know where to begin, but with these guidelines and eBay, the coloured tights buying process is made simpler.