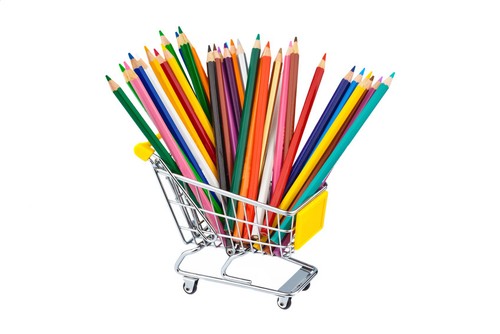 Beloved by children and adults alike, colouring pens and pencils are the medium of choice for many artists. To the point where the variety can be confusing – is bullet tip needed or chisel? What does non-toxic actually mean? And how can good-quality pens be found for a reasonable price?
With a wide variety available for bidding or on-demand purchase, eBay is the perfect place to start looking. This guide will help you choose the colouring pens or pencils perfect for you by providing useful information on types and brands along with guidance for finding the best deal on eBay, the site with the widest selection on the market.
Who is using the Pens and Pencils
The next section of the guide is to provide intrinsic details about the users of colouring pens and pencils, from children to adults.
Children
First, who is going to use these pencils, and for what purpose? Children are going to need a different set of pens with different standards than an adult. For children, it is particularly important that the pens or pencils are:
Non-toxic – this can be found out by checking what the pen ink is made of. Water-based products is safer for children, solvent-based are not. Solvent-based pens often have a strong smell when opened, and older brands may contain xylene which is classified as a harmful substance by the EU.
However pencil lead is non-toxic, as pencils are now made of graphite.
Durable – particularly with young children, a tough, thick pen or pencil is needed.
Washable – pens are available where the ink can be easily washed off clothing or skin. Crayola in particular have a wide variety of these available on eBay.
Adults
For adults, the pen needed will depend on the intended use. Those wishing to use pencils or pens for art will need to consider the type they need.
Types of Pencils
There are a whole host of different pencils in the marketplace aimed at a selection of target markets, such as children and adults. However, the type of artwork that is being produced also needs to be a consideration in regards to the pencil type that is to be purchased.
Wax/Oil-based Pencils
The most general and widely available colouring pencils with a hard wax or oil-based lead, these are a good type to start drawing with.
Advantages – Available in a wide variety of colours, hardness and types.
Disadvantages – Can be difficult for beginners to identify which type or brand they need without trying first.
Water-based/colour Pencils
Water-soluble pencils, they are used for drawing in a watercolour style.
Advantages – Very good at delicate drawing, and far easier to learn to use than traditional watercolour paints
Disadvantages – Not very durable, requires a particular kind of paper.
Pastel Pencils
Pencils with a pastel strip inside, they are used for drawing in a pastel style.
Advantages – Much cleaner than pastels, and can be blended unlike general colouring pencils.
Disadvantages – Do not have the same vibrant colour as pastels, tend to wear down quickly.
Metallic Pencils
These are pencils with a bright metallic lead, which can be used on dark paper.
Advantages – Produces a bright, stunning effect on dark backgrounds.
Disadvantages – Does not have the same effect on other backgrounds
Those who need to use the pens in an office environment can choose from a variety of office-focused pens and pencils, such as the large whiteboard marker, brightly coloured highlighters and finer marker pens.
Pens
Similarly to pencils, the selection and range of pens within the marketplace is huge. They come in all types of size, shape, material and colours; all of which will be discussed in the section below.
Felt/Fibre-Tip Pens
The most widely available colouring pens are the felt-tip pen::
Advantages – Available in a wide variety of colours, and tip fineness.
Disadvantages – Can dry out or run out of ink quickly.
Fine Liner Pens
Fine-tip pens are used for writing as well as drawing.
Advantages – Fine tip enables delicate and detailed work.
Disadvantages – A range of colours can be hard to find.
Gel Pens
Gel pens are pens with a thick gel-based ink.
Advantages – Available in a variety of bright and metallic colours.
Disadvantages – More expensive, and also run out of ink more quickly than other pens.
Pen Tips
The size and shape of the tips is also important to consider when choosing the right pen, coming mainly in three main types:
| Tip | Line Size/Shape | Use |
| --- | --- | --- |
| Bullet | Usually 2mm, a broad thick line | Whiteboard pens, good for colouring wide areas |
| Chisel | Usually 2-5mm, with a much sharper line than the bullet tip | Highlighters, good for big sharp lines |
| Fine | 0.3-1mm, a very fine line | Writing, or drawing very fine lines in art |
What tip is needed will depend on what the buyer will need them for – bullet and chisel are best suited for big areas, and finer tips for small details and line work. A whole range of pen tips is available on eBay, and the type is usually indicated in the title or description. If unsure, ask the seller to clarify the type or check the advertised item against the manufacturer's website if available.
Colouring Pencil Types
Colouring pencils do not come in the same confusing number system at regular drawing pencils, however the pencil lead should be considered when buying. The hardness varies by brand and how light or hard the user leans when drawing will decide what lead is needed.
Light users should look for softer leads.
Hard users should look for pencils with harder leads.
The softness of the pencils will be labelled on the package the pencils are sold in, and if you are unsure the eBay seller can be contacted with more detailed questions. If the product is listed as 'Used &' the seller should be able to provide information on how the lead feels and then the buyer can make an informed decision on whether the pencils would suit them.
Colouring Pen and Pencil Brands
All kinds of colouring pens and pencils are available for affordable prices on eBay; however which brand the buyer should consider depends on their intended use. High-quality brands such as Staedtler and Berol have large sets at affordable prices on eBay, and are easily searchable on the site by name.
However they may still be out of budget range and unnecessary if the buyer does not need them. Various lesser-known and own-brand pencils are available at a lower price and may be a better idea for buyers who just want to start getting into art, or just want to do some basic colouring.
Price ranges on eBay can be specified according to budget, but the buyer is guaranteed to find a wide range of items no matter their price range.
Colouring Pen and Pencil Packs
Both colouring pens and pencils are usually sold as part of a pack ranging between 12 and 20 items, and a wide variety of colours are generally included.
Good-quality colouring pencils frequently come in their own tin, and often include a sharpener and blending pencil. These are better value for money than buying individual pencils, and the pencils in the set generally complement each other and are good for those getting started with drawing.
Caring for Pens and Pencils
Quality is an important part both buying and caring for pens and pencils. Wear generally appears as:
Ink fading – usually from over-exposure to sunlight.
Dry fibre in fibre-tip pens – often from being left with the cap off.
Ink clotting – can occur in gel pens from being left to sit or being exposed to heat.
Split leads in pencils – can be caused from using a too soft lead.
Keeping pens and pencils in good condition extends their life and guarantees the buyer gets good use out of them. Whether buying new or used, eBay sellers are known for their good quality and well-cared for products. Any questions about the state of the products can be directed to sellers with the 'Ask a Question&' option on the listing or 'Contact Seller' on the seller's main page.
Buying Pens and Pencils on eBay
eBay has a wide range of colouring pens and pencils, and are priced far more competitively than traditional brick-and-mortar shops where ink pens tend to be very expensive. High-quality pencils from well-known brands can be bought at an affordable price.
Items can be found according to use, with children's pens under children's craft, and professional adult's pens and pencils under drawing crafts. Preferences can narrow your choices by:
Price Range
Type of Pen/Pencil
Condition
Brand
While looking for an ideal product, it is a good idea to:
Check the product before buying. Most sellers include a photograph and description, but it is best to check that if a set is on sale that all items are accounted for, and that all items are working.
Review the seller, and don't be afraid to ask any questions about the product.
Look for local sellers – this will keep costs low, and means shipping will be quicker.
Conclusion
Colouring pens and pencils are an important medium for artists of all ages, and it is important that the right ones are chosen for the job. Choosing the right pens or pencils depends on the buyer's requirements, drawing style, and budget. With the help of this guide buyers can identify the type of pen or pencil they need by type, tip, brand and personal needs.
Finding the right pen or pencil is easy on eBay, and the reliable and informative sellers provide a whole range of brands at competitive rates. When using eBay, be aware of security benefits of paying with PayPal (including eBay Buyer Protection) and remember not to be afraid to ask the sellers questions.