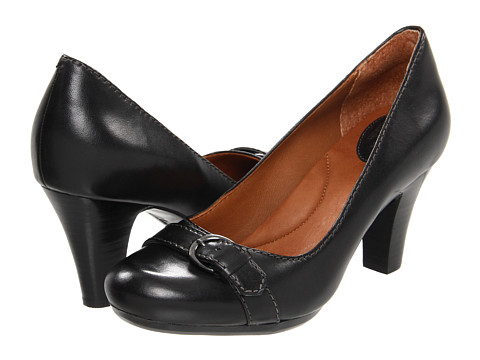 Whether it is a night of elegant ballroom dancing or a passionate evening of upbeat salsa dancing, you need the perfect pair of heels that not only look sophisticated and elegant, but that also allow you to move around easily. Wobbling around on tight, stiletto heels makes your dancing experience less than fun, so select some heels that have a bit of comfort to them. Purchasing heels for dancing on eBay is fun and convenient, and all you need to know is your size.
You can select your own dance heels based on brand or colour, but there are actually heels made by dance companies; the same companies that create ballet slippers, jazz shoes, and tap shoes for professional dancers. Dance companies know how to make a heel feel like a flat and look amazing with your prettiest dresses and skirts while you are out on the dance floor. For women who love to dance, there are several kinds of heels to look at that are the most comfortable as well as stylish on the dance floor. And they keep your feet supported while dancing, including dance heels as well as standard women's heels.
What to Consider Before Buying Comfortable Heels for Dancing
Consider how much you want to spend on heels for dancing. The budget might need to be raised a bit considering a great pair of comfortable heels which also look beautiful, because they may be a little more costly than your average pair of heels. Know your size before you start searching for heels. Some women wear a different size in heels than they do in sneakers, so make sure you are ordering the correct size for optimum comfort.
Lastly, think about what colours of comfortable heels you want. What are the colours of dresses and skirts you would like to wear to match a pair of dancing heels? Basic black is always a good option to select, but a pair of beautiful silver heels or maybe even a pop of colour like pink lights up the dance floor. Choose colours and styles of heels that you love, because a great pair of dance shoes gets a lot of wear on and off the dance floor. Also, a comfortable pair of shoes is not always cheap, so you want to be sure you get a pair that you really enjoy owning and wearing; for dancing and otherwise.
Types of Heels
There are essentially two types of heels comfortable for dancing in: standard women's heels and heels made specifically for dance by dancewear companies like Capezio and Bloch. Standard women's heels are good for dancing, but they have to meet certain specifications in order to look great as well as feel comfortable while you are on your feet dancing. Do not make the mistake of simply choosing a dance heel for aesthetic reasons; a dance shoe must be comfortable and give your feet plenty of support so you do not end up with a twisted ankle, blisters, or other foot related problems or injuries. Protecting your feet while dancing should be your utmost consideration when shopping for dance shoes.
Dance Heels
Dance heels are high heels created specifically with dance in mind. Some well-known brands of dance heels are Capezio, Bloch, and Sansha.. These shoes are made to be comfortable and look pretty too. There are several reasons that dance heels are optimal for comfort and quality, including the fact that the heel is constructed specifically for dance and movement. Dance heels are generally made with a block style heel that is square on the bottom. This allows more freedom when dancing and less chance you will fall or tip over while dancing. The square, chunky heel keeps you balanced properly. Some dance shoes have flared heels, which are hourglass shaped heels with the heel being thicker at the top and bottom, but thinner in the centre.
This provides a more elegant look, but still gives the support you need while you are dancing. Dance shoes are usually low heeled, 7.6 cm or under. Tall heels are not comfortable for dancing. Dance heels are sometimes called character shoes, which are the classic black dance shoe, but dance heels also come in many colours and styles such as open-toed shoes and T-strap shoes. Bloch even makes dancing shoes in colours like silver and gold with embellishments such as rhinestones buckles and crystals.
Women's Heels
If you do not want a traditional dance heel and you would rather select a heel on your own from one of your favourite brands, there are actually a few styles of heels which are recommended for dancing. These types of heels provide the most support, look the most elegant, and are the most comfortable for many hours of being on your feet and dancing. When you are selecting a heel for dancing, always choose a rounded toe over a pointed or square toe for the most comfortable experience.
Comfort Fit Heels
If you want a pair of standard heels for dancing, select a pair carefully based on the structure of the shoe itself. Some heels are more comfortable than others despite how they might look, and brands like Cole Haan actually design a shoe that involves Nike Air technology to make a heel with a sneaker feel. A heel like this is ideal to dance in, as it also involves a lower heel for a more balanced and comfortable shoe overall. Ecco and Aerosoles are two other brands which design "comfort heels" that may make dancing in high heels a breeze.
T-Strap Heels
T-strap heels are also good for dancing because they often have a buckle around the ankle, which provides ankle support while you are dancing. If you are ballroom dancing and twisting your feet a lot, the wrong shoes could cause ankle pain. T-strap heels that feature a 7.6 cm or lower heel along with a cushioned inner sole provide the support you need while you are on your feet dancing. Make sure the heel is not a stiletto, but a more wedge or chunky square heel for the best shoe to dance in.
Kitten Heels
Kitten heels are very low heels, usually measuring in at around 5 cm or less. A kitten heel is very comfortable for dancing as long as it still has a padded inner lining and a rounded toe. Kitten heels are also called low pumps, and the perfect low pump has a thicker platform under the front of the shoe for all-over balance. Kitten heels come in a wide variety of styles, colours, and materials, such as suede kitten heels or a more shiny patent leather heel.. It really depends on budget and personal preference when it comes to selecting an ideal women's heel for dancing.
How to Buy Comfortable Heels for Dancing on eBay
Buying comfortable heels on eBay is a convenient and budget-friendly experience. It helps to know what you are looking for, but if you want to browse for general heels, then search heels. Narrow the field based on style, such as ankle straps or kitten heels. To find the perfect dance heels, search either dance shoes or the brand you would like to look at, such as Capezio or Bloch,, then narrow the field based on size, style, or colour of dance shoes.
Look at images of the shoes and imagine what existing outfits you have to go with them. Purchase more than one pair of shoes if you enjoy dancing frequently and the shoes will get a lot of wear. Of course, dance shoes do not have to be for only dancing, they may also be purchased because they are a pretty and comfortable compliment to a lot of different outfits. Bundle more than one pair of heels together from the same seller and get a low shipping rate, or purchase heels from a local seller and pick them up in person. Shop from eBay's Top-Rated Sellers with positive feedback and reviews for the best buying experience on eBay.
Conclusion
There is nothing more fun and relaxing than dancing the night away. Whether it is a traditional evening of black tie ballroom dancing or a fun, upbeat, jazz dance class, you need the most comfortable pair of shoes you can find to support and protect your feet while you are moving. But comfort does not mean you have to sacrifice style; there are many comfortable dance shoes that look just as stylish, elegant, and beautiful as a standard pair of high heels. Comfort shoes may bring to mind something boring and stuffy, but that could not be further from the truth.
Dance brands like Capezio make stylish heels for dancing, and Bloch makes strappy silver and rhinestone encrusted dance shoes. Hand pick the perfect pair of heels from some of your favourite shoe brands that you know you will wear time and time again. The right pair of dancing shoes makes or breaks your evening spent dancing, so do not make the mistake of wearing a pair that is not padded, has pointed or uncomfortable toes, or does not offer the support and the heel style you need to enjoy the evening. Just stop by eBay to find the perfect dancing heel for you.