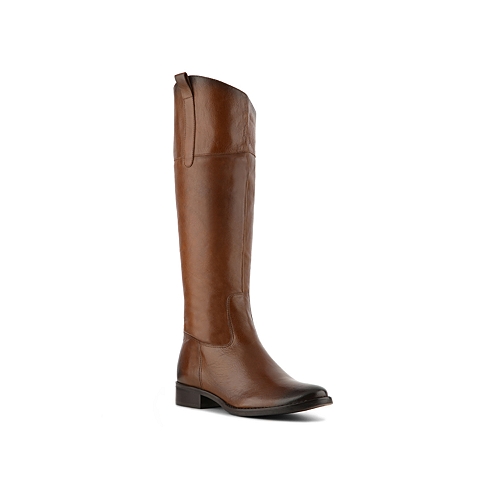 Comfortable riding boots are used pervasively for riding, walking, and simply topping off a stylish wardrobe. The functionality of a pair of riding boots is important, but finding an option that is comfortable as well is essential. Riding should be a pleasant experience void of issues such as uncomfortable and distracting riding boots. Shoppers are able to find riding boots that meet rigorous standards such as durability, proper fit, and comfortability through eBay.
When shopping for comfortable riding boots on eBay, remember to keep in mind the purpose for the shoe, the type of material the boot is made of, sizing, and even the colour and brand. In many cases, riding boots can be quite expensive. The range of selection on eBay allows individuals to find exactly what they want. Knowing what types of boots are available on eBay and for what purpose such boots are designed gives consumers the chance to find a quality pair of riding boots on eBay quickly. Shoppers who choose eBay to buy comfortable riding boots are able to choose from a plethora of options.
Types of Riding Boots and Function
Individuals shopping on eBay for a pair of riding boots often have one of two major reasons for buying such items. Some consumers search on eBay for riding boots for casual wear around town. Others, however, are more concerned with boots designed for those who actually ride horses. In both capacities, there are several types of boots available for purchase through the website.
The chart below provides a glimpse into the various types of boots available on eBay. Although many types are listed below, individual riding specialties do sometimes call for more specific boot choices.
| Boot | Style | Purpose |
| --- | --- | --- |
| Long Riding Boots | Rises up to the knee, often available in brown, black, and grey | Casual wear; performance events of field and dressage; hunting |
| Jodphur Boots | Easily slipped on, usually designed with an ankle length construction, available in many colours | Riding in short stirrups; casual wear; practice |
| Field Boots | Rises up to the knee, laces around ankles, usually dark tan or black | Show jumping; practice jumping; everyday riding |
| Mucker Boots | Fits just below the knee, usually designed with several straps, often dark in colour. | Popular with casual wearers; riding practice; designed for cold or wet conditions |
| Dressage Boots | Fairly stiff, somewhat bulky to allow for increased protection, usually dark coloured | Dressage riding; riding in volatile conditions |
Individuals participating in equestrian competitions should choose riding boots carefully. Make sure to check all regulations and recommended competition attire guidelines. Those interested in the fashion application of such boots are well advised to steer clear of more uncomfortable performance boot options.
Purpose of Comfortable Riding Boots
Although the original purpose for riding boots resulted from horse riding, more popular stylistic choices have changed the application of riding boots. Since some riding boots are designed to protect riders, it is vital to determine under what condition boots are likely to be worn. Those interested in everyday wear and alternative fashion movements such as the steampunk style may search for field boots or more casual options available on eBay.
Comfortable Riding Boots Based on Style
Dressage boots and long riding boots are popular for everyday wear in some arenas, but are also somewhat less comfortable than field boots. When shopping for riding boots through eBay, consider purchasing a simple, generic riding boot option. Since some riding boots are simply too heavy to be comfortable, many individuals use size and bulk to narrow down choices.
Performance Riding Boots
Individuals performing in events such as dressage, show jumping, and other equestrian sports require more pricey, functional options. Quite a few riders consider Cavallo riding boots to be superior riding boots. Other riding boots for performance depend on the competitions in question. In fact, some riders own boots for each individual event they participate in.
Materials of Comfortable Riding Boots
Whether worn simply for style or for riding, long boots are a common option for both stylistic and functional reasons. Such boots are predominantly designed in one of two material choices. Both leather and synthetic leather riding boots may be found on eBay. When searching for a pair of comfortable riding boots, remember to check what material the boots are made of. Price points between synthetic and real leather options vary significantly.
Leather
Individuals searching for a comfortable but durable pair of riding boots on eBay should consider leather riding boots. Although sometimes stiff at first, a pair of riding boots made of leather quickly conforms with the wearer. Leather riding boots, however, do sometimes require a fairly significant financial investment. Individuals purchasing riding boots for events such as dressage and showjumping usually select leather riding boots.
Synthetic Leather
Synthetic leather riding boots have risen in popularity both due to price constraints and increase in manufacturers' abilities to create quality products with synthetic materials. Individuals searching for a more colourful option for everyday wear find that some synthetic options available on eBay are more conducive to such a style. Consumers who factor in both weight and length place synthetic leather on the top of their lists. Synthetic leather riding boots usually do not conform to the rider, but they do tend to be more comfortable in the short term.
Sizing for Comfortable Riding Boots
Choosing a comfortable pair of riding boots means selecting a size of boot that is right for the user. Although some long riding boots are designed with synthetic leather, quality options are manufactured with a leather construction. One advantage of more expensive boots, however, is their ability to conform to the wearer.
For a comfortable pair of riding boots, individuals must select a pair of riding boots that is properly sized in various areas. Riding boots typically have two essential fittings: foot fitting and calf fitting. Everything from calf width and height to instep, heel, ball, and ankle sizing issues should be addressed when purchasing a pair of riding boots. Generally, riding boots that fit tightly, almost too tightly, are the ideal option. Over time, riding boots that are made of leather become more comfortable.
Colour of Riding Boots
Style-focused individuals purchasing riding boots for everyday wear should be concerned with boot colour. Many riders are careful to pair boot colour to their overall garb and event wardrobe. Since many riding boots are made of leather, darker colours are common. A pervasive option is the black riding boot.
Individuals who are shopping for synthetic leather riding boots, however, are likely to find more colourful options. Synthetic boots are found in almost every type of colour imaginable. Whether tastes lean towards blue or a brighter colour such as red or pink, on eBay, comfortable riding boots come in different shapes, sizes, and colours.
Brands of Comfortable Riding Boots
Selecting a pair of riding boots from eBay that are comfortable and well made often requires individuals to do a bit of brand research. The Ariat riding boots brand is one that is commonly found. An online marketplace such as eBay enables consumers to find different brands from Toggi to Harry Hall and Mountain Horse in new and used conditions.
Purchasing Comfortable Riding Boots on eBay
Finding the right pair of riding boots to accommodate specific events or styles requires a wide selection. The online marketplace eBay allows individuals to choose from an extensive selection of comfortable riding boots. Various sizes, materials, and brands can be found through simple eBay searches.
Shoppers who decide to utilise eBay in order to find a pair of boots can begin by simply entering in a search term such as "riding boots" into the search bar on the home page. Such a search term is likely to turn up thousands of search results that display the varied categories and items available on eBay. In order to trim down search results, consider using eBay's advanced search feature. This feature allows users to select specific criteria to narrow down results from the beginning of a search.
Before making a purchase on eBay, many shoppers choose to investigate potential sellers by considering the detailed seller ratings made available through the website. With the website's top-rated sellers, however, consumers are able to select a seller who has a proven track record of success. The shopping tools that eBay offers therefore allow individuals to make educated purchasing decisions.
Conclusion
Whether for a riding competition or simply to accessorise a wardrobe, comfortable riding boots are gaining in popularity. Understanding the various types of riding boots available on eBay and knowledge of material options, brands, and colours are all important factors in making an educated purchase. Comfortable riding boots are sometimes hard to find, but once purchased are worth the time and money spent.
An individual who already has a good sense of the kind of riding boots that he or she is looking for can confidently turn to the auction website eBay. An online marketplace such as eBay provides search tools that make shopping for comfortable riding boots easier and more convenient. The range of sellers on eBay gives individuals the chance to choose from a variety of styles, brands, and materials. The innumerable options of comfortable riding boots as well as the useful search functionalities on eBay allow individuals to purchase quality riding boots from the comfort of home.