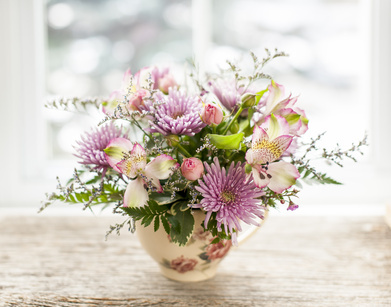 Whether it is a single flower, or it is a bouquet, flowers have a way of making anyone's day just by being in their presence. Because flowers often have this effect on people, they are items that are commonly sought out for centrepieces and special occasions. They are often purchased to give to someone else, or the person buying them could just be buying them to keep. But either way, having flowers nearby is a beautiful thing.
One of the major drawbacks about buying flowers is the expense that often comes with them. Sometimes, the cost of a nice arrangement can be so prohibitive that people choose not to buy them at all or only buy a minimal amount of flowers instead. Having a nice arrangement for personal use or to give to others is not hard when people can take a select amount of flowers and use decorative additions to make a stunning bouquet. These additions are located at retail department stores and online on eBay. Being able to add decorative touches to floral arrangements are a great way to feel good about the decision to purchase them.
Types of Floral Arrangements
There are a lot of different things that go into creating a floral arrangement. There is always of course at least one flower, and depending on the choice of the florist, the arrangement may include exterior wrapping only, or it might be an arrangement that includes a vase or any type of arrangement in between. Many times there are basic designs that are used in creating floral arrangements that make it easy to create wonderful arrangements when followed when the right floral supplies are available.
There are a wide variety of floral arrangements that can include anything from just one simple flower or bud to the most elaborate multi-flowered arrangement. Putting flowers together and including decorative additions is a great way to create a breathetaking bouquet. Knowing a few of the types of floral arrangements is a great way to obtain background knowledge and in turn create some stunning centrepieces.
Horizontal Arrangements
Horizontal arrangements are ones in which there is normally one large flower that is the central focal point with more flowers or other items are placed around it that complement the centrepiece without detracting too much attention from the central bloom's location. The flower that is used as the focal point may often determine what other flowers are in the arrangement. For example, if the focal point of an arrangement is an orchid, then lilies are often added to complement the orchid.
Vertical Arrangements
Floral arrangements that feature a vertical design are ones that are meant to have the main focus be on all of the flowers instead of just one bloom being the major focal point. In this scenario other decorative pieces are added to the arrangement as fillers. The type of pieces added is determined largely by the theme of the arrangement. It could include dried fruit for example if it is meant to be a floral arrangement with a fall theme. One of the fun things about this type of arrangement is that there is plenty of room for creative decorative touches.
Crescent Arrangements
The crescent arrangement is also another fun type of flower arrangement to design. A crescent arrangement is ordinarily created by using curved features such as ones often found in winding branches. These features can also be created by using wire to give the illusion of curvature as well. Green wire is often used to blend in with flower stems and other greenery. This type of arrangement is a great one to use for designing elegant arrangements. There are other types of arrangements that are fun to create and capture the eyes and heart of the beholder listed in the table below.
| Type of Arrangement | Notable Characteristics |
| --- | --- |
| | Tall flowers used as central focal point with shorter flowers completing triangular shape |
| Oval | Large colourful flowers centrally placed focal point with complementing colour shades that are of the same hues |
| Minimal | Less is more; large flower centrally placed surrounded by smaller flowers |
| Howgath's Curve | Complicated arrangement shaped to resemble the letter "S" |
There are other types of floral arrangements besides the ones listed in the table. The ones listed are meant to give people an idea of the way that many floral arrangements are created using decorative additions. There is no limitation in the type of styles that a florist can create.
Other Decorative Additions
Just as in the way that the way floral arrangements are created, there are no boundaries regarding what types of decorative touches are added to floral arrangements. This is one of the aspects that make creating these floral arrangements so enticing. Neither are there any hard or fast rules when determining how these additions are used decoratively. There are many different occasions that bring about the need to have a floral arrangement as well. Accessorising flowers for special events is another way that decorative touches can be used to create a stunning arrangement, some of which are discussed below.
Valentine's Day
Flowers are often given as gifts to a loved one on this day. There are many different ways in which an arrangement of this sort can be created and many different options for decorative touches as well. Because of this reason it is almost always certain that a florist has many arrangements to create for this day. Often, florists buy decorative additions well in advance to ensure that the items reach them on time as supplies from manufacturers could run low. Some things that are commonly used to create floral arrangements, besides the flowers themselves, are pull bows and beads or stones.
This special romantic day makes use of a large variety of decorating accessories because of the creativity and uniqueness of both the person ordering the arrangement and the person it is being given to. Valentine's Day is one of the most creative days for individuals because of their desire to express love and appreciation for other people. Ribbons of all colours and styles are also another great item to have on hand as well as plenty of cellophane with hearts.
Weddings
When a person sets about buying decorative touches for arrangements for the purpose of fulfilling desires of arrangements that capture the essence of love, weddings are another event that at the top of that list. Wedding bouquets are another type of arrangement that can almost always be counted on to be one of the things that a florist needs to have accessories to create. Unlike other types of sentimental days that come along only one time per year, weddings occur every day. Not only should people who creates the bride's bouquet stock up on common wedding theme related items, but other flower arrangements need to be considered as well, such as ones that may be needed for bridesmaids and groomsmen, and artificial or real petals can always be kept on hand for the flower girls.
Buying Decorative Additions on eBay
eBay is the best place to get all the decorative additions for arranging them all in one convenient location. It is also easy to find all of these floral arrangement needs by performing a keyword search. Because there are so many items to choose from, you may want to make sure that your search keywords are refined if you have an idea of what you are looking for already in mind. There is an advanced search option feature located at the top of the eBay homepage that can help assist in narrowing the search results that you want to have given to you.
For example, if you are a florist and find you are running low on pull bows, you may not want to enter the a keyword search that includes the word "ribbons". Although you may more than likely have results returned to you that include pull bows, the central theme for this keyword search returns results for anything that has been tagged with the word "ribbons". While this may not sound unreasonable, the problems is the results returned to you also include items outside decorative additions for floral arranging, so it is important to choose your words carefully.
Conclusion
Creating floral arrangements is one of the most rewarding jobs that many people feel like they have the pleasure of doing. Giving floral arrangements not only brings the person sending the arrangements much happiness, but it brings a lot of happiness to the receiver as well. Being able to design great floral arrangements not only takes skills such as possessing the knowledge on how different arrangements are constructed, but is also takes having knowing how the decorative additions are used.
Being able to create stunning arrangements may mean that certain decorative additions are expected by the person who is requesting flowers be arranged, or by the person who is to receive them in some cases as well. Often, this requires recognising what types of accessories are commonly used as decorative touches and making sure that those items are available when they are needed. Creating floral arrangements and having the right decorative additions helps to make sure that each floral arrangement is a success each time.