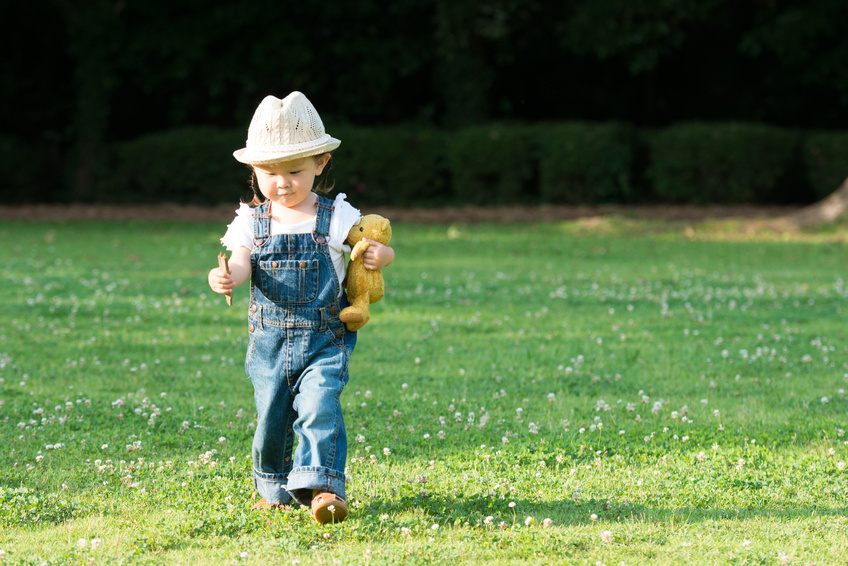 Arguably one of the most versatile and long-lasting fabric choices, denim is a good choice for a variety of all-purpose children's clothing options as it is also comfortable and stylish. With so many types of denim on the market in a variety of colours, cuts, and stitching options, finding the right garment to suit your child's lifestyle and body type is important. By following a few simple steps, mastering the world of denim is within your grasp.
Types of Denim Clothing for Children

Denim is such a multi-faceted fabric that manufacturers use it for all types of children's clothing from skirts, trousers, and jackets, to blouses and vests. Girls' and boys' denim jeans are popular all over the world for their good fit and durability and are sometimes designer clothes. Denim jackets keep children warm while allowing each child to show an individual style with embellishments or added bling. Hats and bandanas manufactured from denim can work as accessories or as useful additions to the child's wardrobe.
Denim Fabric Weight

Denim is traditionally cotton; however, you can now find denim in various blends with nylon or other fabrics added to increase stretch and comfort. Manufacturers make denim in three weights: heavy, medium, and light. Companies select the correct weight by considering the use for the garment, the child's size, and the garment's design. For example, a boy's jacket needs a heavier weight denim to provide warmth than a girl's summer skirt needs. Lightweight denim drapes easily, while the medium weight is warm enough for most winter climates in lieu of a coat.
Denim Colour Options
Originally, denim was available in only one colour: dark blue. However, the indigo dyeing process now includes the classic dark blue and various faded blues as well. You can also find denim in almost any colour including red, green, yellow, and black. While a girl can wear a classic blue girl's jacket with any other colour clothing, for those who prefer more choices, they can match, contrast, or blend colours. Coloured lightweight denim is an excellent summer wear choice when bright colours abound. You can also find denim in colour washed styles, which means the manufacturer uses a chemical to pre-fade the denim.
Selecting the Correct Fit for Children
When selecting denim for children, comfort is the key. Knowing your children's measurements, heights, and favourite styles goes a long way to helping you choose clothing they want to wear. For jeans, both the waist size and inseam are important for finding the correct fit. Manufacturers often size blouses and shirts as small, medium, or large, but you can also find them in traditional measurements. Girls' skirts and dresses should have room for an active girl to run, jump, or bend over without restriction, while boys' jeans should fit comfortably around the waist without a belt.