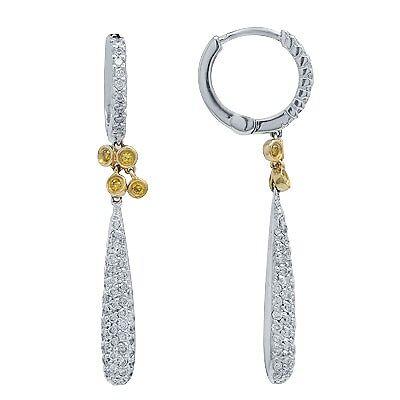 The right earrings flatter the skin tone and the curves of the wearer's face, and complement the colour and style of the outfit. Most women have their ears pierced at least once, and many have ear piercings in multiple places. Men may also have one or both ears pierced so that they can sport a stud or two.
As gifts, earrings reflect the value that the giver places on the relationship. Designer earrings are an especially luxurious gift, since they often include precious or semi-precious stones in gold, platinum, or silver settings. Buyers looking for a good price on a stunning pair of designer earrings should consider shopping on eBay. eBay's accessible listings, buyer-friendly policies, and reputable sellers make it an ideal shopping destination. To fully enjoy their eBay experience, buyers should first understand eBay's search process, filtering choices, communication methods, seller ratings, and shipping options.
Finding Designer Earrings on eBay
eBay is a premium online shopping destination. Sellers post hundreds of thousands of listings for products, both new and pre-owned, from many different manufacturers. Buyers interested in a pair of designer earrings need only start on eBay's main page and enter "designer earrings" into the search bar. The eBay search engine typically takes just a second or two to return a list of search results. Buyers can tweak their search by adding a descriptive word or two; this can be done from any page on eBay's website.
Saving Searches on eBay
Many buyers visit eBay hoping to find and buy the right product in a single shopping session. However, buyers seeking a specific style or type of product, such as a special pair of designer earrings, may not find it right away. They may need to come back several times to view eBay's available listings, which change dramatically from day to day. eBay makes it simple for shoppers to stay up to date with the save a search feature. When buyers save a search for designer earrings, they are giving eBay permission to email them every time a seller puts up a new listing for designer earrings. Upon receipt of the notification, buyers can follow the link, see the new merchandise, and buy it if they like it.
Narrowing Search Results on eBay
Since eBay is such a broad website, the results for a search like "designer earrings" may number well into the thousands. Most shoppers do not have the time to comb through pages and pages of results, so eBay has developed easy-to-use tools to help buyers shorten their list of results until it reaches a more manageable size.
eBay includes a number of search filters. For designer earrings, these filters allow buyers to select shipping options, sellers, location or distance, condition, and price range. They also let buyers choose the metal and its purity, the main stone and its carat weight, and the brand of the earrings. The search engine then filters out any results that do not meet the selected criteria.
Narrowing Search Results by Metal and Metal Purity
For many buyers, the first step in choosing a pair of designer earrings is to determine the metal from which the earrings are made. While many users can wear earrings made of any type of metal, others have sensitivities to certain metals such as nickel. Others react to the presence of impurities in the metal. Such individuals require hypoallergenic metals.
eBay offers a number of choices for buyers under the "Metal" filter. Buyers can check the box beside yellow gold, white gold, sterling silver, platinum, multi-tone gold, rose gold, palladium, or fine silver. In addition, buyers should select a preferred metal purity. Metal purity is measured in carats, abbreviated "ct". Common choices for metal purity include 9ct, 10ct, 14ct, 18ct, 22ct, or 24ct.
Narrowing Search Results by Main Stone and Carat Weight
Buyers who would like their designer earrings to feature a stone can refine their search even further. Designers create earrings featuring both precious and semi-precious stones, and eBay's search filter options reflect that variety. For the main stone in their earrings, buyers can select amber, diamond, pearl, amethyst, moonstone, citrine, topaz, turquoise, garnet, ruby, sapphire, quartz, peridot, or onyx, among others. Buyers who prefer earrings without a stone can check the box beside "No Stone".
Buyers who have a specific carat weight in mind can filter their search by those parameters. eBay's sellers typically have earrings available with stones whose carat weight ranges from "0.24 & Under" to "5.00 to 9.99".
Narrowing Search Results by Brand
Buyers looking for designer earrings may have a favourite brand in mind. If so, they can use the "Brand" filter to narrow their search. When shoppers check the boxes beside particular brand names, eBay automatically repopulates the results page to show only the listings from those jewellery designers. Several well-known brands that buyers can find on eBay include Bulgari, Cartier, Chanel, Tiffany & Co., DKNY, Gucci, David Yurman, Christian Dior, Vivienne Westwood, and Dolce & Gabbana. Buyers who wish to broaden their search results again can click "Clear" to uncheck all the boxes they selected.
Narrowing Search Results by Price Range
Designer earrings are unique, stunning, and expensive. Because of the cost, buyers would do well to establish a budget before they begin to shop. eBay provides a convenient price filter that allows users to type in the minimum and maximum number of pounds that they would be willing to pay for a pair of designer earrings. Once those blanks are filled, eBay eliminates any listings that fall above or below those specifications, creating a results page that is tailored to the shopper's price range.
Narrowing Search Results by Condition
Designer earrings can be purchased either brand-new or used. Shoppers who want to save some money can check the box beside "Used" to see pre-owned products. Used designer earrings are less expensive, but they should be carefully inspected for damage or tarnish. They should also be thoroughly cleaned and sterilised before they are used by their new owner.
Buyers who prefer new earrings can select "New with tags" or "New without tags". Both of these designations refer to a brand-new set of earrings. However, "New without tags" may indicate that the earrings were purchased by someone who cut the tags off but never wore them.
Narrowing Search Results by Shipping Options
Most eBay buyers want free P&P (postage and packing). Since designer earrings are small and light, some sellers may offer this. However, designer earrings are also expensive, so buyers may want to forgo the free P&P in the interest of protecting their investment. They should request the most secure shipping method, and they should consider asking the seller to insure the package.
Buyers who need the earrings immediately, for a formal event, birthday, or some other occasion, can check the box labelled "Express Delivery". This filter shows only those sellers who offer express delivery of their merchandise.
Narrowing Search Results by Seller
People who shop on eBay sometimes create a "My Saved Sellers" list. This list is a compilation of their favourite eBay merchants. Shoppers can then opt to see only results from the sellers on this special list. All they need to do is check the box beside "My Saved Sellers". Buyers can also choose to filter their search by specific sellers, sellers with eBay Shops, or eBay top rated sellers .
eBay Shops
eBay Shops is part of eBay's website. However, it has no auction listings, and search results display as a list of stores rather than of products. eBay Shops is designed for buyers who prefer a more relaxed shopping session and who enjoy browsing a variety of products.
Top-Rated Sellers
eBay awards Top-rated status to sellers who have received consistently positive feedback scores from their clients. Top-rated sellers usually provide high-quality products at reasonable prices. They ship items quickly and may even supply money-back return policies.
Narrowing Search Results by Distance or Location
eBay shoppers can use the "Location" filter to choose whether they want to see listings from the UK only, from the European Union, or from sellers throughout the world. The "Distance" filter works a little differently, however. It allows buyers to choose a particular distance from their home postcode. For instance, should a buyer select a distance of 200 kilometres, eBay returns listings from sellers located within a 200 km radius of the given postcode. This feature is useful if buyers are hoping to pick up their new earrings rather than having them shipped. However, before assuming that an in-person pickup is possible, buyers should check with the seller. Sellers sometimes prefer to remain anonymous, and may not want to arrange a meeting.
Contacting Sellers on eBay
Buyers who have questions about a pair of earrings should feel free to ask the seller. They can do this through the Contact Member link on the seller's eBay profile page, or they can click the Ask a Question link included in the item listing. eBay sellers are usually very cooperative and willing to give buyers any information, photos, or other details they need to make a decision.
Conclusion
As buyers shop for designer earrings, they should take full advantage of eBay's convenient search filters. Using filters can significantly shorten the shopping session and let buyers locate exactly what they want in minutes instead of hours. Creating a "My Saved Sellers" list and saving a few searches take only moments, but these two features can also save buyers a lot of time.
Buyers who plan to give the earrings as a gift should determine the recipient's preferences. Some people prefer a specific kind of fastening for their earrings, while some wear only one type of metal. Others like to wear earrings that provide the right balance to their unique face shape. Armed with this information and with an understanding of eBay's buyer-friendly features, shoppers should be able to quickly locate the perfect pair of designer earrings for themselves or for a loved one.