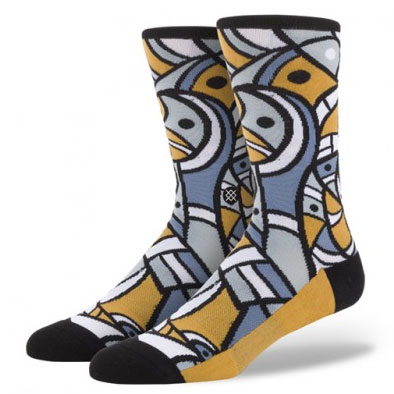 Designer socks is a topic that might raise an eyebrow or two. Men have many different attitudes when it comes to everyday clothing such as socks. Opinions on the subject can go even to extremes. Some pay close attention to what they wear, and others don't even bother to check if the pair they're wearing matches one another. Unfortunately, this article will interest only the former and the ones that occupy the area in between.
Even if you do care what you wear, the term designer socks might sound a bit like spending way too much money on something that's not all that important. This article will lay out the benefits that designer socks bring to different target groups of shoppers. The question whether they're worth the money spent will not be discussed in length, since the answer is always subjected to bias.
Types of Men's Designer Socks
There are three types of men's designer socks.. Sorted by their use, men's socks in general are divided in three categories: socks for everyday use, formal socks and sports socks. Most of us spend as much as twelve hours per day in a single pair of sox, so choosing the right kind for any occasion can drastically improve our comfort.
Everyday Designer Socks
The designer socks made for everyday use are quite popular. There are lots of reasons why this kind of product might be appealing to some people. There are those who don't spend as much time wearing informal clothing as they would like, so they pay close attention to the quality. Others that spend larger amounts of time in them, might be more interested in the designs that spices up the style of their clothing. Still, there aren't many stores that deal exclusively with socks of this kind, so it's quite easier to find them online.
Formal Designer Socks
When you've spent a sizeable amount of money on purchasing a suit, it's probably a good idea not to cheap out for the most basic pair of socks. Designer brand formal socks can be found pretty much in all stores dealing with formal clothing. It's always wise to seek a matching pair when purchasing a suit, as most of the designer stores are prepared to equip you from head to toe. If you wear formal clothing on regular basis, it's also a good idea to stock up a few pairs. Even though the designer socks are of high quality, they are more exposed to wear and tear than the suit. This means that you'll probably go through more than one pair before you decide to retire the suit.
Designer Sports Socks
Designer sports socks are well known for their durability and they are quite easy to find. Sport equipment stores are one of the best places to shop for this type of socks. They are mostly universal in size and can be used for different sports activities. The comfort they provide is of superior quality and agrees well with all sports footwear. Still, their biggest virtue is the huge amounts of traction they can handle without ripping.
Colour
Black has always been the predominant colour of choice for man. It's a colour that is easily combined with most clothing for both formal and everyday use. Rigorous washing can make socks lose their colour over time, but thankfully that's not the case with the designer brands.
The designer sports socks mostly come in white. It's the most used colour for sport socks in general and it represents cleanliness. Keeping them in their original colour is sometimes a challenge as often sports activities involve grass, mud and red clay stains. The designer brands can usually be machine washed on high temperatures which is of great help when it comes to white clothing.
Aside from the all-popular black and white socks, multi-coloured socks are also quite popular along with grey, and blue.
Features of Designer Socks
When it comes to purchasing designer socks, it can seem a bit overwhelming in the beginning. That is because there are many types and styles to choose from, that buyers get confused and feel rushed to make a purchase. In order to make an informed decision it is best to take a look at the different features of designer socks, so that when it comes to making a purchase as a buyer, there will no confusion.
Materials
The materials used for the designer socks is in most cases of higher quality than the ones used in the regular socks. All impurities from the materials are removed before manufacturing to assure the production of a top quality product. This greatly affects the durability of the socks. Even a minor flaw in the material can quickly turn into a rip, especially with the sports socks.
Cotton
Cotton is one of the most used materials in socks in general. Designer brands go the extra mile by providing differently treated cotton on different types of socks to provide maximum comfort in all situations. This might not sound like a lot, but differently treated fabric with different thickness always leaves a different feel.
Wool
Wool is used for all socks more focused on keeping the foot warm. Like the cotton, it can come in many different versions meeting different needs. This way you can have wool socks that still provide some formal look, and wool socks that provide maximum protection from the cold.
Polyester
The formal designer socks usually combine more materials in order to achieve a slick thinner look while providing adequate comfort. This is attributed to the higher amount of polyester and small amounts of elastin that are used in the fabric.
Design
One of the biggest benefits of the designer socks is style. The number of patterns and colours to choose from is simply amazing. This gives you a chance to make a more personalized choice. You can even find socks that you'll enjoy wearing which is not something you hear about socks often.
Some designer brands release new models each year, so you'll never run out of fun designs to switch between. The designs are also cleverly made so you can always find some matching your clothes. Part of the fun of purchasing designer socks for everyday use is to figure out which design will better fit the clothing you already have.
Still, the design is far more than the look itself. There are also some techniques implemented in the making of the socks that greatly improve the quality of the socks. One of the most clever techniques used in designer socks is the hand linked toe leaving no line at the bottom of the sock connecting the base to the toes. This greatly improves comfort in more tight footwear like business shoes.
Price
Compared with unbranded socks the designer socks are at least twice the price. There are no accurate estimates whether the superior quality of the designer brands would justify the higher price to it all comes down to whether or not the consumer believes that it's a good investment or not.
Buying in bulk can bring the price of designer socks in a more affordable range, but when compared to a bulk set of unbranded socks the difference in price is still big. Since there are new collections of designer socks each year, it can be a nice approach to buy them on sale. That way you'll get top quality designer socks for a little as 25% of the original price.
Find Designer Socks on eBay
Designer socks are not at all hard to locate on eBay. There's plenty to choose from and most of the popular designer brands are available for purchase. Using the search bar by typing in "designer socks&" will generate a huge amount of results. It helps if you have a general idea of which brand you're looking for. Adding the brand in the search parameters can narrow down your search pretty neatly. From that stage it's easy to filter out the rest of the results by using the category bar on your left and the customised filters in each category.
You can approach your search for designer socks in another way by starting directly from the 'Categories' menu. The men's clothing area is well organised and you won't have any trouble finding them.
Both approaches give you pretty much the same results so it really depends only on how wide your search for designer socks is.
Conclusion
There's plenty of designer socks to choose from both in designer stores and online.The quality of the fabric used in designer brands is rarely a question as all materials used tend to be of higher quality than usual. This has a positive effect on comfort and durability. Also, the designer brands that have a longstanding history of sock manufacturing, might have more experience and better insight in what makes a better sock. This allows them to produce better fitting socks for each target group.
Everyone can benefit from a pair of designer socks and nobody needs only one pair. That's why it's a very good idea to buy in bulk and save a pretty penny. Another good idea is to shop for socks during sales. Either way, the price on designer socks can be a bit steep, so it's up to the consumer to compare the benefits they offer with their price and decide whether it's a good deal or not.