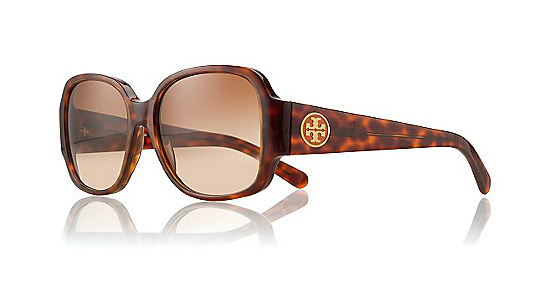 Sunglasses have been around for centuries, originating in China to disguise a person's eyes and thoughts. During the mid-1700s, investors made variations of sunglasses that protected the eyes from harmful sunlight. For over 200 years, the primary purpose of sunglasses were to provide eye protection. That changed in the 1980s, when style and fashion became an integral part of sunglasses design. Women's designer sunglasses are pricier versions of standard sunglasses, mostly because of the visual appeal of the sunglasses. Designers may even attach company logos to further enhance the value of sunglasses. While the fashion statement made by designer glasses attracts a large buyer base, women should always consider eye protection as the most important purchasing criteria.
Women can find designer sunglasses in large departments stores, but they have a better chance of finding the right pair by shopping either at eyewear stores or online at the leading auction site, eBay. Before they shop for designer sunglasses, women should understand how to measure facial features, as well as consider what to look for in a pair of women's designer sunglasses and popular designer sunglasses brands.
Measuring Women's Designer Sunglasses
Measuring for women's designer sunglasses represents one of the more important steps in the buying process. Women can find the right pair of designer sunglasses, but if the pair does not fit, then women can be out of a substantial amount of money. Obtaining an accurate measurement also allows women to shop online at eBay, since they know exactly which size of designer sunglasses comfortably wrap around their eyes and secure to their ears.
The Right Size
Women's designer sunglasses, as with most types of women's sunglasses, are measured in millimetres. Each pair of women's designer sunglasses consists of three measurements: lens width, distance between the two lenses, and the length of each wrap around arm. The first measurement is the lens width, the second measurement is the bridge measurement, and the final, longest measurement comprises the arm lengths. A measurement of 65-18-120 means the designer sunglasses are 65 mm wide, have a bridge distance between lenses of 18 mm, and the arms on each side reach 120 mm.
Accurate Measurement
Women try on designer sunglasses to find the pair that properly fits. However, they can narrow down their choices by receiving an accurate measurement. Most sunglasses specialty stores employ sales professionals who provide accurate measurements. Women who decide to measure their facial features should implement the same methods used by sales professionals. Stand in front of a bathroom mirror and use a measuring tape to measure the widest point of the face. Then, measure the top of the nose width for the middle, or nose bridge measurement. To obtain the distance between the two lenses, subtract the nose bridge measurement from the widest point of the face measurement and divide it in half.
Consider Style
Women's designer sunglasses provide the most flattering appearance when the sunglasses are the same width as the widest part of the face. Longer widths can make the face appear larger than it really is and smaller widths present a narrower face. Women who want to buy a pair of aviator or wayfarer sunglasses, but believe they cannot because the measurements do not match, can still purchase the style of designer sunglasses they want if the measurements are off by just a millimetre or two. A pair of aviators that have been measured at 62 mm for the lense size have no problem comfortably fitting on a face that has a size of 60 mm.
What to Look for in Women's Designer Sunglasses
One of the mistakes that women make when they shop for designer sunglasses is placing style and panache above practical functionality. After all, sunglasses of any kind are constructed and designed to protect the eyes. Any other purchasing considerations should be secondary.
Sunlight Protection
Sunglasses protect against harmful ultraviolet rays (UVA), but the level of protection varies among types of sunglasses. Buy designer sunglasses that block at least 70 per cent of UVA rays and 60 per cent of UVB rays. However, manufacturers are increasingly developing designer sunglasses that provide full UV protection. Women should make full UV protection priority number one when they shop for designer sunglasses. In addition, polarised sunglasses diffuse intense light reflection, such as the reflections off of water and shiny metal objects. Oversized lenses can also protect the delicate skin that surrounds the eyes.
Impact Protection
Women's designer sunglasses do not have to be delicate, fragile pieces of eyewear. They should protect against flying debris, such as fine dust particles and larger pebbles and stone particles. The American National Standards Institute (ANSI) tests designer sunglasses by dropping a 2.5 cm steel ball on sunglasses lenses from a height of about 120 cm. The ANSI gives its protection seal of approval if a lens withstands the impact of the steel ball. The ANSI also tests lens durability by firing a small steel ball from close range. The advancement in designer lens protection has expanded the number of places in which women can wear designer sunglasses.
Lens Colour
As with most sunglasses, women's designer sunglasses offer a variety of lens colours. Grey sunglasses lenses are the most popular type of designer sunglasses lens because the colour reduces brightness, without distorting colour. Brown and amber lens tints reduce glare, but they distort colour more than grey lenses. Green lenses reduce glare and filter blue light, while providing excellent colour contrast between objects. Because of its many attributes, blue designer sunglasses lenses are growing in popularity amongst women.
Style
Women's designer sunglasses manufacturers produce the trendiest styles and highest quality. Look for styles that have demonstrated staying power, such as aviators. Created by the military to protect the eyes of pilots and bombardiers, aviator sunglasses still dazzle with the mirrored, tear-drop shape of the sunglasses. Aviators also provide the most adaptability to different face sizes. Designer women's sunglasses should not become the next hottest thing, and then fizzle out after only a year or two on the market. Stick with the styles that have established long-term success.
Authenticity
Women should beware of sellers who try to pawn designer sunglasses that are not authentic. This practice typically occurs online, since sellers only have to provide a photograph of a pair of alleged designer sunglasses. Buy from a reputable seller who has a history of selling genuine women's designer sunglasses. The highest prices do not mean the highest quality. Some women's designer sunglasses brands present buyers with a certificate of authenticity.
Popular Brand Name Women's Designer Sunglasses
Women should spend some time at optical shops, department stores, and sunglasses specialty businesses to review the numerous brands of designer sunglasses. After reviewing designer styles, women can better match a specific design to their personality. In addition, women can question the sales professionals or staff about the qualities of each brand. There are four brands that provide women with a solid starting point when they shop for women's designer sunglasses.
Brand

Description

Calvin Klein

Considered economical in the designer class

Perfect for upscale casual outdoor social events

Feature classic aviator shapes in both rim or rimless styles

Chanel

On the higher end of the designer price scale

Havana sunglasses possess a signature style that features bold plastic frames, brown gradient colours, and matching brown lenses

Worn to chic social events, such as award ceremonies

Giorgio Armani

Wide price range depends on added features

Considered stylish, without pretension

Includes certificates of authenticity

JLO by Jennifer Lopez

Trendy line that leverages celebrity name

Lower designer price range

Considered more flexible for matching with attire
Some designer lines are more conservative, feminine, urbane, and cutting-edge than other designer lines. Women should also consider designer brands from Tommy Hilfiger, Dior, Gucci, and Ralph Lauren.
Buying Women's Designer Sunglasses on eBay
eBay offers women who know exactly what they are looking for in a pair of designer sunglasses a convenient way to shop. Women simply type a few keywords into eBay's search engine and then navigate through the search results pages to find buyers that match their purchasing criteria. The key is typing in specific keywords to narrow search results pages to reduce the time spent trying to find the right seller. For instance, women can use the keywords "women's aviator sunglasses" or "Chanel women's designer sunglasses" or ''Marc Jacobs Sunglasses'' to eliminate unnecessary search result pages. Once women find a designer sunglasses seller, they can navigate to the seller's product page to review delivery terms, accepted payment methods, and return policies.
Designer sunglasses can be expensive, so women should only consider purchasing from eBay's Top-Rated Sellers. These sellers have established reputations for selling high-quality products and running auctions that feature authentic products. Sellers also receive customer feedback that buyers can review on seller product pages. Look for sellers who have garnered positive customer feedback for at least one year and that have some record of selling sunglasses. Once you build a strong business relationship with an eBay seller, you can check to see if that seller has an eBay store that offers other products, such as sunglasses carrying cases..
Conclusion
The primary purpose of sunglasses is to protect people from the harmful UV rays emitted by the sun. Inventors and scientists have tinkered with sunglasses for over 200 years to improve eye protection. Moreover, developers devised lenses during the earlier part of the 1970s that also protected the eyes from flying debris. It was not until the late 1980s that sunglasses manufacturers began to incorporate stylish designs that made women's sunglasses visually appealing. Women are now able to make fashion statements, while presenting an image that promotes class and style.
To find the right pair of designer sunglasses, women should first receive accurate measurements for face width and nose bridge width, and then subtract the nose bridge with from face width to come up with the width between lenses. Then, women have to consider a number of factors before buying a pair of designer sunglasses that include UV protection and lens colour. Eye protection should always be the most important designer eyeglasses feature. When it is time to shop for designer sunglasses, women can find expert advice at eyewear stores or go to eBay and receive outstanding deals on barely worn designer sunglasses.