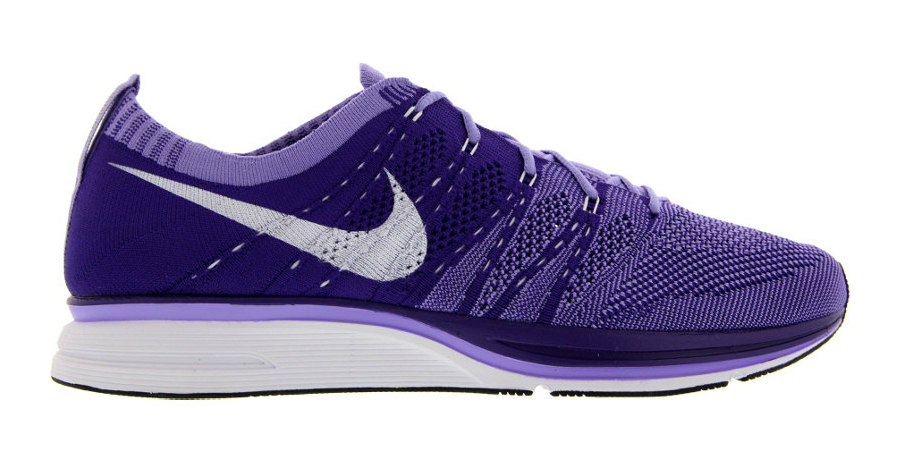 Women's designer trainers are made not only for physical activity, but also for off the sports field. These trainers are both functional and stylish. Popular trainer brands such as Adidas, Nike, and New Balance continue to dominate the sports footwear industry, but as trainers have become more acceptable casual wear, fashion designers have teamed up with popular brands to ensure that the shoes are not only practical, but on trend. One example is designer, Stella McCartney's collaboration with Adidas, shifting her focus from high heels to high tops.
Designer trainers come in various styles, ranging from running shoes to casual canvas athletics shoes. The term trainers is based more on the design on the bottom of the shoe than on the aesthetics of the upper. Therefore, these shoes have become increasingly chic in recent years. When considering what type of women's designer trainers to purchase, buyers should familiarise themselves with the common foot types, determine which type they have and how various types of trainers best fit the structure of their feet. This also helps buyers to determine when to replace their designer trainers. When looking for designer trainers, high street sports shops, clothing shops and department stores are a good place to find the latest models. Searching for and buying women's designer trainers at online retailers like eBay is another way to get a high quality product, sometimes below the retail price.
Common Foot Types
The best designer trainers should not only flatter the woman, but also match her foot type. The structure of the foot is typically grouped by arch type and how the foot rolls after landing. Women should never compromise comfort for fashion when it comes to trainers.
Flat Arch
Women with a flat or low arch have a footprint that is almost entirely visible. This typically means that they are an overpronator. Overpronator's feet tend to roll inward immediately following foot landing. If proper trainers are not worn to compensate for this, the excessive foot motion can increase a woman's chance of injury. Mild overpronators should invest in stability trainers, whereas motion control trainers are better geared for severe overpronators.
Normal Arch
Women with a normal or medium arch typically have a footprint with a slight inward curve and are considered normal pronators. Normal pronators are able to comfortably wear a wide array of designer trainers, although some types may offer more support than others. While stability trainers are known for providing moderate arch support, lightweight trainers with normal arches may be more beneficial than neutral-cushioned trainers or a performance training shoe which offer little to no added support.
High Arch
Women with a high arch have a footprint that shows their heel, the ball of their foot, and a thin line connecting the two. This typically means that they are an underpronator. If proper trainers are not worn to compensate for the high arch, shock may travel up the woman's legs since the arch does not collapse enough to absorb it. Women with this foot type benefit from a neutral cushioned trainer which helps to absorb shock. These athletic shoes are known for their soft midsole and, as such, encourage pronation. Women with high arches should avoid stability trainers as they tend to further reduce pronation. High arches are the least common foot type.
How to Determine Your Foot Type
Women can determine foot type through a few methods. The easiest method is often the footprint test. With a wet foot, women should make a footprint and examine the outline of its shape. Alternatively, a woman can inspect the soles of a well worn pair of trainers. The location of wear on the outer soles can provide insight into a woman's foot type and tell the woman if she lands on her heels, rolls in or out, or has a neutral foot strike. If the majority of the wear is located on the inside of the heels, this is a likely indication that the woman is an overpronator. Conversely, if the majority of the wear is on the outside of the heels, this may indicate that the woman is a underpronator.
Types of Designer Trainers
There are various types of designer trainers. Choosing the best one depends on a woman's foot type, training needs, and the level of comfort that the trainer provides in addition to how the trainers look.
Type of Trainer

Popular Designers

Description

Motion Control Trainers

Brooks Trance

Asics Gel-Evolution

Saucony Grid Stabil

Rigid, durable, and control-oriented

Designed to limit overpronation

Ideal for women who wear orthotics: insoles to relieve pain

Ideal for women with flat feet

Trail Trainers

Adidas Kanadia

Brooks Cascadia

Ideal for off-road running and inclement weather

Aggressive traction

Stable on uneven trails

Water resistant

Durable

Increased foot protection on rough terrain

Minimal and Barefoot Trainers

Vibram FiveFingers

Merrell Barefoot Glove

New Balance Minimus

Terra Plana Vivo

Promotes running on the forefoot rather than the heel

Helps women develop a more natural gait

Strengthens the muscles, tendons, and ligaments of the foot

Stability Trainers

Asics Gel Kayano

Adidas Supernova

Brooks Adrenaline GTS

Offers cushioning, support, and durability

Ideal for women with a normal arch or mild to moderate overpronators

Provides medial support to slow down pronation

Cushioned Trainers

Brooks Glycerin

Nike Air Pegasus

Adidas Response Cushion

Increase cushioning

Minimal levels of arch support

Ideal for women who underpronate

Ideal for women with a high arch

Ideal for women who do not require extra support

Lightweight Trainers

Nike LunarGlides

Mizuno Wave Runners

Designed for fast-paced racing and speed work

Lacks medial support, cushioning, stability, and durability

Ideal for women who do not have motion-control problems

Fashion Trainers

Ash Wedge Trainers

Similar to normal shoes

May or may not have the benefits of athletic trainers
Every woman's foot is unique, and as such, designers must cater to the various foot types. Manufacturers design their trainers based on the type of features a woman requires. The type of trainer a woman requires can change with weight gain or injury.
When to Replace Designer Trainers
For designer trainers used for sport, it is recommended that women replace them between 565 and 885 kilometres of use, depending on their running style, body weight, and the type of surface they run on. Women who are heavier generally make greater demands on their shoes and should therefore replace their trainers more often. It is best to replace trainers before the midsole wears out and leaves the runner without necessary support. Continual running on worn out trainers can lead to knee injuries and other problems. Designer trainers worn for casual wear or for fashion generally get less wear than sport shoes and often last until the woman chooses to change the style.
Finding the Right Fit for Designer Trainers
When determining proper sizing, women should ensure that there is around half an inch of space left between their big toe and the toe of the trainer. In addition to length, women should also consider adequate width. Feet should fit comfortably in the trainer without bulging on either side of the shoe.
Find and Buy Women's Designer Trainers on eBay
Shopping for women's designer trainers can seem like a daunting task when considering your foot type and the preferred look, but with the variety available on eBay, you quickly realise how convenient it can actually be. When starting to shop for designer trainers, buyers should begin their search on eBay's home page. From here, you can use the search bar to type in related keywords for any type of women's designer trainers. For those with a specific trainer in mind, eBay offers buyers an advanced search feature, allowing them to further narrow their search by price, or other features.
When browsing, buyers may see "Top-rated seller" icons located near the item titles. This icon is intended to inform buyers of the most reputable sellers in the eBay community, giving buyers confidence when purchasing or bidding on items sold by those sellers. It is a good idea to become familiar with the terms of the seller's policy before buying. Any questions that a new bidder might have are addressed in the eBay help centre.
Conclusion
Designer trainers have crossed the lines of athletic wear into the fashion industry. This footwear not only offers the practical benefits associated with sports shoes, but is also chic in design, allowing them to be worn both inside and outside the gym. Popular fashion designers have joined forces with sportswear manufacturers to add flare to the shoes and make them ideal for trendy casual wear in addition to athletic footwear.
Although there may seem to be an overwhelming variety, it is more than possible to find the perfect designer trainers for every type of activity with just a little bit of research. When determining the best designer trainers, women should consider their foot type as this provides insight into the type of trainers that optimise comfort and prevent injuries. Women with a flat arch should invest in a pair of stability trainers such as the Adidas Supernovas, while neutral cushioned trainers best benefit women with a high arch. Injuries can also be prevented by replacing designer trainers every 565 to 885 kilometres as their soles wear down, and by buying properly sized trainers. Whether the trainers are for sport or for a night out in a trendy club, eBay can help any fashionista find the perfect pair of designer footwear.