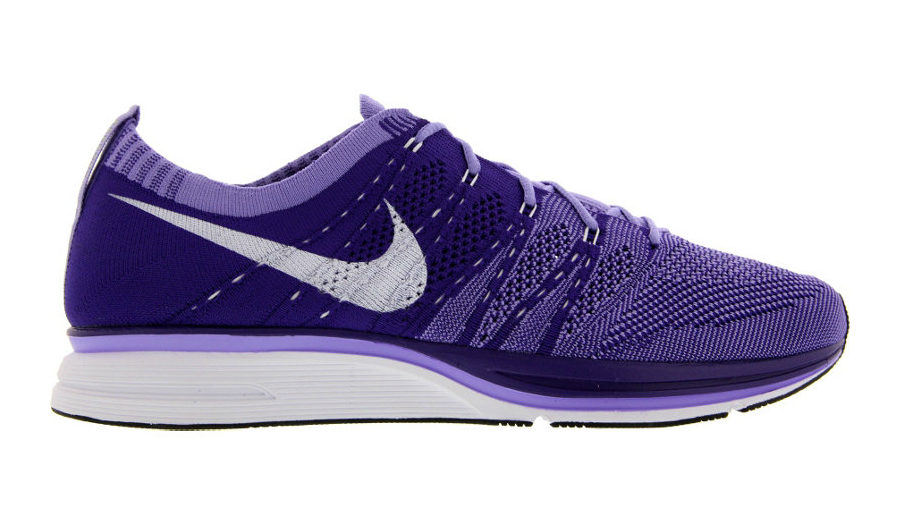 Designer trainers often have outstanding, fashionable designs: they are not only functional, but also appealing to the eye. Designers usually put a lot of time and care into creating new footwear, so the buyer is sure to get a high quality product. Designer trainers are great for leisure time and playing sport. Trainers that are simply worn for casual day wear do not need any special features or to be tuned for a particular person's needs, whereas sports trainers need cushioning and stabilising because many sports put a lot pressure on the feet and using the wrong kind of footwear can cause pain and severe injuries. Choosing the right trainers depends on many factors from the sport to the shape of the wearer's foot arch, so these should be considered before purchasing a pair. eBay is a large auction site that offers a vast selection of designer trainers for casual wear and sport.
Types of Designer Trainers
Designer trainers are available in two main types: casual and sports. Casual trainers are for everyday wear and may not even be appropriate for sport: some come with high wedge heels. Sports trainers have special features that keep the feet safe while engaged in activity.
Casual Designer Trainers
Modern fashion designers are adding sports footwear to their high fashion collections. This means that comfortable footwear can also be stylish and make a fashion statement. Wearers can proudly run in Stella McCartney, Armani, Givenchy, Prada, Lacoste and Yves Saint Laurent, among many other designer brands. Occasionally, designers like to give the trainers an edge and add some features that would normally be found on women's shoes. The trend of adding a heel to trainers is common. Most heeled trainers come with a wedge, but other types of heels are also used. Moreover, designers tend to use more exotic materials for their footwear, so it is possible to find a pair of designer trainers made of snakeskin.
Buying a pair of trainers for comfortable everyday footwear provides fewer restrictions than buying trainers for sport. Any design can be selected without having to consider shock absorption and cushioning. Therefore, concentrate on choosing the perfect colour and style instead of going deep into the specific features. However, a buyer with serious foot problems may consider purchasing trainers that offer some support.
Designer Sports Trainers
The features of designer sports trainers vary significantly depending on which kind of sport they are used for. Hiking trainers are not suitable for playing golf because the conditions of each sport are different. The most commonly used sports trainers are running and athletics trainers that typically offer lots of support for the arch and come with cushioning for high impact sports. If the wearer plays different types of sports, then they should consider investing in a pair of cross-trainers. However, if they are seriously into one kind of sport, then it is best to buy trainers designed specifically for that sport because the health of their feet depend on it.
Features of Designer Sports Trainers
Designer sports trainers have several features that help to support and protect the feet during sport. These include the soles, arch support, and cushioning.
Soles for Designer Sports Trainers
The soles on sports trainers are usually made of three layers, namely the insole, midsole, and outsole. The insole and midsole are not visible, but they are responsible for most of the cushioning that the shoe offers. The pattern on the outsole of sports trainers is largely dependent on the surface that they are intended for: the surface dictates the amount of grip that the soles should have. Hiking trainers and trail running trainers usually require a better grip in order to manage harsh landscapes. Some running shoes for winter even have spikes attached to the sole in order to survive the slippery streets and forest trails.
Pronation and Designer Sports Trainers
The shape of the foot arch also plays an important role because high and low arches need different kinds of support. Usually, the seller on eBay should mention these details in the item listing. The buyer should ask the seller for further information if they are not sure. The pronation describes how much the foot turns inwards. This movement of the foot helps to dissipate shock. In general, there are three different types of pronators: neutral, underpronators, and overpronators. To find the pronation type, look at an old pair of shoes. The wearing pattern provides an idea of which part of the foot touches the ground the most.
Designer Sports Trainers for Neutral Pronators
If the wear pattern is S-shaped, starting from the outer lateral heel and ending at the big toe, then the wearer is a neutral pronator. Neutral pronators can wear most trainers.
Designer Sports Trainers for Underpronators
If the outer side of the trainers is the most worn part, then the wearer is an underpronator. In this case, the wearer's feet suffer a lot of shock and they can potentially end up with stress fractures. They need trainers with plenty of cushioning.
Designer Sports Trainers for Overpronators
An overpronator has feet that turn inwards and their trainers wear away quite a lot on the inside and at the ball of the foot. Overpronators need trainers with maximum support.
Cushioning for Designer Sports Trainers
Cushioning is important for high impact sports that put a lot of pressure on the feet. These include running and many ball games which involve running. For sports where there is jumping, like basketball, then proper cushioning is required for a safer landing. Cushioning is usually either under the heel or the forefoot, or both. Cushioning materials include gel, silicone, and foam. Many companies have developed their own patented versions. When choosing sports trainers, always select women's models because women's feet have different heel to forefoot ratio than men's feet. Also, women are generally lighter than men and the cushioning of men's shoes tends to be too dense for women.
Body Weight and Designer Sports Trainers
The wearer's weight also plays an important role when choosing the right cushioning. The heavier the woman, the more impact her joints receive and the more cushioning is required. Also, plenty of cushioning is required if the feet have high arches, which do not absorb shock efficiently.
Sizing Designer Trainers
Designers are based in different countries, therefore pay attention to the size of the trainers because the sizing guide is different for each country. Also, when buying sports trainers, opt for a slightly larger size because the feet swell during activity. If a buyer is in doubt, they should measure their feet and ask the seller to confirm the inner measurement of the trainers. Trainers in the wrong size are not comfortable and do not provide adequate support to the feet.
| | | | | | | | |
| --- | --- | --- | --- | --- | --- | --- | --- |
| UK Size | 2 | 3 | 4 | 5 | 6 | 7 | 8 |
| US Size | 4 | 5 | 6 | 7 | 8 | 9 | 10 |
| EU Size | 35 | 36 | 37 | 38 | 39 | 40 | 41 |
Note that the UK and US sizes use similar numbers. However, these sizes do not correspond one-to-one. Therefore, take extra care when ordering designer trainers on eBay. Find a seller who offers refunds and exchanges just in case the trainers do not fit.
Buying Designer Trainers on eBay
Buying designer trainers on eBay is convenient because you can choose from a wide variety of high quality trainers without leaving the home. When shopping for designer trainers, first decide whether they are required for leisure or sport. Then search from the main page by typing the specific keywords into the search box. If you want the trainers for leisure purposes and will be only walking around in them casually, then you have more choices. If you prefer a certain designer, then use a search phrase that includes the designer's name, for example, "metallic Alexander McQueen trainers".
You can sort your initial results by price. This is useful if you have a budget in mind. As you are buying designer trainers, you may want them to be authentic. Therefore, browse the photos included in the item listing and check the details against genuine designer trainers. You can always ask the seller for more information. Buying from a Top-rated seller who has good feedback and high ratings guarantees a smooth transaction.
Conclusion
Trainers are comfortable footwear that are good for both leisure and sport. Trainers that are ideal for occasional walks around the town are easy to find from the wide range available on eBay. For the serious sports enthusiast, it is important to choose trainers that are designed for the particular sport. Otherwise, injuries can result from the pressure that the sport tends to put on the joints. Sports trainers should provide adequate cushioning and support, and their soles should correspond to the surface that they are used on to ensuring the perfect grip.
Designer trainers can be eye-catching because fashion designers borrow style elements from other types of footwear. Therefore, designer trainers can even come with heels. Some fashion designers use their skills to create elegant footwear that can be used for serious sport as well as just looking good. When buying designer trainers from eBay, pay attention to their size and their country or origin as this influences the sizing principles. Both casual and sports trainers can be found on eBay.