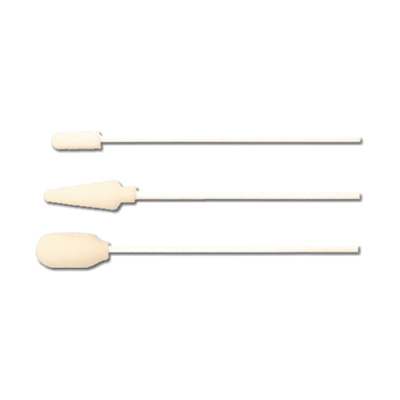 The cosmetics industry in the UK is worth over £3 billion and this shows just how important the industry is to consumers too. The value of the industry is also another indicator of how popular products in the industry are. Make-up is a daily essential for many people across the country, and the beauty sector is always striving to produce new products to make the application of make-up even simpler.
There is a wide selection of different tools on the market for applying make-up, and many of these are bought for permanent usage. However, there have been huge developments in the disposable make-up application sector, as using disposable applicators can be a time saving and cost-effective alternative to permanent products for the make-up bag. What's more, no make-up brush or applicator is truly designed to last forever, so disposable items have their benefits in many ways.
Types of Disposable Make-Up Applicator
All kinds of items which are probably already regularly used can be classed as disposable make-up applicators, whilsethere are other products which are designed solely for the application of particular products. Below is a closer look at the different types of disposable applicator available:
Cotton Buds – the most common item you'll find. Regularly used for smudging and creating effects with eye shadow. There are specially designed ones with pointed tips for specific purposes too. (Remember that cotton buds should never be inserted into the ear canal and should be used with care around the eyes.).
Make-Up Wipes – for removing make-up quickly and easy. Many different big brands have these in their range as well as budget friendly options and hypo-allergenic wipes for sensitive skin.
Disposable eyeliner applicators – small brushes similar to permanent eyeliner applicators but designed to be thrown away after use. This option is often more hygienic as traditional applicators easily get clogged with product.
Disposable spatulas – small plastic spatulas designed for scooping out cream products including foundations. Can be cleaned and reused a couple of times but not a permanent fixture.
Powder puffs – often considered a permanent feature of many make-up bags, powder puffs should actually be treated as disposable and are idea for applying powders.
Sponges – in a number of shapes and sizes make-up sponges and sponge wedges should also be treated as disposable. They provide a quick and easy way of applying foundation and cream products.
Mascara Wands – having a number of disposable mascara applicators in a make-up bag is a must. Using the wand that comes with the product puts the user at risk of more health concerns and viruses and each time the product is used, a new wand should be used as often as possible.
Lipgloss/Lipstick Applicators – both these products have been developed for smooth and easy one-time application of lip products. Using a one-time applicator limits the risk of infection.
There are many benefits to opting for disposable applicators rather than having permanent additions to a make-up bag. The cost is a key factor, but there are many other relevant points to keep in mind too.
Why use Disposable Make-Up Applicators?
Some people may wonder why there would be any need for disposable make-up applicators. When make-up products are bought they often come with an applicator, which can be used every time the product is needed. Buyers can even purchase specially designed separate brushes to keep in their make-up bag permanently.
However, there are some items that it makes much more sense to have a number of disposables of, mainly to prevent the spread of germs and ensure the product is applied in the most effective way.
Disposable make-up applicators remove the need to worry about cleaning and maintaining products. If a brush or applicator is used frequently it is highly likely to pick up bacteria and when it is then used these germs are spread to the skin and can cause infections or break outs. There is the scope to clean expensive brushes and applicators, but alternatively bulk volumes of disposable applicators can be purchased and thrown away after each use. Do make sure that applicators are disposed of responsibly, though, as they are usually not bio-degradable.
In the case of products such as eyeliner applicators and mascara wands the chance of spreading infection is extremely high. This is due to the applicator coming into close contact with the eye which can easily and often does harbour bacteria and germs. Reusing these applicators mean these germs are spread and will be reapplied on next usage.
Make-up sponges are another common item, which should be considered as disposable. Many users keep their sponges indefinitely and this again can be dangerous as sponge is the ideal breeding ground for bacteria. Equally, they can become clogged with product and this makes them less effective.
This just shows how disposable items can be the most hygienic and as they can be bought at competitive prices on eBay they're certainly worth trying out. In many instances they're just as effective as the permanent alternatives.
How to apply Make-Up with Disposable Cosmetic Sponges
The main product you'll use a disposable cosmetic sponge for is applying liquid foundation. Using sponges properly helps them last more than one usage and although they are essential disposable you may be able to use them for a few applications. Here is a step by step guide to preparing the skin for and then applying the product:
| Step | Process |
| --- | --- |
| One | Wash and moisturise the face as a clean and hydrated surface is the best for applying foundation. |
| Two | Select a wedge-shaped sponge for foundation application. |
| Three | Choose the preferred foundation product – cream and liquid products are best for sponge-application. |
| Four | Use the sponge to apply make-up primer across the face, which reduces puffiness and stops the make-up slipping from the face. |
| Five | Wash out the prime and squeeze the sponge to remove any excess water. |
| Six | Using the widest side of the wedge begin at the outer edges of the cheek towards the nose. |
| Seven | Apply the foundation in a circular motion to the forehead and chin, using the mirror to check for streaks. |
| Eight | Clean the sponge immediately or discard if clogged full of product. |
This is just one of the many ways of using a disposable make-up applicator, but sponges will probably become one of the most used tools in the make-up bag. Sponges can be easily bought in bulk and used accordingly and the more are bought, the more affordable the cost is per unit.
Make-up Bag Cleanliness and Maintenance
Industry experts suggest make-up bags and kits should be cleaned out at least once a month, but once every two weeks is more beneficial. Using disposable applicators means this cleaning and maintenance process can be much quicker, as there will be no need to hunt through all the different brushes and applicators to see which need to be cleaned and which need to be thrown away. The majority of disposable applicators will either be unused or already discarded.
The dangers of not keeping a make-up bag clean are twofold. Firstly, products lose their effectiveness and the user doesn't get the results they want. Secondly, the germs from the skin, eyes and lips can pose a real health hazard if users aren't thorough in the cleaning of their applicators and tools. This stress is removed with one-time disposable applicators as any germs growing in left-over product or skin oils are already discarded.
Conclusion
The cosmetics and make-up industry shows no signs of stopping and, therefore, the demand for products in this area remain consistently high. Disposable make-up applicators are the most hygienic tool for applying and ensuring the best coverage of any product and a wide range of different applicators are available online.
Using eBay to purchase disposable make-up applicators gives the buyer the widest range of options. Products can be bought in bulk, which is often a sensible idea as the items are only designed for a very few number of uses. The site also guarantees competitive prices on a huge range of products which gives buyers more scope to make an informed decision before making any purchase.