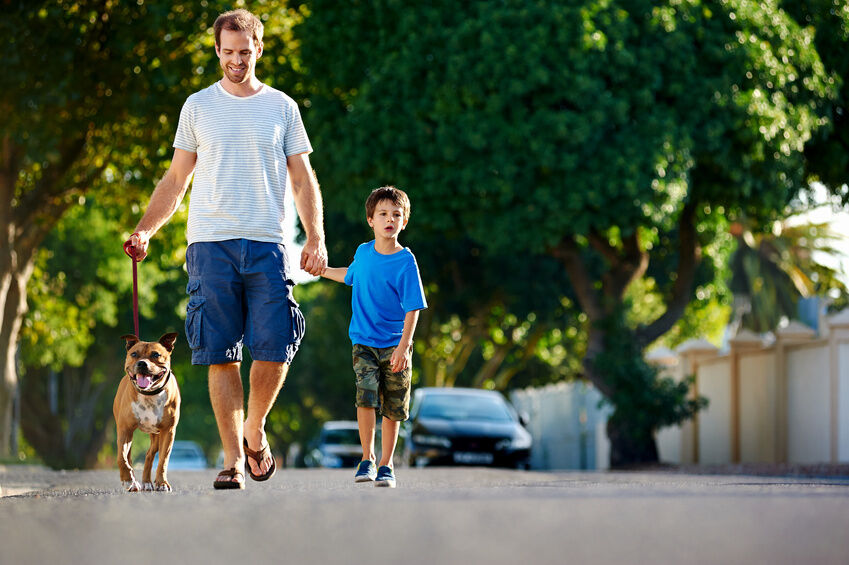 Taking a walk with your pet is not only good exercise for both of you, but offers you the opportunity to have some wonderful bonding time and productive training sessions with your dog. When it comes to selecting a dog lead, the process is all about choosing the lead or leash that allows you to communicate effectively with your pet. Check out the different materials, the various types of leads, and lengths and widths available.
Different Materials for Dog Leads

Manufacturers make dog leads from several kinds of materials. As you shop, you should see leather, chain, and nylon options. Chain leashes are clumsy if you are trying to train your pet, and they also have a higher risk of injury for the animal. Leather is a natural, comfortable material for dogs. However, make sure that you select a high-quality, tightly braided leash rather than a version made of strips or pieces sewn together. The sewn leather leads are often less durable and come apart more quickly, while the braided versions are typically sturdier. Another pet-friendly option is the nylon lead. If you select this type, choose one with a handle or grip, since nylon can chafe your hands.
Standard vs. Retractable Dog Leads

The standard dog lead is 1.8 metres long. You can also pair it with a dog harness or use it with a trained dog to run through some practice exercises. However, you also need to own a couple of retractable leads. These leads have a range of either 7.6 metres or 9.1 metres. A retractable lead allows your dog to roam a bit without getting away. Many retractable dog leads have a button that allows owners to release the lead for more slack, draw in the slack, or fix the lead at a particular length.
Dog Lead Widths
Larger dogs exert more pull on the lead, causing additional resistance. Owners of large dogs need wider, thicker leads that can withstand the extra strain. For medium dogs, leads of a medium width work well. Slender leads are perfect for tiny dogs.
Dog Leads and Decorations
When you shop for a dog leash and dog collar, you may be tempted to buy a stylish, decorative lead covered in beadwork, tassels, flowers, crystals, or glitter. However, keep in mind that embellishments and decorations on the lead can snag clothing or other items, and they may scratch or irritate your dog. In addition, dogs sometimes try to chew off the decorative items, which can be a choking hazard.