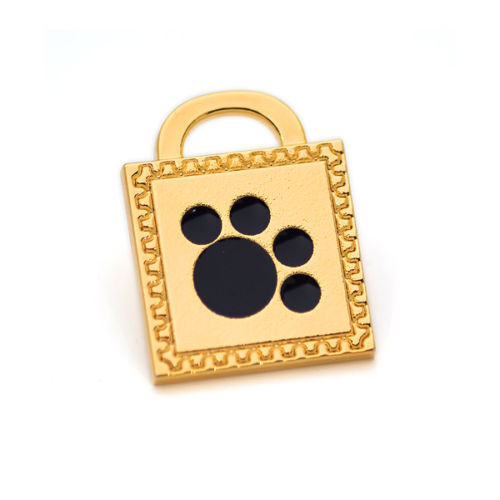 Identification is important for humans and also for pets. That is one of the main reasons why purchasing dog tags are such wise investments for pet owners. Not only do these tags allow dogs to easily be identified if they ever get lost or stray away from the home, they can also be used as fashionable jewellery items that can enhance the stylish appearance of a canine companion.
There are many different traditional stores and online websites that have an abundance of dogs tags currently on sale, including eBay. The hardest part is being able to effectively narrow down that extensive list and find the best quality options that are available for the dog. To assist shoppers in achieving this goal, eBay has developed this detailed guide to use as a reliable resource of all of the information that potential buyers will need to know before finalising any purchasing decisions.
Examining the Key Features of the Tags
The key features of the dog tags are the primary areas that should be focused on when shopping for the perfect set for a dog. Each of these key features must be present within the finished product in order for the dog tag to be a worthwhile investment and high-quality purchase that is going to stay with a dog for many years. The chart below identifies each feature and also examines the reasons why they are so significant.
| | |
| --- | --- |
| Feature | Why Is This Significant? |
| | The quality of the dog tag is going to determine just how sturdy, durable and long-lasting the tag is going to be when placed on a dog's collar. Unless you enjoy purchasing replacement dog tags over and over again, the wise choice would be to invest in a high-quality dog tag instead of having to replace an abundance of cheap, low-quality alternatives. |
| Type of Material | One of the key factors that will determine the quality of the tag is the type of material that was used to create it. Most high quality dog tags are built with such high quality materials as stainless steel, metal, enamel and iron. Even though plastic and rubber dog tags may be considered adequate alternatives, they do not have the same level of sturdiness, durability and resistance to cracks and breakage as those premium options. |
| Size of Dog Tag | Even though it may not seem that important, the size of the dog tag plays a significant role as well. Keep in mind that the primary purpose of these tags is to provide identification for the dogs, alerting other people and animal control specialists that the dog is owned and not just an abandoned stray. Therefore, having a dog tag that is big enough to be clearly visible even from a distance is imperative. |
| Condition | The vast majority of dog tags that are purchased new are going to be in great condition. However, the pet owner needs to focus on maintaining that pristine condition as long as possible. By investing in top-notch quality materials, such as stainless steel and enamel tags, cleaning and maintenance becomes a much easier task to accomplish. If not cared for properly, the condition of the tag can diminish quicker than many pet owners realise and no longer be very effective. |
| Prominent Colour | The prominent colour of the dog tag is also an important factor that needs to be considered, because it is the key to promoting visibility for the content of the tag itself. The prominent colour should complement the colouring of the letters and words that are engraved or printed on the tag. This will make it easier for others to read and understand with very little difficult (if any). |
Focus on Function More Than Fashion
Do not become overly engaged with finding the most fashionable dog tag that the primary purpose of the tag is forgotten. Even though many may say that something like this will never happen, they are sadly mistaken. As soon as the average pet owner starts to glance through all of the different options available, he or she will immediately begin to picture which tag will look the best on their dog.
There is a wide range of novelty tags that have different symbols, such as paw prints and dog silhouettes along with a host of other pictures and logos that may be trendy and popular in the local community. However, do not forget that the dog tag will still need to have an ample amount of space for engraving either on the front or back to display the important contact information of the pet's owner. The rule of thumb should always be to focus on function more than fashion.
The Benefits of Buying Multiple Tags
Many pet owners decide to purchase one high-quality dog tag for their canine companions. They may have clever engraving with a special collar and maybe even a family picture inside of the dog tag just like a little locket. Investing in these additional features within a dog tag is fine; there truly is nothing wrong with those types of purchases.
However, the mistake is made when pet owners decide to only buy one tag. What happens if the collar falls off unexpectedly while the dog is playing or going for a walk and is never recovered? Not only will the owner be out of the money that was invested in purchasing the tag, but now the dog is not properly identified - which can lead to other consequences and repercussions, depending on local laws and regulations. It is highly recommended for pet owners to invest in multiple dog tags. Even if the primary tag has all of the additional bells and whistles included, purchase a few less-decorative, affordable dog tags to hold onto just in case a future replacement becomes necessary.
Check Local Laws for Other Required Tags
Do not forget to check local laws for any other documentation or identification that may be required for the dog. In many areas around the world, an identification dog tag is not the only tag that is required to be publicly displayed on a dog's collar at all times. For example, in the United States, a rabies medallion is also required to be displayed that officially confirms the date of the dog's most recent rabies vaccination
Tips for Engraving and Purchasing Dog Tags
After choosing the perfect tag for a dog, the next step would be to personalise it through either printing or engraving. Here are several great tips that can be followed to make this final stage of the purchasing process as quick and easy to complete as possible:
Consider Collar Tags
Even though they may not be as popular and trendy as traditional dog tags, collar tags have proven to be more efficient and effective for many different reasons. The tags are firmly placed and hooked onto the actual collar instead of hanging from a clasp or hook as a charm or pendant. These tags can still be engraved and even come in a variety of styles, materials and colours as well.
Do Not Use Any Codes When Engraving
Keep in mind that the content that will be engraved on the dog tag needs to be easy for anyone to understand, not just the owners of the dog. Do not fill the personalised message, then, with codes and acronyms that only you and your close circle of friends and relatives are able to understand.
Less is Always More
Use the provided space as sparingly and efficiently as possible. Adding an excessive amount of words in any small engraving space, especially something like a dog tag which is already very small in size, creates a rippling effect and chain reaction that can lead to the tag no longer being effective. How so? The more words that are used, the smaller the words have to become in order for everything to fit. The smaller the words are, the harder it becomes for an innocent bystander, police officer or Animal Control specialist to read easily if the dog runs away or gets lost.
How to Buy Dog Tags on eBay
While it is true that there are a lot of dog tags currently for sale in a lot of different places, shoppers can quickly explore an extensive catalogue of available products within a few seconds simply by visiting the eBay website. For a complete list of all of the different dog tags that are featured on this particular website, all that you have to do is go to the Tags and Charms section of the Dog Supplies category of the Pet Supplies portal.
As you search through this particular category, pay close attention to the details that are included within the titles of the listing as well as the key details and specifications that are posted for public display purposes. Doing so allows potential bidders and buyers to not spend too much time researching options that do not meet their specific requirements and expectations. Once a buyer has found one that has peaked their curiosity, the next step is to explore the detailed information provided by the seller within the listing - including the various pictures that have been provided of the desired product.
Buying Safety Considerations
Keep in mind that there are quite a few individual sellers and companies marketing their products on eBay that have an extensive list of negative feedback and unsatisfactory transactions with their various customers. Therefore, as you are investigating and researching the products that are being sold, do not forget to investigate and research the people and professionals that are selling them. eBay makes it easy for potential bidders and buyer to contact the seller and ask any questions or address any concerns that they may have about the product.
If you decide to go through with the purchase, many of the auctions featured on the website can either be bid on within an Auction or immediately purchased at a Fixed Price. Explore all available options before committing to any of them.
Conclusion
Most pet owners strive to do whatever they can to keep their dogs protected and safe at home. However, there are so many different scenarios that can cause a dog to be separated from his or her family. By having a dog tag to properly identify their owners, their journey towards being reunited with that family can be a quick and easy one.
Before you decide to go to a traditional pet store to purchase dog supplies - including such items as dog tags, training equipment and dog leads and harnesses - take a moment to explore the great deals that can be found online to save money without sacrificing quality.