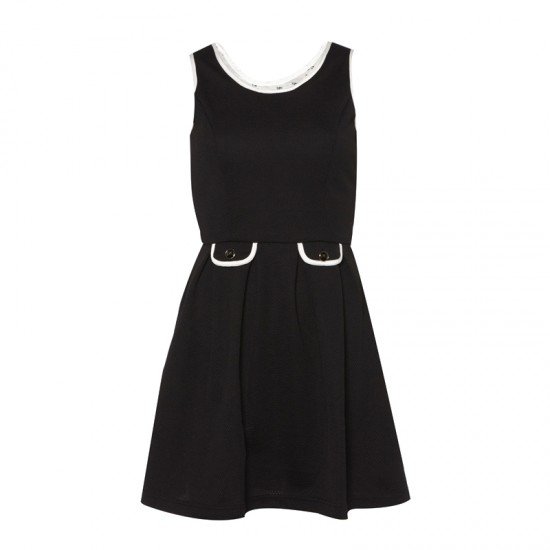 A flimsy summer dress, however pretty, may have to be consigned to the back of the wardrobe when the cold weather arrives. A dress made of a warmer material such as wool, or a wool blend is designed to both look good and keep the wearer warm. With the addition of synthetic fibres, wool dresses can be easier to care for, and available in a wide range of styles. Dresses for cold weather are not usually brightly coloured. Instead, they are often warm or dark colours. These include blacks, browns, blues, greys and reds. Bold prints brighten up a chilly atmosphere when used for dresses for cold weather.
Jersey dresses are also very warm, and so well suited to the winter months. In order to buy a dress for cold weather it is necessary to understand the materials used, the advantages and disadvantages of each, and how to choose the correct dress length, sleeve length, and colour. Women's fashion retailers and department stores all carry cold weather dresses. However, to access a much larger range of winter dresses all in one place, consumers can visit eBay, which is a user-friendly website offering winter dresses at prices for any budget.
Materials for Cold Weather Dresses
When considering purchasing a dress for cold weather, the material is the starting point. Flimsy, light cotton beach dresses are not recommended. Instead wool is a better choice: woollen dresses are perfect for cold weather.
Wool Dresses for Cold Weather
Wool is a natural insulator, and creates a very warm dress. Wool fibres trap warm air, creating an effective layer of insulation, which prevents too much body heat from escaping. While wool can be an itchy material, modern wool is much softer, and does not generally have the same potential for irritating the skin. Woollen dresses can be stunningly beautiful and flamboyant, or simple and elegant. Cable knit dresses made from chunky wool, such as Aran, are very stylish. Short, tunic style versions can be worn with leggings or close fitting trousers to create an individual style, and provide extra warmth.
Blended Wool Dresses for Cold Weather
Wool is also commonly blended with other fibres to create blended fabrics. Wool blend fabrics have their own appearances and textures, and make the wool more versatile, while still retaining much of the natural insulating properties. Heavy cotton is often added to wool, which creates a much lighter garment. Adding cotton to the blend also makes the wool flow more freely, to create flowing skirts and material which drapes elegantly from the shoulders and can be used to create stunning waterfall dresses. Lycra or elastic fibres are also blended with wool. The added elasticity allows tightly fitted dresses to be made, which would not be possible with wool alone. Adding elasticity also helps wool to keep its shape. Other synthetic fibres, such as polyester can be added to wool to reduce the cost and weight of the dress, and to make it more durable.
Cold Weather Jersey Dresses
Dresses made from jersey fabric are popular for cold weather. Jersey fabric is made from a cotton and synthetic blend. The synthetic fibres can include polyester, or elastic fibres, depending on the style of dress. The fabric is woven very tightly, which reduces the gaps between the stitches, and creates a very warm fabric. Jersey fabric has a lot of give, stretching up to a quarter of the original size. These dresses are excellent winter dresses. However it should be noted that most Jersey dresses are close fitting, particularly on the upper part of the body. The skirt of a jersey dress can be either free flowing or close fitting.
Length of Cold Weather Dresses
The length of a dress to be worn in cold weather is an important thing to consider. Short dresses can be worn if there are leggings or trousers underneath the dress, but in general, cold weather dresses are longer.
Maxi Dresses for Cold Weather
For general, everyday wear, it is advisable to consider a maxi dress. A maxi dress is full length and reaches the ankles. The additional length means that maxi dresses, if made from warm, insulating material, are even warmer than a similar short dress. Maxi dresses for day wear are either loose over the full length, and can be cinched at the waist with a belt, or have a fitted bodice and a long, flowing skirt. Warm maxi dresses may negate the need for thick winter tights, although some women still choose to wear them for a little bit of extra protection from the elements.
Other Dresses for Cold Weather
Mid calf length dresses provide moderate warmth, and knee length dresses are also suitable when worn with thick tights and boots. Dresses shorter than knee length, unless worn with leggings or long boots, do not offer enough warmth during cold weather.
Sleeves for Winter Dresses
The length of the sleeves has an impact on the warmth of the dress. Long sleeve dresses can be worn alone, or, for additional warmth, with an outer layer. Some long sleeve dresses may be restrictive, particularly if the sleeves are tight fitting. Three quarter length sleeves are also suitable for cold weather. Short sleeved and sleeveless dresses can be worn over a polo neck or other jumper to make them better suited to cold weather, so that the arms are not exposed. They can also be paired with a cardigan.
UK Dress Sizing
The chart below provides a simple reference for women who wish to work out their dress size. Using the measurements below, women can establish which UK dress size would fit them best.
| | | | | | | | | |
| --- | --- | --- | --- | --- | --- | --- | --- | --- |
| UK Size | 8 | 10 | 12 | 14 | 16 | 18 | 20 | 22 |
| Bust (inches) | 32 | 34 | 36 | 38 | 40 | 43 | 45 | 48 |
| Waist (inches) | 25 | 27 | 29 | 31 | 33 | 36 | 38.5 | 41 |
| Hips (inches) | 35 | 37 | 39 | 41 | 43 | 46 | 48.5 | 51 |
The size chart above provides hip, waist, and bust measurements for women, and the dress size which corresponds to each. If a woman falls in between sizes, it is advisable to choose the larger size. In the winter, this allows room for a thin layer to be worn beneath the dress.
Cold Weather Accessories for Dresses
Accessories for dresses for cold weather can help the wearer to stay even warmer. Thick tights, which match or complement the dress help to keep the legs and feet warm. This is particularly useful if the dress is a shorter length. Boots, such as mid calf length and knee-high boots, are a good option when paired with any length of dress. Leggings are an excellent choice for added warmth. Leggings can be worn beneath a short, tunic style dress, which can be cinched at the waist with a belt, or under a shorter dress and paired with ankle boots. A woollen, knitted cardigan can be added as a top layer. A cardigan provides a chance to add colour.
Buying Dresses for Cold Weather on eBay
Dresses for cold weather can be found at women's fashion retailers and department stores. They can also be found in abundance on eBay at affordable prices. eBay offers cold weather dresses in a variety of materials, sizes and styles. These dresses can be found by searching from the eBay home page.. Buyers who know the exact style or colour of dress that they want can include this information in their search to receive fewer, more relevant results. For women looking for inspiration, a general search, such as "winter dress&", is the best choice, as this will provide many different dresses to browse through. The advanced search tools set defined parameters on the search. Buyers can specify the desired size and price that fits their budget.
Buyers should always check the reputation of the seller before they confirm their purchase. This can be achieved by looking at the seller's feedback score, which shows the opinions of previous buyers. This information is invaluable, and provides details of the overall service, speed of delivery, communication, and quality of the product.
Conclusion
When wearing a dress in cold weather, the dress needs to be warm. Long, maxi dresses are popular because their length helps to protect the legs. The material of the dress is the most important aspect. To prevent cold wind cutting straight through to the skin, the dress needs to be of a heavy, insulating material, such as wool, wool blend, or jersey. The longer the sleeves of a dress, the warmer the arms of the wearer. If short sleeve dresses are worn, a heavy cardigan or a polo neck can be added as an extra layer.
To buy the ideal dress for cold weather, first choose the material, then the length of the dress and the sleeves. Decide on the colour, bearing in mind that most winter dresses are in dark hues. If a splash of colour is desired, then accessorise with some bright tights or boots. A wide range of dresses and the latest fashion for cold weather are available on eBay, which offers buyers fabulous savings and an easy shopping experience.