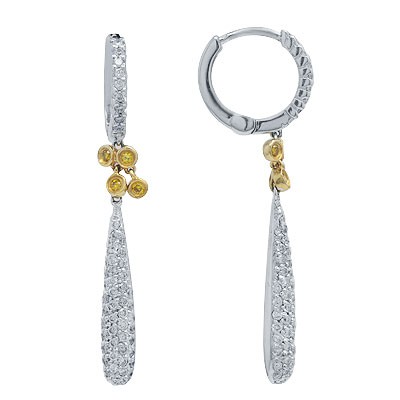 eBay is a great place to buy earrings of all types, values, and qualities, not only because of the wide range of stock, but because of the ease of shopping and the ability to easily find anything on the site. Shoppers on eBay can choose to purchase antiques worth thousands or budget costume earrings worth next to nothing. And whether for men, women, or children, eBay has earrings for everyone, to suit every taste and budget.
Buying earrings on eBay can be somewhat confusing at first, especially if buyers are not familiar with the site, do not already have an account, or do not know what they want. To simplify their shopping experience, buyers should learn about basic types of earrings, what to expect when shopping on eBay, and earrings in general. Earrings should be chosen based on buyer's preference and the taste of the person wearing them, which includes style, value, and colour.
Types of Earrings
There are many types of earrings available on eBay. It is this factor that is often most confusing for anyone not familiar with earrings. The different styles can determine how the earrings are used in fashion, how the earrings look, and sometimes whether or not the wearer is actually going to like the earrings. Each person has a certain taste when it comes to jewellery in general, and some styles can be quite radical from one earring style to another.
Hoops
Hoops are round earrings that push through the ears to form a single loop. These can be thin or thick, and vary in size from a few millimetres to upwards of 60 millimetres. Hoops are generally made of hollow tubing, but can be a solid wire, wide band, and in a variety of styles. Hoops classically close with clasps, although some are seen with fishhook style although these are usually classified as dangle earrings.
Dangle Earrings
Dangle earrings include any fishhook or French-hook design. These can have anything from plastic, ceramic, gold, silver, gemstones, or even feathers as part of the design and can range in style from about 2.5 centimetres to upwards of 80 centimetres long. Dangle earrings are also known as French-hook earrings and sometimes fish hook earrings.
Studs
Studs are the most common type of earring on eBay because they are small, lightweight, and can be worn when sleeping. Studs are the most common earrings worn by men and children and most women with piercings own multiple studs as well. Studs can include false plugs, screw-on backs, butterfly backs, push backs, dual sided earrings, and several other styles.
Huggie Earrings
Huggie earrings are a popular style of earring similar to hoop earrings except sized to fit next to the ear. These can be slept in, are excellent for both men and women, and can include eternity claps or standard hoop clasps. Metals can range from 24 carat gold with diamonds to cheap hollow aluminium tubing.
Costume Earrings
Generally costume earrings include 925 silver, steel, alloys such as copper and tin, gold and silver plated base metals, and low purity solid metals such as 12 carats or lower. These earrings are very affordable, can be purchased new or used, and can be purchased with fake or faux gemstones.
Fine Earrings
Fine earrings are high quality earrings made of pure metals, real gemstones, and often provided with a certificate of authenticity. These can be purchased in new or used condition, in a variety of values, and are usually priced according to actual value based on the purity of the metal, the quality of the stone, and the designer. For example, a set of Bulgari gold earrings are a great deal more expensive than a non-branded set of similar earrings, even if the non-branded ones have a larger stone or are made of a higher purity gold.
Other Earring Types
Many types of earrings cannot be classified into a single style. Slave earrings include a small stud or hoop earring, usually with a chain that runs up the ear to either a cartilage piercing or a behind the ear hook. These are often sold on eBay as part of alternative culture, especially considering they were popularised by the media Star Trek. Thread earrings are usually nothing more than a chain that can be slipped through the ear piercing. Spike earrings is a simple plastic or metal stick that is placed through the ear piercing to keep it from closing, generally popular in areas where earrings are not allowed.
Body Piercing
Body piercings are sometimes used as earrings, especially in alternative and gothic culture. Earring styles including barbells, plugs, tunnels, and more are all considered to be body piercings rather than traditional earrings. Buyers looking on eBay can find the following styles in a range of different styles and materials.
Captive Bead Rings
Captive bead rings are ball closure rings, usually a small hoop that is closed by moving a bead away from an opening in the hoop. These can be abbreviated to CBRs and sometimes require the use of tools to take on and off, such as with large gauge CBR rings. The larger the hoop, the larger the tension on the bead; however, some styles simply screw on and off and can easily be removed.
Barbells and Circular Barbells
A barbell earring is a straight rod earring with a bead on each end. Generally, one end of the bead is removable and is taken off and then screwed on to fix the earring in place. These are similar to tongue rings. Circular barbell earrings are a combination between captive bead rings and barbells, usually with a larger gap than the captive bead and the same screw-off-one-end philosophy of the barbell.
Plugs and Tunnels
Plugs and tunnels are most often seen in punk and grunge subcultures because they are very noticeable, require making permanent enlargements to ear holes, and often stretch the earlobe to some extent. Plugs are solid circles while tunnels have a hole in the middle. Both are placed in large gauge piercings in a variety of sizes. Buyers on eBay looking for plugs and tunnels should check the size gauge of the piercing the plug or tunnel must fit before making a purchase.
Non-Piercing Earrings
Non-piercing earrings are popular for adults and children, and can easily be purchased on eBay. These include clip-on, which have a clip type attachment; magnetic, which use two magnets; and stick-on, which usually use some type of glue. Other styles are spring hoop, which use a clasp that closes via a tension spring; ear hook, which go over the top lobe of the ear; hoop, which hoop around the ear; and screws,which actually screw onto the earlobe and are tightened to a comfortable position. Non-piercing earrings are popular for children and anyone who wants to wear earrings but does not want to get piercings.
Earring Quality
The quality of the earring can greatly affect the price. Examples of quality include the brand, the model, the designer, and most importantly, the materials. Earrings with quality gemstones such as diamond or sapphire are, of course, valued higher than those with cubic zirconia. Those made of solid gold, silver, or platinum are a great deal more valuable than those made of copper, aluminium, or other common metal alloy. Choosing between the two qualities is a personal choice, although many people prefer 925 silver to actual aluminium earrings, and some people have a hypo-allergic reaction to some alloys, meaning that they should wear steel earrings.
Buying Earrings on eBay
Once you have decided what type of earrings you are looking for, you can search on eBay from the home page of the site. Try looking for specific rings such as hoop or huggie, and specifying the value of the earrings based on your budget. If you have a large budget, 12-carat white gold diamond earrings might make an excellent purchase as either a gift or for yourself, but if you are simply looking for a cheap pair of earrings 'cubic zirconia earrings' might be a better choice. You can also specify the style you are looking for, or choose to simply browse through all of your options.
It is important to take into account shipping time and cost, any customs that might come into play if you order valuable earrings from an international country, and whether or not the seller will ship to you. It is also important to read descriptions, look at photos, and ask the seller if you have any questions, especially if you are making a high priority purchase such as an expensive set of earrings, or for a gift.
Conclusion
There are many types of earrings in a variety of qualities and styles, and all of them can be found on eBay. From top-notch designer brands in the finest quality materials to used costume jewellery, eBay has everything that a buyer could want, including international options. Things to consider include the style of the earrings, the type of piercing that the wearer has, whether the earrings should be worn to work or to school, the style of the earrings, and the budget of the buyer.
Common styles include hoop, huggie, stud, plug, tunnel, and many more, although it should be considered that not all styles fit into every lifestyle. Stud earrings are the most common and practical for everyday wear, although this does depend on the individual style of the wearer. Buying earrings on eBay can be done by searching the site, choosing a pair that meets style and budget demands, and then making a purchase.