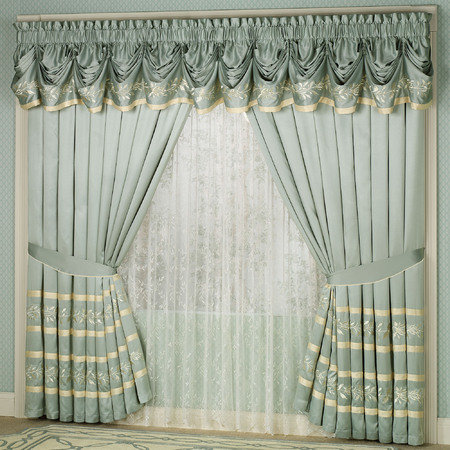 Embroidered curtain fabric offers a unique and intricate feature to complete any room. The care and attention often shown in its creation makes the embroidered curtain fabric a popular choice for many. The fabric can be used to create all different styles of curtain, from flat panel and tab top to grommet and blackout. When purchasing embroidered fabric online, eBay offers a huge selection of curtain fabric, as well as embroidered fabric.
By purchasing fabric on eBay, it is possible to then make curtains to any specification and for any room. This is a cost effective way of either overhauling an entire room, or adding a new and unique feature with a different style of curtain. There are countless options available, and this guide will outline some of the key features and types of fabric, as well as how to purchase embroidered curtain fabric on eBay.
Features of Curtains and Embroidered Fabric
Curtains can often be the focal point of a room, a feature that if correctly chosen can add the finishing touch to any room. It's not only the aesthetic benefit that they have though, curtains can be used to manage the light in a room, as well as dampen sound and act as insulation.
The function of the curtain will then affect the materials and style that is used. For example, bedroom curtains will often be made of heavier materials so that they can block out light and sound more effectively, whilst living room curtains may well be of a lighter material to create ambient lighting.
The colour of the curtains will also affect the material and style, and must compliment the colour scheme for the rest of the room. When purchasing embroidered curtain fabric, the consideration of insulation must also be thought upon as this will affect whether a room is light and airy or warm and cosy.
Types of Curtain
When deciding upon embroidered fabric for curtains, thought must be given to the different styles available, as this will heavily influence the type of fabric needed. There are a number of styles and detailed below are the most popular types of curtain:
Sash – popular for current and contemporary styling, sash curtains are made of sheer fabric that covers to the lower sash of the windows.
Flat Panel – used most widely, panels of embroidered fabric (normally a few pieces) are bordered on each edge and then placed upon decorated curtain poles with rings that clip on. The density of the fabric being used will alter how this style looks, as will the fullness of the curtain.
Thermal or Blackout – when drowning out light and sound, these curtains are frequently used. They are comprised of dense fabric that is either layered, or used to back other types of curtain.
Tab Top – by using slender straps that tie at the top edge of the fabric, the curtains are then threaded through the chosen curtain poles. The tab top style is sometimes used as two static panels that sit either sides of the window.
Grommet – rings are inserted into a hole in the hem of the curtain fabric, before hanging the whole assembly from poles. Using either large or small grommets can change the style of this curtain.
Embroidered Curtain Fabric Uses
There are plenty of different options available when buying embroidered curtain fabric on eBay, and the choice of fabric will reflect the use that it will be put to. Below are some common examples of curtains and the situations they are used for:
Sheer or Net Curtains – when the main concern is creating a translucent barrier for privacy, these lightweight curtains are perfect. Normally made of lighter fabrics such as polyester that is lightly woven, or lace/cotton, they reduce some light, whilst allowing the house owner to see out and also shield the view inwards.
Uncoated Curtains – quite often made of a cotton and polyester blend, uncoated curtains offer a greater level of light reduction than net ones. There are slightly heavier and are mostly opaque when in direct light.
Coated Curtains – these are normally made of the same materials as uncoated (a polyester material), but a rubber backing is applied in order to absorb more light. They are often known as blackout curtains and are popular in bedrooms.
Lined Curtains – these offer the best light absorption as far as curtains go, as well as the best insulation and sound dampening. Commonly they are comprised of an uncoated front fabric (for aesthetic purposes) and backed with a coated fabric (referred to as the lining).
Some commonly used fabrics and weaves to look out for are:
Chenille & Woven
Jacquards & Damasks
Plain & Semi Plain
Silk & Taffeta Fabrics
Suede & Corded
Voile & Organza
Buying Considerations
There are a few factors that should influence the buying decision when purchasing embroidered fabric for curtains:
Cost
Cost will vary from material to material, as well as style and function. There are two useful strategies to adopt in order to make sure that buying material is cost effective. Firstly have a budget in place - when decorating it is important to have specific budgets for each area that is going to be decorated. Secondly, it is prudent to research what is available for the price range agreed upon. Buying embroidered curtain fabric on eBay is an affordable way of finding the perfect material.
Condition
One of the useful things about buying embroidered curtain fabric on eBay is that there is both new and used material available. Both have their benefits; new fabric can be tailored specifically to the curtains it will serve, whilst used fabric may be useful if the dimensions match, and if not it can be a cost effective means of shopping.
Size
Size will be an important consideration, as the space the curtains will be filling must be carefully measured to ensure that the right amount of material is purchased. Embroidered curtain fabric is available either by the meter or in pre-set lengths. Remember, it's better to have too much material than not enough.
Buying Embroidered Curtain Fabric on eBay
Curtains are an integral part of any room, whether it is for a redesign or just to breathe new life into an existing room. With embroidered fabric, curtains can be a unique and eye catching part of any ensemble. Once decisions have been made about factors such style, type and purpose, some research should be done upon the overall aesthetic should be so that it matches the room. Aspects such as colour and material become especially relevant here, so it is advisable to try and get some samples to see what will work best.
After these decisions have been made, it's time to start shopping. Head over to eBay to see if there are any items that match your specification. Below are listed some useful tips to help in finding the perfect fabric for the curtains:
Refinement
Curtain fabric is located in the Curtains and Blinds category of eBay, which can be found under the Home, Furniture and DIY section. After navigating to this part of the site, it is possible to either do a keyword search for the desired products, or use the left hand refine to narrow down results by factors that include style, colour, condition and material.
Product Details
Once a list of relevant products have appeared, it is possible to click on any one of the results to see further information about that product. There will be details such as a detailed description, a gallery of images, measurements and any other comments or details the seller thinks are relevant. It is also possible to access the seller details from here.
Seller Details
By viewing the seller's details, it is possible to see the seller rating and feedback that previous customers have given them. It will also show their history of selling on eBay as well as any other products they have available. Should you desire it is also possible to contact the seller to ask any questions that there might be about the products they have available.
Auction or Buy Now
Some products on eBay are listed as auctions. This means that bids can be placed during the designated time limit, with the highest bid winning. It is easy to monitor the process of a particular item as well as to place a maximum bid on it (it is possible to re-bid if another customer places a higher bid). Some sellers will offer the option to 'But It Now', which allows the customer to purchase the product outright without having to wait for an auction to end.
Conclusion
This guide has covered the relevant information and buying options available when purchasing embroidered fabric for curtains on eBay. There are a number of variables that are relevant to this process, including the function of the curtains, the type and the style.
Much of these details depend upon the individual's taste and their relevance to the room that they will be displayed in. Buying on eBay is a safe and secure experience, and finding the perfect product is easy when using the search and refine functions.