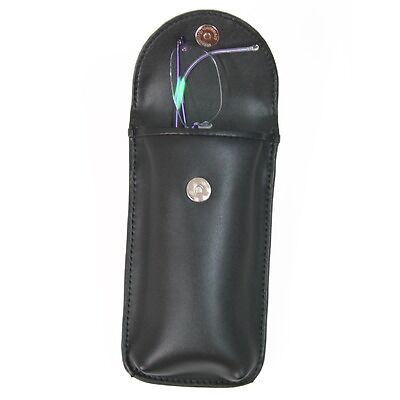 For those who own glasses, whether they are for reading, sunglasses or prescription glasses for everyday use, a case is required. It provides protection against damage whilst the glasses are not being worn, as well as allowing for storage and safe keeping.
The styles of eye glass cases available on sites like eBay varies greatly; from up market, designer branded cases to those best suited for those who travel a lot, the choice is extensive. eBay offers the opportunity for those who wish to buy cases for their eye glasses to choose from this wide variety at price that are both affordable and sensible, as well as making sure that the transaction is secure.
The following guide is written with the purpose of helping prospective eye glass case buyers through the considerations that need to be thought about before finalising a purchase.
Types of Eye Glass Case
There are a wide variety of glasses cases available on the market. By knowing which types are available for purchase, one can decided which is best suited to personal needs and tastes. The table below lists and details the most commonly purchased and used types of eye glass cases on the market, all of which are available on eBay:
| Type of Eye Glass Cases | Case Features |
| --- | --- |
| Fashion Eye Glass Cases | Whilst most glasses cases are bought and used for their functionality, this does not mean that they cannot be fashionable as well. Brands from the world of glasses and other fashion houses manufacture eye glass cases so that they can be used not only for the primary function of protecting the glasses, but also as a fashion accessory. There a number of different fashionable designs available and some brands that make glasses also make cases that match their glasses perfectly. There are other designs that are bright in colour and feature fashionable designs and prints. They can feature elegant linings as a means of being aesthetically pleasing, as well as protecting the glasses. Fashionable eye glass cases may also come with matching lens cleaners to aid with the maintenance of the glasses that are to be kept inside the case. |
| Functional Eye Glass Cases | There are also eye glass cases available for purchase from eBay that serve merely a functional purpose. Those who wish to merely store their glasses in a safe environment, and do not concern themselves with the idea that an eye glass case needs to be fashionable or on trend prefer this type of case. They are often hard cases so as to protect the glasses from any damage, and a lot of them have magnetic strips around the edges to keep them clamped shut when the glasses are not in use. These eye glass cases are purely appreciated for their functionality, but are commonly purchased amongst a lot of eye glass wearers. |
| Soft Eye Glass Cases | Soft eye glass cases are popular amongst those who may only need their glasses for reading, as well as being used by those who tend not to take their glasses out of the house with them, but still wish to keep them safe. There are a lot of soft eye glasses cases made from materials such as leather, that are envelope like in their design. There are also soft eye glass cases that are shaped like purses. Eye glass cases of this nature tend to have zips or magnetic strips as a means of fastening the case whilst the glasses are not in use. |
| Pouch Eye Glass Cases | Pouch eye glass cases are a tremendously popular type of eye glass case and they can be found in large quantities on eBay. Cases such as this are often made from soft materials and feature a drawstring at the top of the pouch to keep it closed. They are popular amongst those who keep their glasses in their pockets, as their design and material means that they are reasonably conspicuous compared to the likes of hard, functional eye glass cases. Design wise, they tend to come in brighter colours, although there are plainer colours available, such as black, white and grey. Due to the nature of the material used in the manufacturing process, pouch eye glass cases are often very reasonably priced. |
Eye Glass Case Fasteners
Alongside the fact that there is a number of different types and styles of eye glass cases to choose from, there is also a wide selection of ways that eye glass cases are kept shut. It is important to know which fastening technique is preferred before making a purchase, as some methods may only be suitable for certain eye glass cases. Here are some of the more widely used mechanical techniques to keep eye glass cases closed:
Zips: Zips are a very popular way of opening and closing eye glass cases. They are easy to use and are very effective at what they do. They can also be fitted onto a variety of different types of eye glass case, so their versatility makes them all the more popular. The only drawbacks to zips are that they can become stiff or can catch on loose threads that may be hanging off eye glass cases. This, however, is a rare problem and there are far more benefits to having a zip on an eye glass case than disadvantages. Zips are frequently used for fashion eye glass cases, as well as soft eye glass cases.
Drawstring: This case closing and opening technique is used most commonly on eye glass cases that come in the form of pouches. They are easy to use and enable those who need it, quick and simple access to their glasses. One of the other advantages of having drawstring as a means of opening and closing a glasses case is that due to its simplicity, and the fact that it is purely a piece of string, it does not get in the way, nor is it clunky. This is a useful property if one wishes to keep their glasses case in a pocket or small bag.
Magnetic Strips: A lot of hard, fashionable and functional eye glass cases have magnetic strips either side of the case that snap the case shut when they are pushed close together and the attraction force kicks in. Eye glass cases with this closing procedure are appreciated for the fact that, due to the nature of magnets, the case cannot be opened unless pushed open by force. This means that once the glasses are inside the case they are not going to slip out, as well as meaning that children may find it difficult to open the case and cause any damage to the glasses themselves.
Buying Eye Glass Cases Considerations
Buying a case for eye glasses is a process that has a number of considerations that need to be accounted for before one settles for a product. Thinking about these concerns will allow buyers of eye glass cases to gain a further understanding of what product is most suited to them, as well as making the search for the desired eye glass case a smoother and more efficient one. Below are some of the more important product factors that need to be thought about
Design: The design of the case may not be of that much importance to those who are not as concerned with the aesthetics of the case. However, there are those who see an eye glass case as a fashion accessory, and for these people the design is a deciding factor as to which case is purchased. There are many different designs and styles available from the likes of eBay, yet it is wise to purchase a design that does not compromise the functionality of the case. After all, the protection of the glasses is of the utmost importance when it comes to eye glass cases.
Size of Glasses: Whilst there are many different designs of eye glass cases, there are also a wide variety of glasses available. When buying a case for eye glasses, be sure to purchase one that will allow for the glasses themselves to be placed inside securely, and without damaging them or the case. For example, one may need to buy a case to account for wide rimmed glasses, and should search for a case that is suitable for this style.
Case Size: The size of the case is also important. It is wise to think about how the case is to be carried around and where it is going to be stored when not being used. An instance of this would be if one wished to carry the glasses case in a pocket, then one should be wary of purchasing a case that is too big and may not fit in the pocket or gets in the way of everyday tasks.
Buying Eye Glass Cases on eBay
With eBay being home to listings with thousands of eye glass cases available, finding the best and most suitable product needn't be a difficult process. To see these listings, visit the Health and Beauty category and follow this through to the Eye Care link. From here, one can visit the exclusive listings by clicking on the Glasses Cases filter tab on the left hand side of the page. The search can then be narrowed further by taking advantage of the keyword search bar and typing in further specific preferences.
When buying a case, make sure to thoroughly read the product description to find out details on its specifications, including size and fastening technique. A way of gaining a further idea of the nature of the case is by having a look at the images that should also be on the product page. If there are any issues or questions regarding the eye glass case, one can always contact the seller directly to discuss the matter further.
Remember to be aware of eBay and PayPal's terms and conditions before placing a Bid, Best Offer, or using the Buy It Now facility.
Conclusion
Buying a case for eye glasses can be an easy and secure process when using the likes of eBay. The best way of securing a product that is both affordable and suitable to a buyer's personal requirements, one should read up on the different types of eye glasses cases that are available.
Remember to buy a case that suits both personal design ideals, as well as choosing a case that caters for the type of glasses that are worn. For example, if one wears reading glasses occasionally, a pouch case may be suitable, whereas if one wears prescription glasses more frequently and travels with them, a harder case may be more appropriate.
Either way, the buying of eye glass cases on eBay can be a simple and secure procedure when using eBay.