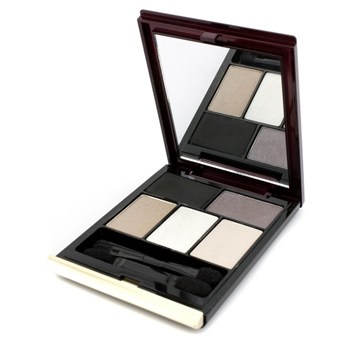 Look into any professional make up artist's kit and there will invariably be a large eyeshadow pallete. Eyeshadow palletes may seem to be only for the professionals but more and more they are becoming available to those who wish to experiment with new colour combinations.
This guide aims to help the buyer find and purchase the eyeshadow pallete that is perfect for their needs on eBay.
What are Eye Shadow Palletes?
Eyeshadow palletes are sets of four or more eye shadows placed in a convenient case. They can start from four shades and go up to one hundred and eighty shades. The larger the amount, the more varied the colours and shades. Professional make-up artists will use large eyeshadow pallets, and smaller themed palletes by popular brands are used by make-up enthusiasts.
Like any eyeshadow, eye shadow pallets will come in several different types of finishes, from matt,sheer, shimmer. Matte finishes are the most popular and 'basic' type of finish, these can be used for any occasion for make-up and are good for building up layers of colour. Sheer eye shadows are less intense in colour and may need a few layers to build up colour. Shimmer finishes have a fine, glistening look when applied.
The Uses for Eyeshadow Palletes
Eyeshadow pallets offer a wider variety of uses than single eye shadows, the following list breaks down some of the uses for eyeshadow palletes:
For trying out new looks: eyeshadow palletes, especially ones with dozens of colours are a good way for the buyer to try out combinations of new colours without having to purchase individual colours.
To save money: Buying individual eye shadows could cost more than buying themed sets of colours/shades of eye shadow, especially branded ones.
For dramatic use: Large eyeshadow palletes offer great flexibility in those who work in the theatre to create an array of dramatic looks.
To have the choice of colour: small to large palletes save the buyer of having to select coordinating colour groups as the shades will be grouped together.
Professional use: professional make-up artists will carry eye shadow palletes with their work as it saves space and time having to search for individual pots of eyeshadow in their kit.
More than eyeshadow: some eyeshadow palletse come with such a range of colours that they can be used to blend concealers and the darker colours can be used as a lip colour if blended with some lip balm or petroleum jelly.
The Types of Eye Shadow Palletes Available on eBay
Buyers may think that eye shadow pallets come in a large tray of many different colours but there is a varying range of palletes available on the eBay. The following table breaks down what can be found on eBay:
| Eye shadow Palette | Description |
| --- | --- |
| Quad Eyeshadow Pallete | This is four colours, most commonly in nude colours for a basic daytime look. Quad Eyeshadow Palletes can come in darker colours such as purples and greys for 'smoky eyes' look. |
| Professional Eyeshadow Pallete | Professional Eyeshadow Palletes is widely available on eBay and will have start from 60- shades and go up to 180 shades of eyeshadow. Larger pallets are mostly used by eye make-up enthusiasts who really enjoy creating varied looks. |
| Customisable Eyeshadow Palletes | Customisable Eyeshadow Palletes are more unusual but allow the buyer to select specific colours and place them together in a separate case. |
| Shimmer Eyeshadow Pallete | Shimmer Eyeshadow Pallete will be eye shadows with a shimmer finish and number from 4 shades up to 120 shades. |
| Mixed Palletes | This can be eyeshadow and lip gloss palletes which can help in coordinating a look for the buyer. Some sets will even include concealer and face powder. |
It is common for professional eye shadow palletes to be sold by stores rather than private sellers. The price will vary from seller to seller but larger palletes represent good value for money.
Tips for Selecting Eyeshadow Palletes on eBay
The range of eyeshadow palletes is huge on eBay and to ensure the buyer selects the one that is right for their needs, it is best to consider a few questions:
What is the use? Is the user wishing to purchase a professional pallete for a beauty course? Or does the buyer want to experiment with a small range of colours such as purples?
How many colours? Does the buyer want to begin with a few colours, such as 12 colour eye shadow pallete? These offer a good start for those who are not yet confident on applying different colours of eye shadow. 88 colour eye shadow pallet is the most common and is well used by professional make-up artists, and 120 colours as the next step up.
What shades of pallete? Does the buyer want a natural day time look, or something more exciting for the evening? A brown eyeshadow pallete will offer a natural look, whereas searching for a smoky eye pallete will yield a range of eye shadow palletes.
If unsure, then a neutral brown pallete might be a good start and then build up to buying more when the buyer is feeling more confident.
In general it is best to avoid buying any make up in a used condition as it runs the risk of cross contamination. Never share make up brushes or applicators with another person and wash brushes on a regular basis with some gentle baby shampoo or soap.
Knowing the Brand of Make-Up
Before deciding to purchase a particular eyeshadow pallete, is it important to compare it to other listings, especially ones by private sellers as some business on eBay may stock counter fit pallets. For some buyers that may not be a problem but if buying a well-known brand name it is important that the pallet is genuine and of good quality.
Some of the following well-known brands are sold on eBay:
M.A.C: M.A.C is very popular for eye shadow palletes as it offers good quality finishes and a wide range of good colours.
Clinique- Clinique eye shadow palletes are smaller with more soft colours; these are good for those who wish to stay with only a few colours.
Smash Box: similar to M.A.C, this brand offers wonderful quality eye shadow in a range of themes of colours and the number of eye shadows averaging at about 8 per pallete.
Urban Decay: Urban Decay offer eyeshadow palletes with a smaller number of shades but often these eye shadows come in a shimmer finish, for a more evening/dramatic look.
Estee Lauder: Estee Lauder eyeshadow palletes offer a range of neutral colours that can be worn during the day or night.
It can be common for products that are very similar to branded palletes to be sold on eBay, these can be in the same packaging and it can be difficult for buyers to tell them apart from the genuine article. If in any doubt of the authenticity of the item, then it is best to ask the seller about the exact brand. If no reply is given within a short period then it is best not to purchase that item with the particular seller.
Branded eye shadow pallets will often give each shade a particular name, and products such as M.A.C tend to include brushes rather than sponge applicators.
How to Buy Eye Shadow Palletes on eBay
To start looking for eye shadow palletes on eBay, first begin by going to the eBay home page and selecting the Health & Beauty portal. From there the buyer should select the Make up & Tools category and then click on Eye Shadow.
eBay offers the buyer a few ways of searching for Eye Shadow Palletes:
Keyword Search: For the buyer keyword searches are good for finding specific brands and numbers of eye shadows within a pallet, such as 'Urban Decay 10 Eyeshadow Pallete' (without quotation marks). Keyword search offers the user the chance to enter exactly what they are after. eBay also has the option to use the advanced word search option which is good for finding listings with unusual names or less detailed descriptions.
Categories: This option of searching allows the buyer to view the varied listings and refine gradually in stages. This is advantageous to the new buyer who may wish to take their time looking through different categories. They can refine the searches further based on price, brand and location of the seller.
eBay Stores: there are many specialist make up stockists on eBay, some are based aboard and offer excellent postage costs as well as low cost but good quality eye shadow pallets.
Shop with Confidence on eBay
For those who are new to shopping on eBay, there are many good reasons to feel assured that their purchase is well protected. eBay has a Buyer's Protection scheme, and using secure payments through PayPal means that a buyer never has to worry. Here are some helpful tips to ensure the transaction goes smoothly from the buyer's side:
Look at the seller's feedback and read through a few of the comments to see how other customers have felt about their transaction.
Don't forget to add the cost of postage to the price of the listing.
Always use PayPal when paying for items, never complete the transaction outside of eBay
Tips for Applying Eye Shadow from Eye Shadow Palletes
Once the buyer has got their eyeshadow pallete at home, the learning experience can begin. Here are a few hints and tips to help the buyer get everything they want out of their new eye shadow pallet:
Before applying any eyeshadow, cleanse the area with a gentle make up remover and then apply a good eye shadow primer. Primers help to even the skin tone and give the eyeshadow a good surface to be applied to.
When using a large make up pallet it is ideal to use disposable eye shadow applicators as colours can transfer and mix on the eyeshadow itself.
When selecting colours it is best to stay with a particular colour group or theme of shades. Use no more than three to four colours or else the colours could build up and loose effectiveness.
Make full use of other colours in the pallete and use them as lip tint or to add definition to the eyebrows. Take a flat, angled brush and wet it with a little water and rub it across an eyeshadow to make effective eyeliner.
Conclusion
Eye shadow palletes offer the buyer great value for money and great flexibility than buying single eye shadows. Larger palletes offer endless combinations of colours and different looks. Those who buy professional quality make up will soon be applying it as well as a make-up artist. This guide has covered everything the buyer needs to know so they can go out and buy the perfect eye shadow pallete on eBay.