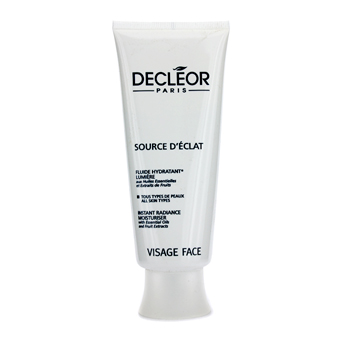 Applying face moisturiser to dry skin daily helps to keep skin healthy, hydrated, and smooth all year round. Everybody's skin is different, so understanding the different skin types helps when deciding which type of face moisturiser to purchase. One of the most important steps to consider when purchasing face moisturiser for dry skin is reading the ingredient list. Once a buyer has a better understanding of which features to look for, he or she can evaluate the ingredient list to make sure the moisturiser has everything he or she wants.
Face moisturiser can be purchased at chemists, department stores' makeup counters, and the online auction website, eBay. Finding a good face moisturiser for dry skin can be difficult. There are important features to consider that make shopping for a moisturiser easier, such as: understanding dry skin, differences between male and female skin, and features that vary in moisturisers. Key features of moisturisers include: organic versus chemical moisturisers, daytime and night-time moisturisers, humectant moisturisers, sun protection factor, and anti-aging benefits.
What Classifies Skin as Dry Skin?
There are five different classifications of skin types including: normal skin, oily skin, combination skin, sensitive skin, and dry skin. Dry skin is characterised by a flaky, dry, and tight complexion after cleansing. Dry skin is prone to aging and irritation, even more so than normal, combination, or oily skin. In order to turn dry skin into healthy, normal skin, different moisturising techniques are recommended. Products are specifically made to deal with each different skin type. It is possible for skin types to change with age, and it is also more common for skin types to become drier with age.
Understanding which skin type a person has helps in the moisturiser purchasing process. It is recommended that people with dry skin that feels tight after washing use heavier, oil-based products that contain mineral oil and glycerin. Dry skin can be caused by excessive washing, exposure to dry, cold weather, or environmental or chemical irritants.
Male and Female Skin
The key differences between male and female skin include: skin thickness, aging, delicacy, oil glands, and pores. Males have thicker skin that generally contains more elastin and collagen, making it less susceptible to aging. The advantage of men's skin over women's does not last forever, as men grow older, their facial skin thins out, whereas women's facial skin thickness remains the same. Women tend to have more pain receptors, making them more sensitive to pain. The majority of men's facial skin is more delicate and prone to irritation because of shaving. As women age, the oil glands secrete less oil, causing their skin to become dry.
Features of Face Moisturiser
There are many factors to consider when selecting a face moisturiser including: sun protection factor (SPF), organic and chemical moisturisers, humectant and occlusive moisturisers, daytime versus night-time moisturisers, and anti-aging benefits. Face moisturiser is ultimately up to a buyer's personal preference. If a buyer is aware of a face moisturiser that has worked in the past, then it is recommended to purchase again. Changing seasons and sunlight affect the dryness of skin.
Organic and Chemical Moisturisers
Some people believe that organic, naturally-made products yield better results than mass-produced, chemically-treated products, but that is not always the case. People with dry and sensitive skin often see better results with chemically-treated moisturisers. Typically, chemically mass-produced moisturisers are backed by extensive research and testing, whereas organic moisturisers do not have equal testing and research done on the products. Ultimately, it is a buyer's decision to select an organic moisturiser or a chemical moisturiser. In both instances, a buyer should review the ingredient lists and become familiar with the ingredients typically used in both products.
Humectant Moisturisers
Humectant moisturisers are water-based, contain very few oils, and are great for dry skin. Humectant moisturisers function by absorbing and retaining water from the air and lower layers of the epidermis. If the humidity is greater than 70 per cent, humectants are able to attract water from the air. In order to prevent cracking of dry skin, humectant moisturisers add moisture, which increases the skin's natural flexibility and pliability. The ingredients in humectant moisturisers include: glycerin, lactic acid, sorbitol, and alpha hydroxyl acids. The moisturisers helps to soothe skin irritation that is caused by dry skin.
Daytime and Night-time Moisturisers
Properly moisturising skin at night helps hydrate the skin, making it appear soft and youthful. Nighttime moisturisers are not going to magically transform dry skin into normal skin overnight. After applying the moisturiser for multiple nights, sometimes even weeks, a change to the skin is noticeable. Also, the amount of time that the night-time moisturiser is being worn makes a difference. It is recommended to wear it for seven to eight hours in order to give the product enough time to disperse into the skin. Occlusive moisturisers coat the skin and prevent water loss. It is recommended to apply occlusive moisturisers at night because they are heavy, messy, and not very appealing. On the other hand, humectant moisturisers are recommended during the day because they are lighter and cosmetically appealing.
There is a third type of moisturiser that is a combination of occlusive and humectant moisturisers. If a buyer is looking to only purchase one moisturiser, it is recommended to purchase one that contains both occlusive and humectant moisturisers that can be worn during the day and at night.
Sun Protection Factor
The sun causes skin to lose moisture and dry out, which leads to premature wrinkles even in young adults. It is recommended to purchase a moisturiser with a sun protection factor included. As little as SPF 15 is strong enough for those people who are not out in the sun all day. It is recommended to purchase face moisturiser with broad spectrum protection against UVA and UVB rays. If a wearer plans on being in the sun for a prolonged amount of time, a stronger SPF and wearing a hat is suggested. Having a sun protection factor included in a moisturiser makes getting ready easier because a person who is wearing the moisturiser does not have to waste as much time also applying a layer of sunscreen.
Anti-Aging
Face moisturisers that contain retinol smooth wrinkles and combat free radicals that affect the appearance of the skin. Some dermatologists recommend experimenting with antioxidant ingredients, such as coenzyme Q10, vitamin C, and alpha lipoic acid.
How to Buy Face Moisturiser for Dry Skin on eBay
Ultimately, a buyer must choose which type of face moisturiser is best for his or her dry skin. eBay offers thousands of options when it comes to purchasing face moisturisers, such as daytime and night-time, vitamin-enriched, and sun protection factor. The simplest way to search for face moisturiser is by taking advantage of the keyword search. Luckily, there is a search box located on every eBay page. In this space, a buyer can type in precise keywords, such as "face moisturiser". After clicking search, thousands of options appear in the search results. If a buyer wants to browse through a smaller product listing, he or she needs to enter more specific keywords, such as "face moisturiser for dry skin" and browse a much more targeted list.
Seller feedback allows a buyer to determine the legitimacy of a seller. Feedback ratings from buyers within the last 12 months can be found on a seller's eBay history. Feedback is advantageous for a buyer because it provides a buyer with a seller's past interactions, and allows a buyer to make an informed decision before purchasing. The feedback is beneficial for a seller because it allows a seller to improve his service and attract more buyers to his page through positive feedback.
Conclusion
Moisturiser is needed for all skin types in order to maintain a healthy glow. Dry skin, specifically, benefits from moisturiser. Characteristics of dry facial skin include feeling flaky, dry, and tight after cleansing. Male and female skin varies based on skin thickness, aging, delicacy, oil glands, and pores. Generally speaking, women have thinner skin than men and the oil glands secrete less oil. With age, men's skin begins to thin out. Men and women have differences in their facial characteristics and should select separate moisturisers, accordingly. It is a buyer's personal decision whether to use organic or chemical products. For example, if a wearer's skin has responded well to organic products in the past, then it is recommended to purchase organic products. Although, it is still important to evaluate the ingredient list to ensure that there are no known allergies in a product. Humectant moisturiser, occlusive moisturiser, and a combination of both, are all types of moisturisers recommended for dry skin. Humectant moisturiser is best for daytime wear and occlusive is better at night for a more complete moisturising process. If a buyer only wants to purchase one product, then a combination of the occlusive and humectant is recommended. Fortunately, eBay provides a wide variety of face moisturisers to meet every buyers' needs.