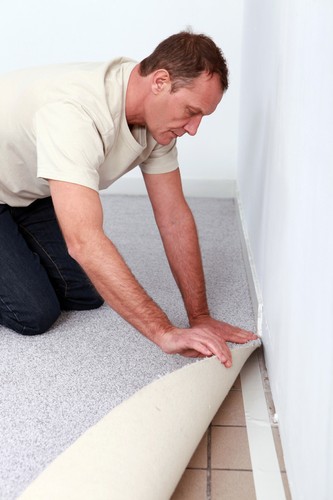 Fitted carpeting is often referred to as wall-to-wall carpeting. It is a woven material that is attached to the floor to offer stability and comfort. Historically, the word 'carpet' was used to describe table and wall coverings in Western Africa and Southeast Asia. These carpets were produced on a loom or hand-knotted in the third or second millennium BC.
In modern times, fitted carpets are one of the easiest and most convenient styles of carpets to choose from. When it comes to purchasing fitted carpets, it's all about making sure you find which best suits your personality as well as design theme. The beauty about fitted carpeting is that there are a few different types to choose from to help accommodate anyone's tastes. Choosing a fitted carpet that suits a particular lifestyle and meets all preferences for pattern, colour, quality, cost, texture, and insulation is one of the more significant design choices anyone makes for a home or business.
Types of Fitted Carpet
Fitted carpet is sold in a few different types. These types of carpets include that of woven carpet, knotted carpet, flatweave carpet, needlefelt and tufted carpet. Once you better understand each type of fitted carpet, purchasing it will be much more simple. It is important before making a big decision, such as which type of fitted carpet to purchase, to know all the valuable information about them so that an informed decision can be made.
Needlefelt
Needlefelt carpet is one that is considered to be more technologically advanced. This style of carpet is produced by intermingling the individual fibres either using a barbed or forked needle. These styles of carpets are more beneficial for higher traffic areas.
Knotted
Knotted carpet which is also referred to as knotted pile uses structural weft threading that is alternated with a supplementary weft to help rise the carpet to a right angle on the surface. This style of carpet is more commonly referred to as shag carpet.
Flatweave
Flatweave carpet is made by interlocking horizontal and vertical threads together. One common type of flatweave carpet is that of tapestry carpet.
Tufted
This style of carpet has a backing material which is injected with a secondary backing that is made out of woven hessian. This provides ultimate durability and stability to the weave and is beneficial for higher traffic areas as well.
Woven
Woven carpet is created on a loom and seems to be a bit more similar to that of woven cloth. Their pile can be that of berber or plush. Woven carpet is considered to be one of the more popular brands when it comes to choosing fitted carpet.
Carpet Construction
Carpet is grouped into three primary types of construction: loop pile, cut pile, and cut and loop pile. Understanding the construction of carpet gives you a better idea of which style is best for your needs.
Loop Pile Carpet
All carpet begins as loop pile and is then modified to become cut pile or cut and loop pile. This type of carpet previously had limited appeal for most homeowners because of its reduced cushioning and low profile, however, more and more homeowners today utilise Berber carpet in the home, due to higher performance levels. Loop pile carpet is stain resistant with higher determining factors of stitch rate, gauge rate, and yarn pile height than most other carpets.
Cut Pile Carpet
Cut pile carpeting is loop pile carpet whose loops have been strategically cut during the weaving process. The end result is one of the appearance of increased softness and a dense cushion for the feet. This type of pile carpet is often crafted out of a combination of olefin and polyester fibres. Cut pile carpet is suited for both homes and offices because it stands up well in high-traffic areas.
Cut and Loop Pile Carpet
Cut and loop pile carpet is exactly as the name describes, with predominantly cut loops forming a pattern. There are two types of levels: multi-level cut and loop, and level cut and loop pile. Both of these types of piles are popular because they give the illusion of colour variation and enhance the patterned effect. Level cut and loop pile carpet provides a beautiful effect in any room, while multi-level cut and loop has a more limited appeal and is not widely available for purchase.
Styles of Fitted Carpet
There are five basic styles of carpets, all of which come in a variety of colours, patterns, and textures. Twist is a cut pile carpet made of twisted fibres. It is hard-wearing and doesn't show dirt. It works best in main rooms, hallways, and on stairs. Loop and Cord is a type of loop pile carpet with a highly textured finish. It has a very rugged appearance and looks great on stairways. Velvet is a softer, smoother version of cut pile carpeting, used in formal rooms. Velvet shows variations in light and dark shading very easily and is desired in rich patterns and textures. Pattern and graphic carpets are extremely hard wearing, and keep their appearance for many years. Finally, Berber carpet is made from a random blending of coloured yarns to give a dramatic textured look. These carpets are graded for durability, to assist you in your decision.
Different Grades of Fitted Carpets
When it comes to fitted carpets there are different grades used to determine the type of carpet you are getting. Before purchasing a fitted carpet on eBay, it is important to take a look at the various grades to determine which is best suited for your needs.
| Grade | Usage |
| --- | --- |
| 1 | Very heavy use; e.g., offices |
| 2 | Heavy use; e.g., halls, stairs |
| 3 | Lighter use; e.g., infrequently used rooms |
| 4 | Light use; e.g., bedrooms |
| 5 | Very light use; e.g., formal rooms |
How to Measure for Fitted Carpet
Measuring for carpet is not as simple as using a tape measure and a calculator. It requires some understanding of carpet installation to be successful. Some critical factors that must be taken into consideration when measuring for carpet are direction of nap, pattern match, seams, and limiting waste. The direction of nap is important because all connecting rooms need to lay down in the same direction. If you are considering carpet with a pattern, repeating that match is desired for continuity. Seams should be located in out of the way areas whenever possible. Carpet is a major investment; therefore don't buy more carpet than you need.
There are four steps to measuring for carpet in your home. Draw a simple diagram of the areas or rooms you wish to carpet. Measure each room and write down the measurements on your diagram. Round each measurement up to the nearest half-metre mark, to ensure you have enough carpet to finish the job. Make a list of your measurements, and multiply the length by the width of the room. Add the results up for a total square metre, and then add five per cent to this total. This allows for seams and other extra carpet needed to complete the job.
How to Fit Carpet
Carpet fitting should be completed by a professional, so search for an individual or team with excellent reviews. Request an estimate of the time needed to finish the job and any warranties they may offer in case of problems with the fitting. A few things you can do before their arrival for a hassle free installation, is to identify any access problems to the room, remove any heavy furniture, determine if any bottoms of doors need to be shaved to accommodate the thickness of the carpet, and pinpoint any uneven or awkward surfaces.
You can expect for the fitters to clean the work area of any furniture and remove doors. They will remove any old flooring or carpet, and prepare the surface for the new carpet. They will fit the underlay, fix the flooring materials using one of several techniques such as stitching or heat-sealing, and spray the finished product with a protective coating.
Caring for Fitted Carpet
The best advice to retain your carpets appearance and prolong its life, is to follow three main suggestions: vacuum often to remove dirt and grime, clean any area affected by a spill before it dries, and in the event of heavy soiling, seek professional cleaning. To prevent uneven wear and tear to your carpet, it is recommended to change the position of furniture frequently. Avoid wearing shoes with special gripping qualities on the carpet, to prevent pulling and tearing of the pile.
Carpet Myths
When you begin to shop for carpet, you may be confronted with many myths related to misperceptions. Chemical emissions, Kawasaki Syndrome, mould and mildew, dust mites, and allergies have all been used in sensational stories relating to carpet manufacturing and use. Carpets do not contain formaldehyde or any other type of harmful chemical. The carpet industry adopted emission standards in 1992, followed by a voluntary testing programme to ensure all carpet manufactured meets the strictest health standards. Carpet is not a source for allergic reactions. The pile tends to trap allergens and dust mites, limiting the airborne release. Carpet does not contain latex; therefore it is impossible for individuals who are latex sensitive to have an allergic reaction to carpet.
Kawasaki Syndrome was first identified in 1961, by Dr. Tomisaku Kawasaki. It was originally believed to have an association with carpet cleaning, but there is no supporting evidence for this correlation. This syndrome is extremely rare, while carpet cleaning is quite common.
Buying a Fitted Carpet on eBay
Before buying fitted carpet, the prospective buyer should consider into which room the carpet will be installed, and the look they are attempting to achieve. Because there are three main types of piling used in construction of carpeting, and several styles available to purchase, the buyer should have a firm grasp on his preferences. It is essential that the performance and maintenance also be considered.
Buying carpet for a high traffic area requires piling that can stand up to the task. Neutral colours that show little dirt is desired for living rooms and hallways. When choosing a seller on eBay, communication can save a lot of time and frustration on both ends of the sale. If you are not clear on the attributes associated with carpet you are considering for purchase, then send the merchant a detailed message outlining what you are looking for. Pay appropriate attention to any special instructions given in the listing, including shipping. If possible, arrange to pick up the carpet to avoid paying exorbitant shipping costs.
Conclusion
It is an excellent option to purchase fitted carpet on eBay, because there are many deals to be had by buying in this manner. Fitted carpet adds cushioning and support to high traffic areas, or a hint of flair to a formal setting. The variety of constructions and styles available makes it critical for the buyer to ascertain how the carpet will be used once it is installed. Fitted carpet is a major investment, and should be completely thought thru before parting with any funds. Furniture, paint, carpet, and accessories such as curtains all play a key role in making a room successful. If the carpet is not installed correctly, or it is not cared for properly, it will make a room unattractive.
Do not allow myths and untruths to change your mind when shopping around for carpet. Many sellers will try to cloud your judgement by telling you 'facts' that may no longer be true. Carpet is safe and meets strict health standards before it can be sold in the marketplace. If you are considering the purchase of older carpet, manufactured before 1992, proper research will rule out any harmful chemicals that may have been present during production.