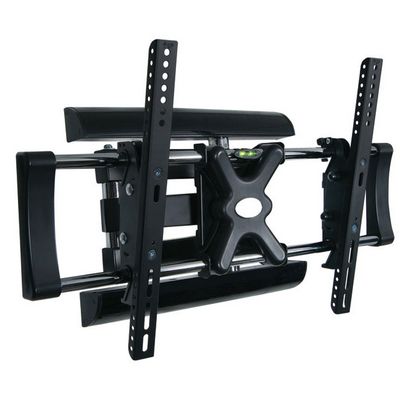 With its sleek flat screen design, and crystal clear display, the plasma screen TV is one of the most popular options for living room television sets and home theater systems. LED and LCD flat screen TVs are the alternative to plasma, and these models are popular in the 40 inch and under category. There are a few models in the 30 inch range, but the plasma TV dominates the 40 inches plus market.
From wall mounts to Blu-ray players, eBay has a plethora of fixings for a plasma screen TV to fit any room, style, and budget. Plasma TV owners should take advantage of the thin, lightweight design and mount it to the wall. The home television rarely operates alone anymore; there are cable boxes, media players, gaming consoles, and more to connect to. Universal remotes are the perfect solution for controlling the plasma TV and all its accessories from a single device. In order to get the most of of your plasma TV, connect it with the latest media devices and mount it in a highly visible area for viewers to enjoy. To find the appropriate fixings for a plasma screen, buyers should learn about the different media components, their connections, and the necessary cables to piece all the parts together for a great viewing experience.
Media Devices
The first section of accessories is for media devices, which refers to any device that connects and interacts with the plasma TV. HD DVD and Blu-ray players are a great way to watch high-resolution movies and get a crisp, truer picture quality. Gaming consoles are not made just for kids anymore, and serious gamers can get the ultimate visual experience with a plasma TV. Streaming media devices make NetFlix, Hulu Plus, and other websites easily accessible. If the plasma TV is in a home theater room, surround sound is a must. The following sections detail the media devices available for plasma TVs.
DVD Player
High definition, or simply HD, DVD players are the most popular of the disc players because there is a larger selection of titles available, and they are almost always less expensive. They typically connect with an HDMI cable. The one downside to HD DVDs is the storage capacity is inferior to Blu-ray's capabilities. Nevertheless, an HD DVD player works quite well with a plasma screen TV.
Blu-Ray Player
Blu-ray players are the pricey alternative to DVD players. But the cost is justified as many Blu-ray discs have a memory capacity more than three times the size of an HD DVD. With all this extra storage space, all films are 1080p resolution and offer superior sound quality, which is one more reason to have a surround sound system hooked in with a plasma TV. Blu-ray may have fewer titles available than its DVD competitor, but movie enthusiasts appreciate the high resolution images and sound quality.
Gaming Consoles
Playing video games on a plasma TV is an incredible experience. With premium quality graphics and a large screen, it is easy for gamers to get lost in a virtual world. Nintendo's Wii and WiiU is a fun, interactive console for people of all ages. PS3,, Sony's system, is favoured for its superior image quality and expansive collection of games. Moreover, the PS3 has a built-in Blu-ray player, eliminating the need to purchase one. Similarly, Microsoft's XBox 360 also doubles as a DVD player. The Xbox 360 shares many titles with the PS3, but there are some releases, like the Halo series that is a 360 exclusive. Most current systems all use HDMI cables and a power cord. Some systems may have a sensor bar or camera that are mounted above or below the plasma TV.
Media Streaming Device
Media streamers may have been popularised by the Apple TV,, but there are many options on the market, many of them affordable. Nearly all these devices are compatible with NetFlix and Hulu Plus, and many can display photos and play music. Wireless streaming media devices are favoured because they wirelessly connect to the router; however, those who want guaranteed uninterrupted streaming can opt for hardwiring their device.
Surround Sound
A superior quality picture from a plasma TV deserves a an equally as impressive sound system.. Plasma TV owners can choose from sound bars, 5.1, and 7.1 systems. The least expensive option is the sound bar, a single long speaker placed above or below the TV; it significantly increases the viewer's auditory experience. A 5.1 sound system has five speakers and one AV receiver. One speaker is placed near the TV, and the other four speakers are placed across the room. 7.1 surround sound systems add in two more strategically placed speakers. Regardless of which surround sounds system is chosen, any kind enhances the audio quality when compared to the TV factory speakers.
Essential Accessories
In addition to all the gadgets that can connect to a plasma TV, there are some essential pieces of hardware needed to create the perfect set-up. Mounting the plasma to the wall makes for a nice focal point in the room; buyers can choose from several styles. Next, there is at least one cable for every media device that connects to the plasma TV, so shoppers should determine how much cable is needed and how to manage them. It can get complicated having a remote for every device and the TV; therefore, programming a universal remote to work with all the devices can simplify the media center.
Cables
TV owners rely on cables to connect to a power outlet, sound system, and other media devices. Most equipment comes with its own cables, and the plasma TV must have enough inputs for each of the cables. Many DVD, Blu-ray, gaming systems, and streaming media devices use HDMI cables,, and many plasmas still have component inputs although companies are phasing out the use of component cables. Most sound systems requires RCA cables to connect to a TV or DVD player, and Blu-ray players need to connect through an HDMI cable.
Wall Mounts
Wall mounts are an attractive option for hanging a plasma flat screen instead of placing it on a stand. Buyers have several models to choose from. Fixed wall mounts hold the plasma TV in a single position, and additionally, they are often the least expensive option. Some viewers prefer to have displays with angled mounts, allowing the TV to be displayed slightly higher. Still others prefer a mount with lots of flexibility. The swivel mount allows the viewers to change the position and angle of the plasma TV. Wall mounted TVs must be near an electrical outlet. For the ultimate streamlined look, homeowners can have an electrician install one right behind the TV. Others can slide the cables through cable runners to run along corners and baseboards to the closest outlet.
Universal Remotes
No ultimate plasma TV set-up is complete without a universal remote.. It has the ability to control the plasma TV and nearly all the devices that connect to it. These handy remotes can control DVD, Blu-ray, streaming media devices, surround sound, and more. Universal remotes are easy to program, and should the owner update their plasma TV fixings, they are a breeze to reprogram. Universal remotes run on either AA or AAA batteries.
How to Buy Plasma TV Accessories on eBay
Buying all the appropriate fixings for your plasma TV is a breeze when employing a few search strategies on eBay. You can refine your search results with a few simple rules, and bargain shoppers can save some money by picking up their winning items instead of paying shipping costs.
Refine Your Search Results
If you are searching for a specific plasma TV accessory, there are several search tips to employ to refine your search.. First, include keywords to narrow your results. If you have a particular model, size, or brand, be sure to include it in the search. For example, "DVD player&" searches for all of eBay's DVD players, but "Sony DVD player&" limits the search to the Sony brand of DVD players. Under your original search, you see eBay's related searches that are designed to help filter results. Once you have received your initial results, you can refine your results by category, price, and more. If you find your results are too limited, try removing some keywords.
Shipping or Item Pick Up
Depending on the your location, you may have the opportunity to pick the item up in person. Shipping an item across the country can significantly increase the total cost, especially the if item is large or heavy. Arrange results by distance from seller to see which ones are close to you. Picking up accessories can get rid of freight costs. The one benefit of shipping an item is the convenience of it showing up on your doorstep.
Conclusion
No one ever sees a stand-alone plasma TV, so it is up to buyers to decide which media devices and accessories can enhance the viewers' experience. eBay has all the appropriate fixings for plasma TVs in new and used condition, in various colours, and they are affordable on even modest budgets. In addition, gamers are lucky as they can consolidate consoles: PS3 has Blu-ray capabilities, and XBox 360 is DVD compatible. Moreover, streaming media devices remove the need for DVDs. They are perfect for those who have NetFlix or Hulu Plus subscriptions. Also, ao home theater system is complete without surround sound. Buyers with a chunk of change should consider investing in wireless speakers for less wires.
With so many devices to connect to, owners should opt for a universal remote. Typically inexpensive and compatible with most makes and models, universal remotes make using everything a breeze. Buying all the best gadgets and fixings to complement your plasma TV on eBay can make your viewing experience all the more engaging and your purchasing experience all the more enjoyable.