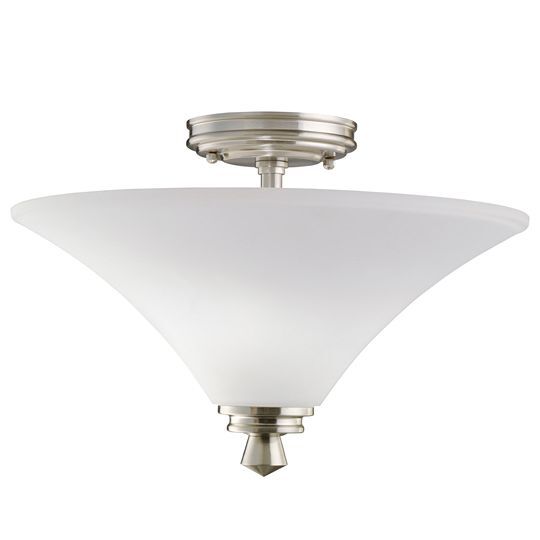 Fitting a room with ceiling lights can help define and visually boost a space. Ceiling lights are available in a wide range of styles that cater to specific design preferences and different types of properties. In order to maximise a space, flush ceiling lights are an ideal option when choosing ceiling lights for small and medium sized rooms. Flush mount ceiling lights are available in a range of styles, finishes, and colours. From sophisticated modern and contemporary designs to fixtures with more traditional and heritage features, flush ceiling lights can help achieve any design objective.
About Flush Ceiling Lights
Flush or flush mount ceiling lights are fitted close to the ceiling, which keeps the space between the light fixture and the ceiling to a minimum. Flush ceiling lights ensure well-lit rooms without occupying a large amount of space. This style of lighting is one of the most common light fixtures found in both residential and commercial properties. They are used to light bedrooms, lounges, hallways, bathrooms, closets, garages, and kitchens. With a wide range of styles, they also help property owners achieve almost any design goal. Flush ceiling lighting is generally used in smaller rooms and rooms with low ceilings. Since they are close to the ceiling, flush ceiling light fixtures can optimise available space within a room or hallway. While chandeliers may be ideal for larger rooms, they may make a small room look even more constrained. Flush ceiling lights are also an alternative to recessed lighting, offering more options to introduce bold styles and attractive features into a space.
Choosing Flush Ceiling Lights
Flush ceiling lights are available in a wide range of styles. They are made from a variety of materials and are available in different types of finishes. Choosing the right fixture for a room depends on the style of the property and space, as well as individual design preferences. To help determine what type of flush ceiling light is best for any given room or space, a number of factors can be considered. Considerations include the light fixture's design, size and material, as well as the price and light shine.
Flush Ceiling Light Fixture Types
Flush ceiling light fixtures are available in two styles. The following table examines the primary styles of flush ceiling lights.
| | |
| --- | --- |
| Flush Mount | Flush mount lighting is fitted directly to the ceiling, leaving no space between the fixture and the ceiling surface. This style of flush ceiling light is recommended for rooms with a low ceiling (for example, under 2.5 metres). They are typically found in smaller rooms, such as bathrooms and closets. Flush mount lighting can also be used in hallways, bedrooms, kitchens, and other rooms in any type of property. |
| Semi-Flush | For rooms with higher ceilings of between 2.5 and 3 metres, semi-flush ceiling lights can be used. Semi-flush ceiling light fixtures drop from the ceiling, leaving some space between the light and the ceiling. This style of ceiling light is generally found in kitchens, lounges, dining rooms, and bedrooms. |
Flush Ceiling Light Fixture Design
Flush ceiling lights are available in a variety of designs. From traditional to contemporary, flush and semi-flush ceiling lights help determine the style and feel of a space. While some fixtures feature styles that are understated, others can be detailed and lavish pieces. When choosing a design for a light fixture, consider how the size and shape will complement the rest of the space. Light fixtures that are too large or too small can upset the spacing and lighting balance of a room, as well as overwhelm other design features present in the space. The material, finish, and style of the light fixture should complement the decor of a room. The following table examines some of the most common designs of flush ceiling light fixtures.
| | |
| --- | --- |
| Traditional | Traditional flush and semi-flush ceiling light fixtures evoke a rustic or heritage feel with antique and heritage designs. These classic light fixtures are typically available in brass, bronze, and iron tones. |
| Transitional | These light fixtures blend traditional and contemporary designs. They are available in a range of styles and typically feature bowl shaped glass or plastic. Transitional flush ceiling lights can include traditional elements such as antique iron or bronze and more modern nickel and stainless steel finishes. |
| Contemporary | Contemporary or modern flush ceiling lights feature clean and professional lines that evoke a sophisticated look. They are generally simple and understated designs, but also venture into futuristic and experimental styles. |
| Styled | Flush ceiling lights are available in a variety of niche and eclectic designs that appeal to specific style preferences, including children's, nautical, and rustic themes. Examples of flush light fixtures are branch patterned lighting and floral themed ceiling lights. Some of the most unique and colourful styled fixtures are intricate Tiffany flush ceiling lights. |
Flush Ceiling Light Fixture Material
Flush ceiling lights are made from a range of materials. Fixtures are found in almost any colour, from dark red to neon green and sky blue to bright yellow. They are also available in various wood and metal tones, including platinum, nickel, and stainless steel. When choosing the colour or material of the light fixture, consider existing tones in the space or room where the flush ceiling light will be located. The light fixture should not compete with different elements of a space. It should complement a room, including the colour and style of the flooring and walls. The following chart provides information on some of the most common materials used for flush ceiling light fixtures.
| | |
| --- | --- |
| Copper (Bronze and Brass) | Copper and copper alloys, such as brass and bronze, are common finishes for flush ceiling lights. They create attractive colours and durable finishes. From elaborate to minimalist designs, brass and bronze light fixtures are available in various styles and designs. Brass and bronze are typically used for traditional and transitional light fixtures. |
| Chrome | Modern and contemporary flush ceiling lights increasingly use chrome tones to create a sophisticated and refined finish. Chrome helps create understated features, as well as intricate and creative designs. |
| Nickel | |
| Stainless Steel | Many contemporary and transitional light fixtures are constructed from stainless steel, which offers a modern and refined look. Stainless steel flush ceiling lights are often simple and minimalist, with glass domes bordered by metal. |
| Plastic | Plastic flush ceiling lights deliver a simple look, complementing any space and room design. White is one of the most popular colours for plastic flush ceiling light fixtures. |
| Crystal | A common feature of traditional flush mount ceiling light is crystal. Crystal flush ceiling lights are best suited for formal spaces, such as a dining room. |
| Wood | Various wood tones are used on flush ceiling lights. Some common tones include pine, mahogany, chestnut, cherry, acorn, oak, and walnut. Fixtures with wood features are generally used to create a cabin or rustic feel in a room. |
Conclusion
With the purchase of a new flush ceiling light fixture, space can be maximised and individual design ideas can be brought to life. Flush ceiling lights can help define a room and reflect individual personalities. They play an important role in complementing various features of a space. Purchasing the right flush ceiling light fixture will depend on the type of a room, available space, and personal design preferences. Looking at a wide range of styles, materials and colours will help select the right fixture for a given space. Thorough research will also help located the lowest priced fixture and the most appropriate option that fits personal budgets.